Please welcome Mike Young to Team 11W. Mike will be your point man as you navigate the fluid and sometimes seedy world of college basketball recruiting. Mike comes to us with experience at The Lantern, BuckeyeTV, the Columbus Clippers, WCMH-4 and, yes, a stint interning with ESPN. You can follow him on Twitter at @MYoung11W.
The intrigue surrounding the 2013 recruiting class commitments is gone, since consensus number one recruit Andrew Wiggins decided on Kansas two weeks ago.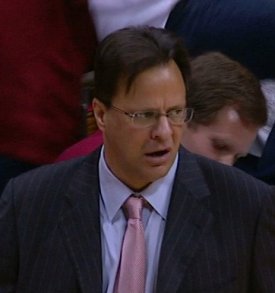 Major announcements are out of the way, giving us a chance to fully assess how the class of 2013 fits in at their respective schools.
The best player since LeBron and the other best player since LeBron sit atop a loaded class, oozing with NBA potential. Neither Wiggins nor Jabari Parker (attending Duke) picked a Big Ten school, but there's plenty of depth behind them.
In the midst of a banner year for the conference, several Big Ten coaching staffs put together a solid class. Here's how Eleven Warriors ranks them:
12. Northwestern

Apparently, it's tough to sell a program with zero NCAA Tournament berths in its history. John Shurna was possibly the best player to ever put on a Wildcats' uniform, and he was never able to lead them there.
He did lead them to a 10-3 start in 2011. It was nice, but they still missed the tournament. A year later, without Shurna, they finished 13-19 and fired head coach Bill Carmody.
Former Duke assistant coach Chris Collins comes in to pick up the pieces. He lost four-star point guard Jaren Sina to Seton Hall after Carmody's firing, but was able to retain three-star forward Nate Taphorn (Pekin, Ill.). Taphorn is a lanky, a 6-foot-7 sharpshooter and still may need time to develop his shot off the dribble. The Wildcats may need his scoring punch this year, after two of their top-four leading scorers graduated – guard Reggie Hearn and forward Jared Swopshire.
11. Iowa
Being ranked this low is not indicative of the basketball program as a whole. Coach Fran McCaffery has the program on the uptick. They went to the NIT Finals last year, which is the Hawkeyes' biggest accomplishment over the last five years. Expect them to be in the upper half of the Big Ten next year.
They return nine of their 10 leading scorers, meaning they didn't have many scholarships available. Their only commitment is three-star guard/forward Peter Jok (Des Moines, Ia.). He's underrated – possibly because of his injury history. He's 6 feet 5 inches with a solid frame, enabling him to guard multiple perimeter spots and is a solid outside shooter. He could be a steal if he stays healthy.
Also, transfer Jarrod Uthoff is eligible this upcoming season after his controversial exit from Wisconsin. 
10. Minnesota 

This is another squad with a new head coach. Minnesota fired Tubby Smith after he won at least 20 games in five different seasons. Under Smith, they were notorious for getting off to hot starts, only to fade down the stretch. They never went better than .500 in conference play and never finished higher than sixth in the standings. Richard Pitino, son of the Louisville coach, will try to take the Gophers to the next level.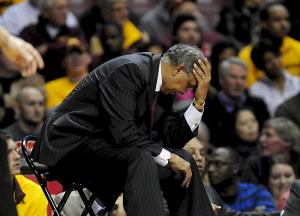 With a new coach and little time, they had to scramble to fill their '13 class. Big Ten mainstays Rodney Williams and Trevor Mbakwe have departed, leaving gaping holes in the Minnesota front court.
They didn't exactly fill those this year. Pitino signed two point guards: three-star Daquein McNeil (Baltimore) and junior college transfer Dre Mathieu (Memphis, Tenn.). Also, Pitino left Florida-International and brought guard Malik Smith with him. Those three will add depth to the solid back court tandem of Andre and Austin Hollins.
The key for Pitino is making a splash with his 2014 class. Five-star guards Tyus Jones and Rashad Vaughn –possibly the best at their positions – as well as four-star forward Reid Travis make up the so-called "Big Three." They all hail from the Greater Minneapolis – St. Paul area.
9. Michigan state

Sparty what? This has to be a misprint. Actually, it isn't. Tom Izzo only lost one senior off last year's Sweet Sixteen squad. Certainly, Derrick Nix is a BIG loss, but the top three scorers from last year – Keith Appling, Gary Harris and Adreian Payne – will return for another year. They should be the favorites to win the Big Ten.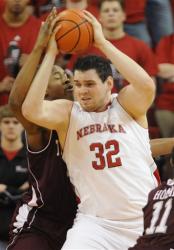 Izzo was in on Jabari Parker, and losing in-state, five-star forward James Young to Kentucky hurts. Still, Michigan State will have 6-foot-9 inch center Gavin Schilling (Chicago), who will look to develop his overall offensive game. The Spartans will also welcome the athletic three-star guard Alvin Ellis (Chicago)
(Side note: Ellis played AAU ball for the "Mean Streets," coached by Tai Streets. Get it?)
8. Nebraska 

Head coach Tim Miles is in his second year of trying to turn his Huskers into a respectable basketball program. THIS (the new arena, not the Michael Bublé concert) will help. Considering Miles is looking to build consistency, losing leading scorer Dylan Talley and fan favorite Andre Almeida won't help.
Talley led last year's squad with only 2.5 assists per game, so they needed help at the point. Miles got some, plucking point guard Tai Webster (Auckland, New Zealand) from overseas.  He is too talented not to grab minutes immediately. Also threatening to break into the rotation, 6-foot-7 inch forward Nick Fuller (Sun Prairie, Wis.), a versatile offensive forward with the ability to run the floor and spot-up.
Adding to the back court is combo guard Nathan Hawkins (Rowlett, Tx.). Forward and JUCO transfer Leslee Smith (Humble, Tx.), who originally attended SMU, adds some more size to this team.
7. Penn state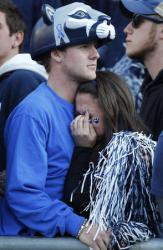 It has been two years since coach Ed DeChellis used the Nittany Lions as a stepping-stone to end up at Navy (!). His replacement, Patrick Chambers, has gone 22-41 in his two years at Penn State. Last year's 10-21 mark is a little misleading, as point guard Tim Frazier – one of the best in the Big Ten – played in only four games before rupturing his left Achilles tendon.
Chambers' goal is to build up depth around the returning guards Frazier and Jermaine Marshall. They are still lacking in the front court, but versatile 6-foot-9 inch big man Julian Moore (Philadelphia) steps in to help out. He's still a project, but PSU added more known quantities to the guard heavy rotation. Three-stars Geno Thorpe (Orlando, Fla.) and Graham Woodward (Edina, Minn.) both attack the rim aggressively. Rounding out the recruiting class is 6-foot-6 inch forward Payton Banks (Orange, Calif.).
In addition to those four, Pitt transfer John Johnson will be eligible in December, further supplementing a strong back court.
6. Wisconsin 

The Badgers lose the following due to graduation: Ryan Evans, Jared Berggren and the wacky, nuisance Mike Brusewitz. That is a lot of upper-class experience to replace. Bo Ryan's teams always end up near the top of the Big Ten standings, however. No reason to expect anything different this year, especially with a back court of Ben Brust, Traevon Jackson and – returning from injury – Josh Gasser.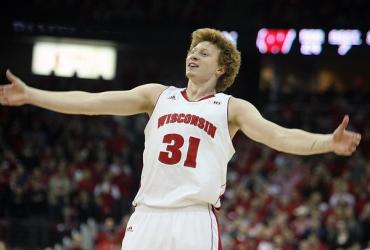 With all the departures, Ryan had five scholarships at his disposal. One of them pried four-star forward Nigel Hayes (Toledo) away from the Buckeye State. He would've been a nice add to the OSU front court, possessing a mean streak and physicality, which is lacking with the Buckeyes front line.
Outside of Hayes, the Badgers signed guards Bronson Koenig (La Crosse, Wis.), Riley Dearring (Minneapolis) and Jordan Hill (Exeter, NH) to add to their back court depth. Three-star forward Vitto Brown (Bowling Green, Oh.) also fled Northwest Ohio for Wisconsin. He fits the Bo Ryan mold as a forward with good size and a face-up game.
5. Purdue 

It was a rare down year for Matt Painter's crew. For the first time since Painter's inaugural year as head coach, the Boilermakers failed to make the NCAA tournament. They were a young squad last year, and the only major contributor they lose to graduation is D.J. Byrd.
Three bench players transferred, freeing up some more scholarships for Painter's staff. They added four-star guard Kendall Stephens (Saint Charles, Ill.), who has a long wingspan and excellent three-point range.
The state of Indiana is always loaded with talent, and Purdue will bring three Hoosier State natives to campus. Forward Basil Smotherman (Indianapolis) is a physical player (inherent in his last name) who fits Painter's system, guard Bryson Scott (Fort Wayne) can aggressively attack the hoop, and transfer forward Errick Peck (Indianapolis) played four years at Cornell prior to enrolling at Purdue.
Looking at the potential on this roster, it's clear that last year's performance was merely a team rebuilding, rather than starting a string of missing the tournament.
4. Ohio state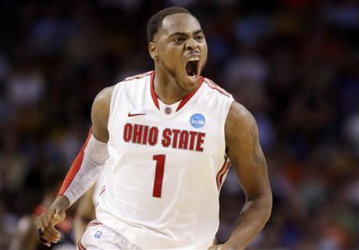 The Buckeyes will undoubtedly miss Deshaun Thomas, who left early to enter the NBA Draft. He was a key cog in two deep runs in the NCAA Tournament, and his scoring ability was essential on teams that already lacked perimeter shooting.
LaQuinton Ross put Buckeyes fans at ease with the way he ended the year. In his last seven games – all Big Ten and NCAA Tournament games – Ross scored 12.4 points per game and was 14 of 27 from three.
Still, without Thomas, and with the uncertainty surrounding the consistency of Sam Thompson's jumper, the Buckeyes need another perimeter scoring threat. Enter four-star guard Kameron Williams (Baltimore). 
He has an array of offensive moves. In addition to his deep stroke and ability to move off screens, Williams can push the ball in transition. If he figures out the college game quickly and can play with Shannon Scott off the bench, the Buckeyes will have lethal combo of reserves.
Overall, the Buckeyes back court depth is solid. The biggest concern might be the front court, especially with the Evan Ravenel graduating. Even though Williams is talented in his own right, four-star forward Marc Loving (Toledo) might have a bigger impact in his freshman year.
Loving will have difficulty adjusting to the physicality of Big Ten post play, but he'll have the athleticism, length and range to overcome it. If – when – Amir Williams gets into foul trouble, Thad Matta might be forced to go to Loving or Trey McDonald, who is an unknown quantity himself.
3. Illinois

What was Illini fans' biggest knock against former coach Bruce Weber? That he couldn't convince the top Chicago area recruits to come to Illinois? Well, second year head coach John Groce. . . couldn't land Jabari Parker. But, he did get the second best player in the region – four-star guard Kendrick Nunn (Chicago). He's not as talented as Parker, but he does give the Illini a scoring threat from everywhere on the floor.
Coming off an appearance in the third round of the NCAA Tournament, Illinois also nabbed two other four-star recruits. Malcolm Hill (Belleville, Ill.) is long and athletic enough to play both forward and guard. Big man Austin Colbert (Gladstone, N.J.) already has a solid post game and immediately becomes one of the taller Illini players.
Groce filled out the '13 class with three-star center Maverick Morgan (Springboro, Oh.) and three-star guard Jaylon Tate (Chicago). They both add depth to an Illinois team that lost D.J. Richardson, Tyler Griffey and Brandon Paul – who can stop lighting up the Buckeyes now.
2. Michigan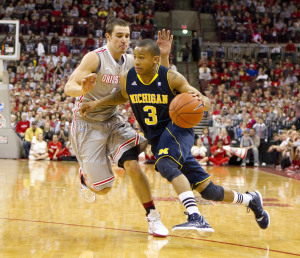 The runner-up in the Big Ten recruiting rankings is the same team that finished as the runner-up in the NCAA Tournament. The Wolverines experienced a quick flashback to the late '80s and early '90s by making a charge to the championship game. They didn't seem likely to do make it that far, judging by how they ended the season. Mitch McGary and fabulous point guard play from Trey Burke ignited them, however.
McGary shot up NBA Draft charts, but opted to stay in school. So will Glenn Robinson III. John Beilein didn't get as lucky with Burke or Tim Hardaway Jr., both of whom will forgo the rest of their college basketball careers for the NBA. The team also had several seniors, but you wouldn't know it by how little they played.
So, with scholarships available, Michigan landed five-star forward Zak Irvin (Fishers, Ind.), Indiana's Mr. Basketball, and the best recruit in the state. Beilein will have to balance the logjam of wing players, but Irvin will find playing time, as a major offensive threat off the bench.
The biggest issue for the Wolverines is how they replace Burke. Spike Albrecht had a ridiculous first half of the title game, and carried that momentum into a falsely confident attempt to hit on Kate Upton. He's not the answer for her or the point guard spot. Perhaps four-star, pure point guard Derrick Walton (Detroit) is?
They also added four-star forward Mark Donnal (Whitehouse, OH), who has a similar skill set as McGary's.
1. Indiana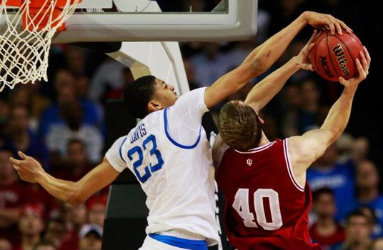 Now that Tom Crean has Indiana's program back on track, expect the Hoosiers to sit atop Big Ten recruiting rankings for many years to come.
Although they disappointed many by bowing out in the Sweet Sixteen, IU still had a great regular season. He'll lose a lot of talent from that squad – NBA Draft lottery picks Victor Oladipo and Cody Zeller – as well as important seniors, such as Christian Watford and Jordan Hulls.
What they lose in Zeller's size, they make up for with two recruits. Five-star Noah Vonleh (Haverhill, Mass.) is 6 feet 9 inches tall with a huge wingspan and is more athletic than Zeller. The Hoosiers will also welcome four-star Luke Fischer (Germantown, Wis.) and his 6-foot-9 inch presence to the post.
Whether it's Vonleh, Fischer, or forwards Troy Williams (Hampton, Va.), Stanford Robinson (Fairfax, Va.), Devin Davis (Indianapolis), or Colin Hartman (Fishers, Ind.), the one constant is: they can all run the floor.
Indiana might not look great early in the season due to its youth. Still, with the way they push the ball in transition and spread the floor, they'll be a threat to put up a lot of points in Big Ten play again.