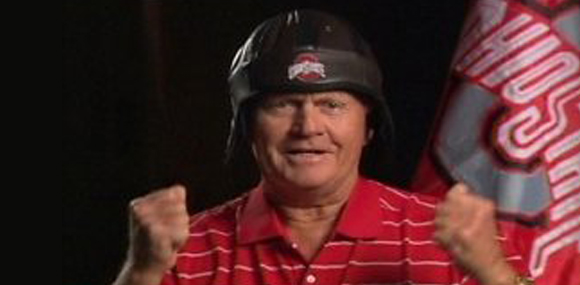 Growing up in Upper Arlington, it's hard to avoid Ohio State. The university abuts the city with many off-campus locales sharing an address with the up-scale city. For young Jackie Nicklaus, Buckeye football and basketball was a big influence.
He played nearly every sport a youth can play and was particularly good at basketball. So good in fact that he drew interest from Ohio State. But by then, Nicklaus had already become a young golfing prodigy. At the age of 12, he won his first of five straight Ohio State Junior Championships.
It would only take a few more years until the rest of the golf world learned about the teenager with potential to join Ben Hogan, Byron Nelson, Sam Snead and Arnold Palmer at the head of the legends table. Nicklaus won a staggering 27 events by the time he was 17, often shooting 18-hole scores that had never been accomplished by someone so young.
An affinity for Ohio State stuck with Nicklaus and when it was time to make a college decision, one school stuck out from the others.
"From the time I was six-years-old, I missed only one Ohio State home football game, until I was 20," Nicklaus said. "Then it was because I played in the World Amateur Team Championship and for the Eisenhower Trophy at Merion Golf Club. Even then, I got the Ohio State-Southern Cal game on the radio. I walked around the golf course, carrying the radio and listening to the Ohio State-Southern Cal game on the radio while I was playing in the tournament. I shot 66-67-68-68 and won the individual title. So I shot 68 that day. If I hadn't been carrying around the radio, maybe I would have shot another 66."
"From the time I was six-years-old, I missed only one Ohio State home football game, until I was 20."
Nicklaus would have little problem attending as many football games as he wanted over the next three years. During his time at Ohio State, he won two U.S. Amateurs and the 1961 NCAA Championship. Perhaps his crowning achievement, though, came in defeat, when Nicklaus finished second to Arnold Palmer at the 1960 U.S. Open. It served as a warning sign of what was to come and remains the lowest score ever shot by an amateur in the U.S. Open.
Soon thereafter, Nicklaus said goodbye to Ohio State and turned professional. It proved to be a good decision as he won 18 majors over his career with an additional 19 second-place finishes. Still considered the greatest golfer to ever live, Nicklaus never forgot his roots in Central Ohio despite moving to South Florida early in his PGA Tour career.
"I was very proud of my alma mater, as are a lot of golfers," he said. "You still see that school pride on Tour. To be honest, most of my golf was played prior to football season, so I didn't have to (miss many games)."
Nicklaus' father, Charlie, a pharmacist, owned several drug stores in Columbus. His most famous customer was Woody Hayes. The two forged a friendship that lasted a lifetime.
There are two famous stories involving Woody, one in which he confronted a fan at one of Nicklaus' tournaments after he overheard the person call him "fat Jack" and another when he acted as a stringer for a Columbus newspaper at the 1960 U.S. Open.
"Woody's legacy is mixed, but in my opinion he was a great man," Nicklaus said.
It was Hayes who told Charlie to steer his son away from football and toward golf because of his prodigious talent. Hayes also spoke of "paying forward," a motto that is still preached at Ohio State. Nicklaus has taken to it, whether it was creating the Memorial Tournament, which has been a boon to Central Ohio since its inception, or redesigning Ohio State's Scarlet Golf Course for the fee of $1.
The biggest "thank you" came in the form of the Presidential Medal of Freedom, the highest civilian honor, presented to Nicklaus in 2005 by Pres. George W. Bush. Recently, two Ohio representatives have pushed for Nicklaus to be given the Congressional Gold Medal, awarded to those "who have performed an achievement that has an impact on American history and culture that is likely to be recognized as a major achievement in the recipient's field long after the achievement."
Past honorees include former presidents George Washington and Zachary Taylor, Mother Teresa and Ohioans Neil Armstrong and John Glenn. 
"His accomplishments on the golf course are amazing, but the work the Golden Bear does to help those in need, especially children, is truly remarkable," said Congressman Pat Tiberi. "His work to raise funds and further causes to improve children's health, support the well-being of less fortunate children, and help improve the lives of wounded and disabled veterans is inspirational."
Nicklaus and his wife, Barbara, have been avid supporters of Children's Hospital and cancer hospitals throughout the country, raising tens of millions of dollars.
The recognition has flattered Nicklaus, but the admiration from his alma mater impacted Nicklaus greater than a pat on the back from the President of the United States.
First came the construction of the Jack Nicklaus Museum in 2002, honoring the career of one of the most successful athletes of all-time. Four years later came the thrill of a lifetime for any Buckeye: dotting the "i" in Script Ohio.
"I think this is an honor that resonates more with people who went to Ohio State, who love and are passionate about the university, and who grew up with it as a part of their lives," Nicklaus said. "Most people outside of Ohio wouldn't understand it, but I do. Script Ohio is a big thing. Not just Script Ohio, but done by 'The Best Damn Band In The Land.' I guess it is symbolic of the respect or the feelings people at Ohio State might have for one of their alumni. It is an extremely nice gesture and compliment."
Paying Nicklaus back in full for the impact he's had on sports and society would take a golf-sized blank check.