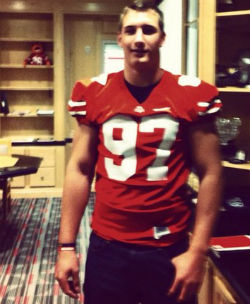 Last week we took a look back at the nine offensive players the Buckeyes signed in their 2013 recruiting class.
It's hard to ignore the skill players brought in on that side of the ball, but Urban Meyer and his staff did equal work on defense, signing elite players at every level, from the line through linebackers and the secondary. With that in mind, we'll turn to the Silver Bullets and break down what to expect from members of the '13 class.
The Buckeyes brought in 14 future Bullets, so we'll break things down into two parts. This week will will talk about the six defensive linemen the Buckeyes signed, including Joey Bosa, Michael Hill, Tyquan Lewis ("Viper"), Donovan Munger, Billy Price, and Tracy Sprinkle.
We will talk about the chances of a couple of these players possibly making a transition to the other side of the football in addition to the impact they will have at the college level.
Join me after the jump to break down Mike Vrabel's six new toys.
DE · Joey Bosa · Ft. Lauderdale (FL) St. Thomas Aquinas
Bosa is one of the players Buckeye fans are the most excited to see on the field playing college ball. He is the highest-rated of any of the defensive linemen Ohio State took in the 2013 class. He had a strong senior campaign at St. Thomas Aquinas, considered one of the nation's best football programs, posting 70 tackles to go along with 13 sacks. He put up those strong numbers despite missing a couple of games due to a concussion and a later suspension.
Bosa could definitely land a spot on the two deep following summer camp and work his way into the mix on the defensive line rotation his freshmen season. He is probably the most college ready of the defensive linemen the Buckeyes landed in the 2013 class.
DT · Michael Hill · Pendleton (SC) Pendleton Hi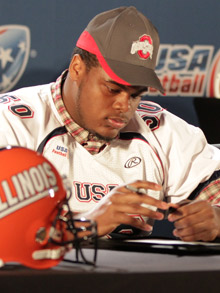 Michael Hill was yet another prospect the Buckeyes landed from out of state that could come to Columbus and make an early impact. Unfortunately, he suffered an injury which led to him missing significant time his senior season and that explains his low statistical output of only eight tackles for loss and four sacks. Those numbers were down from 25 TFLs and eight sacks as a junior in 2011.
With the Buckeyes full of talent, but short on experience inside, Hill could find himself on the receiving end of significant playing time this fall if he has a strong showing in camp. If not as a freshman, then certainly "SOON" is the operative word for Hill.
DE/LB · Tyquan Lewis · Tarboro (NC) 
After the first player they targeted for the "Viper" position, Lewis Neal, decommitted from Ohio State, the Buckeyes may have, in fact, upgraded. Tyquan Lewis, like Neal, is also from North Carolina, and he possesses many of the traits that made Neal so desirable for big programs.
Lewis committed to the Buckeyes at the beginning of his senior campaign and went on to tally 13 sacks in a strong showing in 2012.
Lewis may not see a lot of playing time this fall. In fact it would not be a shock if the Ohio State staff decided to redshirt him and let him further his development for another year. He enrolled at Ohio State this past January, however, so if called upon to play, he will certainly know the playbook.
In the end I don't think he plays much this year, but makes an impact no later than 2015 at the Viper spot.
DT/OG · Donovan Munger · Cleveland (OH) Shaker Heights
Munger was a late addition to the Ohio State class, committing in December after some started to speculate that he would not be part of this class.
Munger tallied 72 tackles, 25 of which went for a loss as a senior in 2012. Not only is Munger a good defensive tackle, he his also a very good offensive guard. There's a very real chance he makes the transition to the offensive side on the line at some point in his college career, though he'll enter as a defensive lineman.
I think Munger is one of the players most likely to redshirt this fall. There's a lot of uncertainty as to which position he plays in college and he still has a lot of developing to do on both sides of the line in order to be ready for the level of competition he'll face as a Buckeye. As I mentioned earlier, he will come in as a defensive tackle, but I think he makes the transition to guard by third year on campus and could be a solid starter at guard in college.
DT/OG · Billy Price · Youngstown (OH) Fitch
Billy Price falls into the same category as the previously mentioned Donovan Munger. He's a player that could end up on either side of the line during his stay in Columbus. I think it's less likely Price plays on offensive than Munger however, and if he does stick to defense, expect the John Simon comparisons to only heat up.
I don't envision too much playing time being available for Price in 2013, but I wouldn't be surprised if he snuck into the defensive line rotation. At the very least I don't think he'll redshirt. He currently posses the frame necessary to succeed on either side of the ball in college. I think he stays at defensive tackle for his whole career at Ohio State and becomes a star.
DE · Tracy Sprinkle · Elyria (OH)
Sprinkle has a lot of upside, but isn't quite ready to see the field for the Buckeyes. He posted a a hefty total of 103 tackles, 30 of which were for loss, to go along with 19 sacks in 2012, sharing Ohio's Division I Defensive Player of the Year award with classmate Price. However, he's still a bit of a raw talent.
Enrolling in January is really going to help Sprinkle's cause, but I still see him redshirting in 2013. There just isn't enough space for him to receiving playing time and he still must work on his tecnhique. I think he'll make his mark in Columbus, but not until 2014 or 2015.
---
Thanks for tuning in. Be sure to join me next week when I break down the linebackers and defensive backs Ohio State signed in the '13 class.