Have any big plans for the Memorial Day Weekend? Saturday is probably everyone's favorite day of the week. It improves that much more when there is knowledge that Monday is a federal holiday as well.
Today's Skull Session will be brief, touching on a few things happening in the world of sports. I don't want to bother you all on your holiday weekend.
 CHARLIE WEIS HAS MONEY IN THE BANK. We've known for some time that Charlie Weis may be the most infamous experiment in Notre Dame's illustrious football history. Mind you, Notre Dame once employed Bob Davie as a head coach and picked the successor to Dan Devine, a national championship-winning coach, from Moeller High School in Cincinnati. Those are words to not throw around lightly.
Notre Dame's critical misstep, after which everything else was a fait accompli, was offering Charlie Weis a 10-year, $30-$40 million extension midway through 2005. This was Charlie Weis' first season in South Bend. Essentially, Charlie Weis was given a tenure-styled contract for losing to Southern California in the infamous "Bush Push" game. Notre Dame was 5-2 at his point. Seriously, it was midway through his first damn season in South Bend.
While the stupidity of the Charlie Weis experiment at Notre Dame is basically common knowledge for every college football fan, we found out a little more yesterday when the Chicago Tribune looked into a private records release by the university and discovered how much Notre Dame is still paying him.
Short answer: $2,054,744. That is roughly three times current coach Brian Kelly's base contract, which may have changed after Notre Dame's 2013 season.
It gets better. Notre Dame will likely keep paying Charlie Weis that same rate through the duration of the contract extension he signed in the middle of the 2005 season, after losing to Southern California. All told, the expected total compensation for Charlie Weis over the course of his buyout will be just short of $19 million.
It's a lot of money just to break Notre Dame's bowl slump by winning the 2008 Sheraton Hawaii Bowl.
 MIKE MITCHELL IS GOOD AT ATHLETICS. Here's something else you have also known for some time. Mike Mitchell, one of the prizes of Ohio State's 2013 recruiting class, is an absurdly good athlete. Certainly better than you or I. How good? Well, Ohio State's offensive coordinator and Texas regional recruiter, Tom Herman, took to Twitter to boast of Mike Mitchell's latest feat.
"Ohio State incoming Freshman LB Mike Mitchell finished 3rd in the 100M in Texas with a 10.95 but also finished 1st in Shot Put"

— Tom Herman (@CoachTomHerman) May 24, 2013
The numbers are not entirely new. At least, it's not breaking news. These numbers came from the TAPPS State Track & Field Championships contested in Austin two weeks ago. What Tom Herman is boasting (and, hell, we are too) is that these numbers were personal bests for the entire season of track and field, and they came in the finals.
Here's a summary of Mike Mitchell's performance at the TAPPS State Track & Field Championships:
Mike Mitchell's 10.95 100m dash was fifth overall, but third for the alphanumeric designation of Mitchell's school (5A). The top two runners in 4A beat him by an average of .10 seconds.
His 4x100 relay team finished third with a time of 43.15 seconds. Mitchell was the anchor.
He won the shot put (12lb) by almost a full foot. His best was 52 feet and 4 inches.
It is worth reiterating that Mike Mitchell is 6-4 and weighs 225 pounds, and ran a 10.95 100-meter dash.
Mike Mitchell was the recruit that captured the attention of Ohio State fans everywhere when he dominated Nike's The Opening SPARQ Combine on national television. At that time, Ohio State fans were excited to learn that a commitment to Ohio State could be forthcoming. It was, albeit several months later during the U.S. Army All-American Game.
His performance at that combine was a full ten points better than anyone else's performance at that combine, or at any point thereafter. It was good enough to claim a SPARQ "national championship". The next closest guy was Altee Tenpenny, who signed with Alabama.
So, yes: Mike Mitchell prevented Alabama and its fans from claiming another "national championship". May his legend increase at Ohio State in the years to come.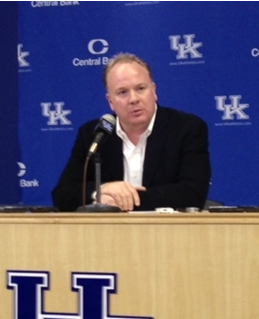 THE STATE OF RECRUITING IN OHIO. Rivals.com recently released an updated list of the top 60 players in the State of Ohio for the 2014 recruiting class. You will be happy to know that Ohio State leads all other schools with six pledges from players on this list. Dante Booker, the latest pledge, is the top ranked Buckeye and listed as the state's #2 prospect. Kyle Berger and Kyle Trout are at #9 and #10 respectively. Marcelys Jones (#13), Parris Campbell (#22), and Sam Hubbard (#30) round out the list for the Buckeyes.
Without looking, could you name the program that has the second most verbal commitments from players on this list? Here's a hint: this program has four such commitments, and it's not Notre Dame or That Team Up North.
Give up? It's Kentucky. Kentucky has commitments from the #4 (Mikel Horton), #8 (Thaddeus Snodgrass), #32 (Darryl Long) and #34 (Dorian Hendrix) players on this list. It is also in very good position for Mike Edwards, the #19 player on this list.
This is not to sound any alarm bells for Ohio State fans about Kentucky as a possible competitor to the Buckeyes in its home state. It's not. If (really: when) Penn State recovers from the NCAA sanctions and starts targeting Ohio again, that will be a source of competition for the Buckeyes. Kentucky will not seriously challenge Ohio State within its own borders.
Further, the Irish and the Wolverines have their hands in other cookie jars elsewhere across the country and do not see Kentucky as a real competitor for them in the state of Ohio.
What Kentucky is doing, however, is posing a serious challenge to Purdue, Indiana, Michigan State, and Illinois, among others in the Big Ten. While I think this philosophy can be overdone among Big Ten schools, these programs target the "best of the rest" of Ohio's prospects. They can offer the same Big Ten football experience as an Ohio State (or That Team Up North), but with minimal increase in distance from home. Kentucky is offering the same, but with the SEC brand in lieu of the Big Ten. One conference has considerably more luster at the moment, and it is paying dividends for Mark Stoops.
Make no mistake: the Youngstown Cardinal Mooney grad sees Ohio as in-state recruiting for Kentucky. Other programs in the Big Ten, and the conference in general, can ill-afford to lose these prospects to another conference.
 MISCELLANY. Champions League final today!... UEFA realignment... At least, I found this really interesting... Houston's leading receiver is leaving school... So how do you stop Baylor? Tom Herman and Urban Meyer will try to give Big Ten defenses similar fits... SEC coaches, tiny faces... The NCAA isn't finished with Miami, or whatever... Jameis Winston (remember him, Ohio State recruitniks?) is really good at throwing a baseball... Idiot on the Track... Idiot on the Field, and possibly the greatest ever.