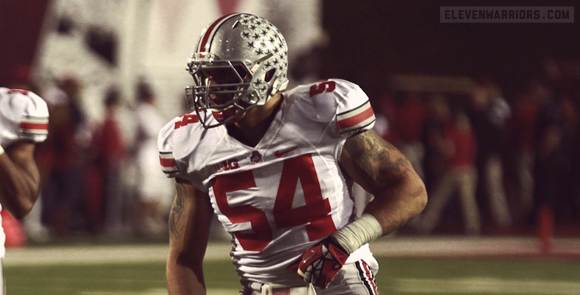 John Simon's new beginning starts in a place he despised until the day he was drafted. The Youngstown native is a lifelong Pittsburgh Steelers fan with a family full of Black and Yellow diehards. In an instant that all changed.
On Day 3 of the NFL Draft, it wasn't a matter of if Simon would be selected it was when. He had languished through the first two days, now was his moment to realize a dream. In the fourth round with the 129th overall pick, the Baltimore Ravens, a team Simon has rooted against his entire life, put their faith in him by welcoming him to the defending Super Bowl champions.
"Some of the things in the house are Pittsburgh things, but not anymore," Simon said. "We're diehard Ravens fans. We're no longer Steelers fans. Go Baltimore."
The AFC North is the appropriate landing spot for the workout junky who plays with the bluest of blue-collar work ethics. He's a football player to the core that grew up in hardworking Northeast Ohio. That Midwestern Rust Belt upbringing is apparent in almost everything Simon does. He's friendly off the field, but on it he possesses a unique ability to compartmentalize everything and focus on a singular task, which usually centers on punishing the quarterback.
It's something he was able to do frequently at Ohio State, leading to Big Ten defensive player of the year honors in 2012. In his last game as a Buckeye, Simon tied a school record with four sacks against Wisconsin. He finished with nine during the undefeated season and 20.5 for his career. Throw in 43 total tackles for loss and it amounts to more than a quarter of his 154 career stops. It all added up to one of the best defensive careers in school history.
The production as a freshman came as an interior defensive lineman before Simon moved outside. He'll change positions again in the NFL, this time to outside linebacker. Simon is 14 pounds lighter now than when he began his Ohio State playing career – from 274 to 260.
No longer a space eater that attracts double teams, he'll fit nicely in the Ravens hybrid defense. The unit ranks near the top of the league on an almost yearly basis by utilizing the correct skill set at opportune times. 
Simon's work ethic and desire to succeed will play well in the locker room of a team that seems to have a similar personality. Ever since the Ravens left Cleveland in 1995, the team has held the identity of being ferocious, hard-hitting and workmanlike. Sound like John Simon?
"I don't think I'm going to stop training hard," he said. "I think that's what made me successful in the past and and hopefully it'll continue to make me successful at the next level."
He played hurt of last season with a shoulder that required offseason attention. That's why he performed poorly in the Senior Bowl, eventually opting to drop out of drills and visit Dr. James Andrews. The injury would ultimately contribute to his slip down the draft board. But Simon is only worried about what lies ahead, not the past.
"It's been a long road, but the NFL road is just beginning," he said. "I'm looking forward to the challenge. I'm trying to learn every position in the playbook, whether it's inside linebacker, outside linebacker, defensive end, inside lineman. If necessary, I'm going to do whatever it takes. Just studying that playbook and trying to make myself beneficial to the Ravens."
"I'm trying to learn every position in the playbook, whether it's inside linebacker, outside linebacker, defensive end, inside lineman."
It appears that has already happened. Simon obviously impressed head coach John Harbaugh and general manager Ozzie Newsome enough to warrant being drafted. But he quickly turned heads upon his arrival, asking team officials when he could gain access to the weight room at rookie minicamp.
The Ravens quickly signed Simon to a four-year deal worth $2.5 million. The deal includes a $385,652 signing bonus and base salaries of $405,000, $495,000, $585,000 and $675,000.
When NFL personnel contacted Urban Meyer about Simon, there's little doubt about what was said. In one season together, Meyer and Simon developed a special bond that can only be compared to the relationship the head coach shared with Tim Tebow. And it was Simon, who according to Meyer, changed the course of last season when he played injured in a win against Cal and addressed the team in an emotional speech following the game.
Harbaugh cited Simon's "toughness and style, work ethic, attention to detail" when lauding the draft pick. "He's our kind of guy," he went on to say.
Special teams seem like a certainty for Simon, but he is also expected to compete for playing time at behind Elvis Dumervil and Courtney Upshaw at outside linebacker. Simon could serve as a situational pass rusher, as well.
Some have scoffed at his potential in the NFL because of the change in speed from the college games. But Simon ran a 4.62 40 at his Pro Day workout, not spectacular but enough juice to chase down a quarterback.
"I'm a nonstop motor guy who's going to do whatever it takes to better the team," he said. "I do my job. I'm aggressive. My mentality is never quit."
Simon mentioned his days at the 'leo' position, essentially an outside linebacker, where he gobbled up quarterbacks and ball carriers. He felt comfortable there and improved throughout the season. His junior year, when he faced double teams on a regular basis, Simon was named a third-team All-American.
His "Tebowish" approach to the game earned him respect from coaches and players alike. Now a change of scenery means Simon must go through that feeling out process again. And it's not just a new team in a new city, it's the defending Super Bowl champions with a roster stockpiled with veterans.
"Leadership is something you earn," Simon said. "As a rookie, you're going to have to earn that respect of the team and the pride of your team and you're going to have to show them through your actions that you're serious about your work. Hopefully down the road I can take that role, but that team has so many great leaders."
Mike Vrabel, Simon's position coach at Ohio State, knows the ins and outs of the NFL, having spent 14 years in the league. After a borderline Hall of Fame career, Vrabel came home to coach under best friend and former teammate Luke Fickell. When Meyer was hired, he chose to retain Vrabel, someone who breathes football every day.
Four of 14 years were spent with the Steelers, so Vrabel knows what it takes to cut it in the AFC North. What he sees from Simon is an "unrivaled, unmatched" work ethic.
"I would be surprised if John Simon didn't have an impact on the success of the Ravens this year," Vrabel said. "I would be very surprised if he didn't have an impact on it, somehow, someway, by the end of the year."