July 2, 1961, was a very eventful day.
Novelist Ernest Hemingway lost his battle with depression and took his own life in Ketchum, Idaho, with a shotgun. The same day, Nikita Khrushchev threatened the British ambassador that "six hydrogen bombs would be quite enough to annihilate the British Isles," should the U.K. join the United States in a war over Berlin. And the citizens of Mexico elected a new legislature.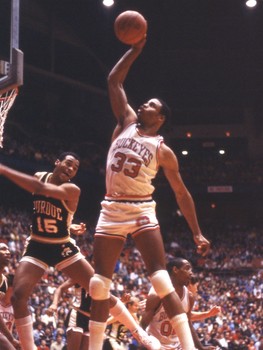 Ohio State fans will mark the date a little differently. It's the day Clark Clifton Kellogg, Jr. was born.
Kellogg grew up on the east side of Cleveland and attended St. Joseph High School (which became Villa Angela-St. Joseph High School in 1990).
An absolute stud player in high school, "Special K" averaged 28 points his final two seasons, including a state record 51 in the Vikings' loss to Columbus East in the 1979 state championship game. He graduated from St. Joseph in 1979, shortly after that title game loss and a mere 27 years ahead of David Lighty, another Buckeye hoops standout from that high school.
Eldon Miller was happy to land Kellogg in the 1979 recruiting class, and the 6-foot-8 forward soon enrolled at Ohio State, where he would major in marketing.
Freshman Year
Kellogg was the lone youngster, starting with four veteran players. Junior center Herb Williams and senior point guard Kelvin Ransey were the team's stars. They were joined in the starting lineup by bruising power forward Jim Smith and shooting guard Carter Scott, both juniors.
The 1979-80 squad went 21-8, with a 12-6 record in Big Ten play. Despite a preseason national ranking of No. 4 and talk of a conference championship, the Buckeyes finished a game behind Indiana in league play. Ohio State finished the year as the No. 10 team in the AP Poll, following a 72-68 loss to UCLA in the second round of the NCAA tournament. That Ohio State team rose as high as No. 2 nationally during the season.
As a freshman, Kellogg averaged 11.6 points and eight rebounds per game, finishing third and second on the team in those categories, respectively. He shot 44% from the field and made 80% of his free throws.
He reached as many as 19 points twice—at Iowa on Jan. 10, 1980, in a 77-71 win, and at Purdue on Feb. 28, in a 64-60 victory. He backed up the 19 at Purdue with 18 in a heartbreaking 76-73 loss in Bloomington on March 2. Clark closed the year with 11 points and 11 boards in the NCAA tournament opening win against Arizona State, and 12 points and eight rebounds in the loss to UCLA.
Sophomore Year
Larry Huggins replaced the departing Ransey in the starting lineup for the 1980-81 season. Losing a star point guard had the effect you'd imagine. Despite a preseason No. 9 ranking, the Buckeyes slipped to sixth in the conference, finishing 14-13 overall and 9-9 in league play.
Kellogg led the Buckeyes in scoring (17.3 PPG) and rebounding (12 RPG), despite the presence of Williams in the middle. That's how good Kellogg was—he outscored and out-rebounded one of the best centers in school history.
Clark topped the 20-point mark for the first time on Nov. 29, 1980, against Cleveland State, dropping 23 points and grabbing 14 rebounds in an 89-81 win. He snatched 17 rebounds in a win over Colgate, to go with 16 points.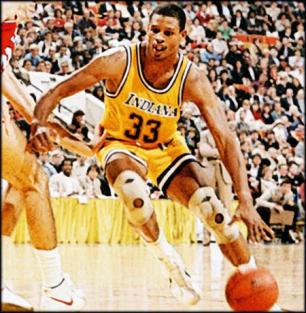 But it was apparent what kind of season the Buckeyes would have when South Alabama rolled into Columbus. Using only seven players, the Jaguars won 76-67 at St. John Arena. Kellogg scored 18 points with 19 rebounds, but Williams mustered only 14 points and four boards before fouling out, with five blocks, and six turnovers. Ohio State turned it over 15 times as a team and shot 29.7% from the floor in the second half.
Clark showed his resilience after a brutal 4-point, 4-rebound effort in a loss at Purdue. He was 2/9 from the floor that night before fouling out with 4:15 to play. He was brilliant the next game in an 81-69 win over Northwestern, scoring 42 points on 18/29 shooting, to go with 14 rebounds.
He also dropped 25 on Wisconsin with 14 rebounds in a hard-fought 71-67 win and 25/11 in a loss to Michigan State. He torched Sparty in the rematch at home, scoring 23 and pulling down 14 boards. Kellogg finished the season with an 18-point, 16-rebound effort in a 78-70 win over Iowa.
For his efforts, Kellogg was a second-team All-Big Ten selection in 1981.
Junior Year
The Buckeyes hoped to bounce back in Kellogg's junior year, but they'd have to do it without Williams, who had gone to the NBA's Indiana Pacers in the first round of the draft. [foreshadowing!] Carter Scott was also gone. Miller named Kellogg a team captain.
Kellogg and Huggins were joined in the starting lineup by forward Tony Campbell and center Granville Waiters. A pair of freshman guards, Ron Stokes and Troy Taylor, rotated in as starters as well. Ohio State did bounce back, finishing 21-10 overall, with a 12-6 conference record. The Buckeyes tied Iowa and Indiana for second in the league, two games behind Big Ten champion Minnesota.
Special K led the Buckeyes in scoring (16.1) and rebounding again (10.5) in 1981-82, his numbers dipping slightly with the emergence of Campbell and a more team-oriented approach. Kellogg reached the 20-point mark eight times his junior year, with 16 double-doubles.
He scored 21 points with 10 rebounds in a 61-58 win over Florida on Dec. 22, and followed with 20/13 in a 63-54 win over Washington State. His 14 points and 14 boards helped the Buckeyes nip league champ Minnesota, 49-47, in early January. Clark scored 24 points to lead Ohio State over Indiana, 68-65, on Feb. 25, and he added 21 points with nine boards late in the year in a 64-63 win over Michigan.
The Buckeyes reached the NCAA tournament and headed to Charlotte on March 11 to square off against James Madison, champions of the Eastern Collegiate Athletic Conference South. The Buckeyes led 29-22 at the half, but the Dukes stifled Ohio State in the second period. Tony Campbell shot just 4/13 and the Buckeyes scored only 19 second-half points, falling 55-48.
Kellogg finished 5/10 shooting with 12 points and 12 boards for another double-double. James Madison center Dan Ruland dominated Waiters in the middle, scoring 18 points on 7/11 shooting and holding the OSU pivot to six points.
The season ended in a most unsatisfying way, but Kellogg did pick up some hardware. He was named to the All-Big Ten first team. He was Ohio State's MVP and also garnered conference MVP honors from the Chicago Tribune.
However, the rumors were swirling that Clark Kellogg's Ohio State career was over, and indeed it came to pass.
OSU Legacy
Clark averaged 15 points and 10 rebounds per game over his entire three-year career, hitting 48.5% from the floor and 77% from the line. He also blocked 60 shots. Sadly, he was never on a championship team at Ohio State. His squads went 56-31 overall, and 33-21 in the Big Ten. He never finished higher than second in the conference, which he did twice, and his Buckeyes were 1-2 in NCAA tournament games.
However, Kellogg did leave quite a mark on the OSU record book. He left Ohio State as the 12th leading scorer in school history, but has since slipped to 29th. He left Columbus as the school's fourth most prolific rebounder, behind only Jerry Lucas, Herb Williams, and Bill Hoskett. Perry Carter (1988-91) and Terence Dials (2002/04-06) have passed him since. He still holds the fifth best career rebounding average at Ohio State.
He made the All-B1G team twice (first team once) and was Ohio State and conference MVP in 1982.
Kellogg completed his marketing degree at Ohio State in 1996, and in June of 2010, he was appointed to the university's Board of Trustees.
The League
"More than any specific goal, I wanted to be known as one of the better players at Ohio State." - Clark Kellogg
On May 14, 1982, Kellogg held a press conference to announce he would forgo his senior season at Ohio State and declare for the NBA Draft. Following Ransey in 1980 and Williams in 1981, Kellogg made it three years in a row in which Ohio State had a first-round NBA pick.
Dallas, Kansas City and Cleveland reportedly showed early interest, but it was the Indiana Pacers who selected Clark with the eighth overall pick in the 1982 NBA Draft.
Kellogg had a very productive, albeit short, career with the Pacers. He averaged 20.1 points and 10.6 rebounds in 1982-83, appearing in 81 games. Despite averaging a double-double, Kellogg finished just behind Terry Cummings of the Milwaukee Bucks (23.7/10.6 in 70 games) for NBA Rookie of the Year. He made the All-Rookie team and looked to be one of the league's next breakout stars.
After two more productive seasons, in which Clark scored 19.1 and 18.6 points per game, his body began to break down. Kellogg was limited to 19 games in 1985-86, and just four the following season. Due to serious knee problems, Special K's professional career was cut short in 1987 when he was just 26 years old.
After Hoops
Today, Kellogg is known best for being the lead college basketball analyst at CBS. After the NBA, he broke into the broadcasting game working as the TV analyst for Cleveland State games and on radio with the Pacers. His big break in television came in 1990, when he was hired at ESPN. He joined CBS full-time in 1997 and eventually replaced Billy Packer on the eyeball network's top announcing crew in 1998. He often says some very interesting things.
At that bittersweet 1982 presser, where he announced he was skipping his senior year with the Buckeyes, Kellogg said, "more than any specific goal, I wanted to be known as one of the better players at Ohio State, and I wanted to be referred to as a good-natured player." More than 30 years later, we still remember him that way.