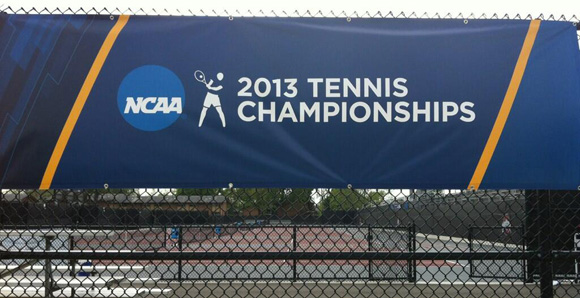 The Ohio State men's tennis team, the tournament's fifth seed, knocked off No. 12 Texas A&M 4-0 Thursday at the Khan Tennis Complex in Urbana, Ill, setting up a date with four-time defending champion USC Saturday at 5 p.m.
The win was a bit of revenge for the Buckeyes, who lost 4-3 to the Aggies on the road in February. Ohio State won the doubles point for the 34th time in 2013, before moving on to dominate singles play.
"As soon as we saw the draw, we saw we might have another chance at A&M," senior Connor Smith said. "We were all just hungry for that."
The win was the 24th in a row for the Buckeyes. They'll hope to make it 25 when they take on the Trojans. Despite winning the last four titles, going 2-0 in clashes with Ohio State during that time, USC is having a bit of a down year, and are the tournament's No. 4 seed.