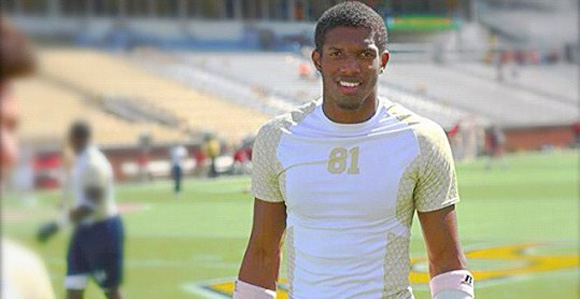 In the spring of 2011, after months of deliberating, wide receiver Jeff Greene committed to nearby Georgia Tech. It was the culmination of years of hard work and dreams of playing big-time college football.
But a fork in the road appeared after two frustrating years in the Yellow Jackets' run-first-and-often offense. Greene played in 12 games as a freshman and led Georgia Tech in receiving his sophomore year, finishing with 18 catches for 284 yards and two touchdowns.
Following the regular season, Greene and the coaching staff came to a mutual decision to part ways. The staff still put in its final two cents, contributing Greene's departure to "poor effort and attitude." Greene's high school coach, Chad Phillips, also displayed disappointment in his former player, telling the Atlanta Journal-Constitution,  "It's a crying shame. The (coaches) bent over backwards to help him. He was on his way to getting a college degree from Georgia Institute of Technology. It's a shame he had to be a little selfish."
Greene told Eleven Warriors that he knew Georgia Tech's style, but was assured it would adapt during his career.
"Everyone said things were going to change," he said. "Some things they showed me when I was being recruited, some things they didn't. I was the leading receiver with 18 catches, it was frustrating at times. I just felt like it wasn't for me."
It's understandable why a receiver would grow tired of the offensive philosophy at Georgia Tech, though Stephen Hill neared 1,000 yards two years ago. Still, consistent production is hard to come by. So Greene found himself right where he was two years priors – being recruited. 
His dad, Jeff Sr., is a personal trainer in Dayton, making Ohio an attractive landing spot. Greene was offered a scholarship from Cincinnati out of high school, and the Bearcats came calling again when they learned Greene was looking to transfer.
"I was just trying to get to Ohio."
"It was basically like being recruited all over again," said Greene, who revealed Arkansas, South Florida and Division II Valdosta State were among the programs coveting his services. "I talked to a lot of schools that offered me scholarships. My main thing was to come up to Ohio where I can train with my dad and I could be close to him, and he can come watch my games. I was just trying to get to Ohio."
And when it comes to college football in the Buckeye State it is hard to ignore Ohio State. Greene didn't shy away from the Buckeyes. He talked to Urban Meyer and learned that the receivers were a perceived weakness last year and that two starters for the upcoming season are seniors. The giant elephant in the room, however, was the NCAA sanctions that limit Ohio State to 82 scholarship players.
Currently, the Buckeyes are right on that number. That didn't deter Greene, though. The goal was to end up in the best situation. As it turned out, that would be Ohio State. Conversations with Meyer, as well as offensive coordinator Tom Herman, wide receivers coach Zach Smith and director of football operations Greg Gillum, put Greene at ease. 
"I talked to Coach Meyer in the spring and he said they didn't have scholarship because of the NCAA penalties, but he said he wanted me anyway," Greene said. "He said he wanted me to walk-on. I wanted to get a scholarship, but I came to the decision that it was worth it to walk-on.
"(Meyer) said if I come in and do everything I'm supposed to be doing, going to class, staying on top of things and what not, earning a scholarship shouldn't be hard."
The desire to walk-on and persevere through hard work contrasts with Georgia Tech coaches thoughts. Instead, it paints the picture of a player that's anything but selfish. Greene will enroll at Ohio State for the summer semester, which begins June 10. He will then be able to work out at the Woody Hayes Athletic Center and begin a yearlong offseason project that centers on getting bigger, faster and stronger.
Greene is listed as 6-foot-4, 210 pounds, but he didn't view his size as an asset at Georgia Tech. He actually felt out of place and even undersized when it came to strength.
"When I first came to Georgia Tech, I didn't get redshirted, so I was thrown to the fire my freshman year," Greene said. "I felt like I was ready, but I didn't have the size and weight. I wanted to make that decision to take the next year off and get bigger, faster and stronger. Going from playing for two years to sitting out will be tough, but it's the position I chose to be in."
One glance at what Ohio State has to offer sheds light on that decision. There's the rock star head coach, innovative offensive coordinator, tradition-rich program and facilities that are better than some NFL teams. The Buckeyes also count Cris Carter, Santonio Holmes, Michael Jenkins, David Boston and Terry Glenn among their receiver alumni.
"It was very exciting once I looked at their offense," Greene said. "Coach Meyer even told me that the receivers need to improve and that the offense's main goal is to improve at that position. Even though I have to sit out a year I can come in and help out, run the scout team and get bigger and faster so when it is my time I'll be ready."
"I went against great competition down at Tech, but it's a whole new level coming from Tech to Ohio State."
"I just hope to go out there (on the scout team) and go against great competition. I went against great competition down at Tech, but it's a whole new level coming from Tech to Ohio State. I'll be contending for a national championship and competing against bigger and stronger people up here. The competition is going to get me better, and I hope I can help out on the scout team and benefit the defensive guys."
It's Jenkins that draws comparisons to Greene due to his slender size and ability to outreach smaller defensive backs. Greene said getting to the ball at the highest point and using his big body as a weapon is what he does best when attempting to catch the ball. That same thing happened often from 2001-2003 in Columbus and other Big Ten locales. It added up to 2,746 receiving yards for Jenkins and 16 touchdowns – one more memorable than the others.
Excuse fans if they're enthusiastic about Greene's transfer. It's been a decade since they had a wide receiver with his attributes. Sprinkle in Meyer, Herman and Braxton Miller and 2014 could be an air raid.
"I'm very excited. The fan base is phenomenal," Greene said. "I'm coming up here as a walk-on and there are all kinds of articles about me. A lot of fans have reached out to me to let me know they're glad I'm in the Buckeye family. I have to slow down and catch on. Football up here is a big deal. I'm just grasping on to it, but the fan base is excellent."