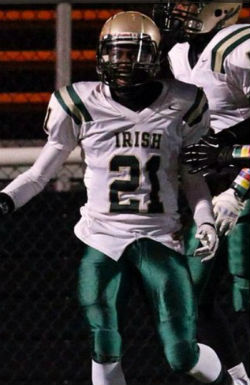 While the crop of talent in the state of Ohio may not be considered as talented as last year's batch, it's still loaded with players who will make a big impact on fall Saturdays.
The class includes players who can play all over the football field and with more pure athletes in the top ten than we've seen in the past couple of years. While there will be nearly 100 prospects in this class who will go on to play Division I football, some players stand above the rest.
A couple of weeks ago we broke down the top remaining undecided players in the state of Ohio. Today we are going to take a look at who the top ten class of 2014 prospects in the Buckeye State.
These rankings will take into account overall talent and the player's potential/upside to improve their game. 
So, without further ado, I present the top 10 prospects in Ohio's class of 2014.
10. Athlete Dareian Watikins, Galion (Northwestern)
Watkins kicks off our countdown to number one, checking in a number ten in the rankings. The Galion product committed to the Northwestern Wildcats a week ago over offers from 20 other schools, and could play all over the field for them.
He has played quarterback, running back, wide receiver, linebacker, and defensive back at the high school level, excelling whereever his coaches decide to stick him him. Galion doesn't play very good competition due to the size of the school, but that doesn't mean Watkins isn't a top talent in the state.
9. Safety Erick Smith, Cleveland Glenville (Undecided)
Smith is a very good safety who has the chance to excel at the college level. He has kept his intentions very close to the vest, so we haven't heard too much about him. When I was at the Best of the Midwest Combine in Indianapolis a couple of months ago, Smith was one of the players who impressed me the most.
I've been consistent in my belief that Ohio State leads for his services.
8. Athlete Sam Hubbard, Cincinnati Archbishop Moeller (Ohio State)
Hubbard is another one of the many versatile athletes in the state of Ohio in this class. He wasn't considered a top football recruit until this year when he recorded 80 tackles, 7 for loss, to go along with 2 interceptions and 2 forced fumbles.
He committed to play lacrosse for Notre Dame, but things changed when the Buckeyes offered him a chance to play football at the Shoe. He is an extremely athletic for his size (6-foot-5 and 225 pounds) and could play tight end, defensive end, linebacker, "STAR", or safety for the Bucks. His upside is tremendous, to say the least.
7. Offensive Tackle Kyle Trout, Lancaster (Ohio State)
I have Trout ranked as the top offensive linemen in the state of Ohio in this class and the only one who breaks in to the top 10. Trout's "college- ready," 6-foot-6, 300-pound frame could aid him in landing early playing time once he arrives in Columbus.
His work recruiting for his class should not be overlooked, either.
6. Derek Kief, Cincinnati La Salle (Undecided) 
Kief already has the size (6-5/200) to come in to a college, develop, and eventually become a legitimate number one receiver at the next level.
He caught 65 balls for 907 yards and 9 scores last year and will look to improve upon last year's success in his senior season. Right now I think Kief will end up playing his college ball for Kentucky or Ohio State.
5. Linebacker Kyle Berger, Cleveland St. Ignatius (Ohio State)
Berger had his breakout season for St. Ignatius last year tallying 44 tackles for loss to go along with 10 sacks. He has the ability to keep getting better and better as he develops and should be a great fit at the outside linebacker spot for the Buckeyes.
4. Linebacker Michael Ferns, St. Clairesville (Michigan)
While Ferns might not play against the strongest competition, he is easily one of the state's best. At 6-foot-3 and 240 pounds, Ferns already possess the frame to succeed at the college level and that frame will only improve once he begins strength training in Ann Arbor.
He has tallied over 130 tackles in each of his last two seasons and will look to match that or improve upon it this year. Expect him to fight his way onto the field early for Michigan.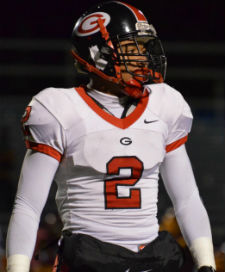 3. Linebacker Dante Booker Jr., St. Vincent-St Mary (Undecided)
Booker is a very athletic linebacker who could excel on the outside at the college level. At 6-foot-4 and 210 pounds, Booker probably needs to add some bulk to his frame for fall Saturdays, but that's more of a question of when, not if.
Football is in his blood as his dad, Dante Sr., played football for Auburn. The St. Vincent-St. Mary star posted 72 tackles, 6 sacks, and 2 interceptions last year while leading his team to a state championship.  I think Booker will be a very good outside linebacker for Ohio State or Notre Dame.
2. Athlete Parris Campbell, Akron St. Vincent-St Mary (Ohio State) 
Some People might think this is a little too high for Campbell, but, in my opinion, his raw talent is too good to put him any lower on this list.
He is probably the fastest football recruit in the state and could end up playing running back, wide receiver, or corner for the Buckeyes. He's young – he'll be only 16 years old during his senior season – and as such, likely has the highest ceiling of any prospect in this class.
1. Athlete Marshon Lattimore, Cleveland Glenville (Undecided) 
Lattimore is the rare prospect who could star on either side of the ball in college. I personally like him the most at corner, but he could also be an elite slot receiver at the next level.
When I saw him live at the Best of the Midwest Combine in February I was blown away by his skills on both sides of the ball. I can pretty confidently say he's Ohio's best in the 2014 class.
If I had to call it right now, I would say he'll be staying in-state to play his college ball for the Buckeyes.
Just Missed
Offensive Guard Jimmy Byrne, Cleveland St. Ignatius (Notre Dame)
I really like Byrne as a player. The big thing keeping him out of the top ten is his inability to play tackle at the next level. 
Offensive Guard Marcelys Jones, Cleveland Glenville (Ohio State)
Jones has been really impressive at camps, but can't player tackle and needs to shed some weight.
Quarterback Deshone Kizer, Toledo Central Catholic (Undecided)
Kizer's athletic ability is off the charts, he needs to refine his passing mechanics to take the next step.