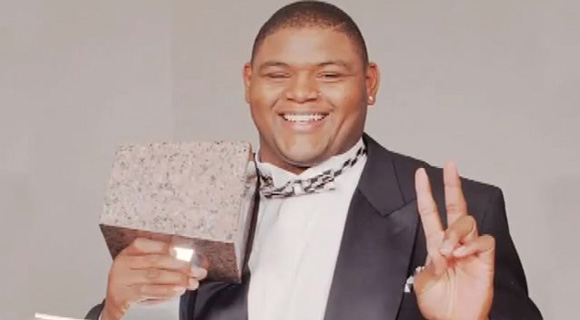 Ever since Rutgers and Princeton got together on a muddy field in New Jersey in the fall of 1869, college football games have been won in the trenches. The cliché was born on that November day in Brunswick. And for the past 143 years, arguably no offensive lineman has performed better than Orlando Pace.
For that, he was chosen for induction into the College Football Hall of Fame as a member of the Class of 2013. Pace is the 24th former Buckeye to be selected for the Hall and the first lineman in more than a decade.
Before Pace even enrolled at Ohio State, the Sandusky native was inundated with lofty expectations. But he had little problem living up to them, even though he only stayed in school three years.
Pace remains the only two-time Lombardi Award winner. He was also a two-time consensus All-American, the winner of the Outland Trophy and fourth-place finisher in the Heisman Trophy balloting. That doesn't include Big Ten freshman of the year honors and the Silver Football in 1996.
"Orlando Pace is not only the best offensive lineman I have ever coached, but he is the best I have ever seen," said former Ohio State head coach John Cooper. "I don't know how you could play the position any better than he did. He was just a fantastic football player. He was the best."
This isn't a case of nepotism, where only Pace's coach recognized his exploits. Saturdays in the fall became a time for NFL scouts to leave Ohio Stadium or another Big Ten outpost with jaws dropped and opposing coaches wide-eyed, Iowa head coach Hayden Fry among them.
"Without question, he is the best offensive lineman I have ever seen." — Hayden Fry on Orlando Pace
"Without question, he is the best offensive lineman I have ever seen," Fry said in 1996.
When Ohio State took the field for the opening game of the 1994 season, there was Pace lined up at left tackle. He became the first Buckeye true freshman offensive lineman to start in the opener. In all, Pace started 38 games – every game of his Ohio State career.
He made life on opposing linemen miserable and popularized the term "pancake block." The move, which results in a defensive player being leveled to the ground, was executed some 80 times during the 1996 season. The Buckeyes ended the year as Rose Bowl champions.
The high-powered Ohio State offense was a big factor in the team's success. But the defense was every bit as good, if not better. Pace and his line mates contributed to the building of a dominant defensive line.
"Our biggest task in college was going up against Orlando and Korey Stringer in practice," former Buckeye defensive end Matt Finkes said. "Those guys were a big reason why we were so good. When you go up against an Orlando Pace and a Korey Stringer every single day it makes you better.
"(Practice was) competitive, and Mike (Vrabel) and I were competitive guys. We didn't want to end up with the short end of the stick, so we were working our butts off to beat those guys every day, and those are guys didn't like to get beat. It made things a lot easier in the game knowing that whoever you were going up against on Saturday afternoon wasn't as good as the guy you faced all week in practice."
The same can be said for Pace, who had to navigate a defensive line that featured Finkes, Vrabel and Luke Fickell. Practices were "feisty," but each side of the ball improved because of it.
Pace was the lead blocker for Eddie George's historic 1995 season that culminated in yet another Heisman Trophy for Ohio State. Perhaps Pace's finest moments – George's too – came against Illinois on a cold, rainy, muddy November day in Ohio Stadium. George would finish with a school-record 314 rushing yards thanks in large part to Pace's blocking prowess. The output came against the vaunted Kevin Hardy-Simeon Rice-led defense, a duo that would be the second and third picks in the following spring's NFL Draft.
The mid to late 90s Ohio State offenses were some of the best in school history, and Pace was the, well, pacesetter.
"The thing that really stands out to me about Orlando, where he was so different and able to set himself apart form the other big name tackles, was his athleticism," Finkes said. "There are a lot of guys who are big and a lot of guys who are strong and physical. But there aren't a lot of guys who are 300-plus pounds running down field throwing a block on a cornerback. Orlando is that guy. That's what made him special. His athleticism more than anything is something that always caught me off guard."
"There aren't a lot of guys who are 300-plus pounds running down field throwing a block on a cornerback. Orlando is that guy."
Indeed, find an image of George or Pepe Pearson and chances are Pace will be seen in the foreground treating an undersized defensive back as a rag doll. He redefined the position with that dose of litheness and strength.
"Every game was a highlight reel for him," Cooper said of Pace. "We ran a lot of counter sweeps and a lot of screens, and on many of those plays Orlando had to be out in front of the ball carrier. And we had some pretty good ball carriers."
The offensive success followed Pace into the NFL, where he was the No. 1 overall pick in the 1997 Draft by the St. Louis Rams. Pace was part of a Super Bowl winner with the "Greatest Show on Turf." In 13 NFL seasons, he was a five-time All-Pro.
Said Finkes: "When you look at college players, I don't think anyone ever had the skillset Orlando had in college. Some guys developed it in the NFL and had great careers. But I don't think anyone was as complete an offensive tackle as Orlando was in college."
And the same could hold true for another 143 years.