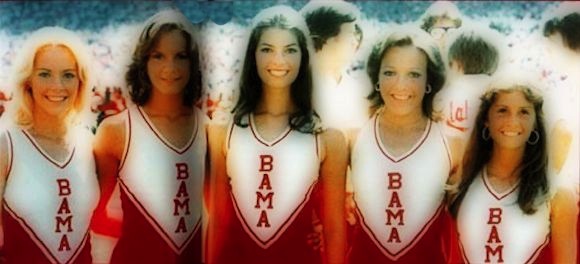 It's due to America's population migrating south. It's because they pay their coaches more. They're all football factories anyway.
It's because they oversign recruits and chase off the busts. They'll do anything to win. They openly pay for players. They cheat their asses off. They cheat their asses off. They cheat their asses off.
The hot sports take of the college football offseason appears to be a two-horse race between financially compensating college athletes and understanding SEC football dominance. I've grown bored by both topics because I haven't learned anything new for awhile. An SEC program has raised the glass testicle in triumph ever since Jim Tressel took an unsuspecting trip to Glendale with a bunch of satisfied kids very excited about their coronation.
That happened seven seasons ago. We're now circle-jerking the circle-jerk that was installed to complain about the SEC's own circle-jerk. It's as tired as it is tawdry.
Now chief jerker ESPN is creating an SEC network that should transform the conference's already-formidable money hose into a giant cash waterfall, which will undoubtedly energize and turbo-charge that first hot take about finally paying players.
It's an obvious knee-jerk reaction to all of those dollar signs: Pay the players. They're generating billions.
And amidst that burgeoning financial windfall, America's soon-to-be richest athletic conference still continues to soak taxpayers and financially-strapped students to fund its win-at-all-costs athletic department spending. Apparently we're too concerned with paying players to care.
Currently, no major conference spends more on its athletes - and less on its regular students - than the SEC. And no major conference is and will continue to exploit the deregulation of recruiting, which only inflates recruiting costs further.
It's not even a competition - that Florida/Ohio State BCS Title Game was close by comparison: Five SEC athletes cost about the same as seven Big Ten athletes. That works out to a full roster of 85 SEC football players costing as much as 119 of its Big Ten counterparts - if we were only talking about football.
This is the cost per athlete. Those figures also include paying for those less-expensive Buckeye fencers and synchronized swimmers (who are prolific national champions categorically still fitting the NCAA's amateur descriptor that expired for football and basketball players decades ago).
But football still costs the most money, generates the most revenue and carries the flag for the entire brand, which is the most valuable asset for each school - and in this age of deliberately aggregated ESPN viewing audiences, for each conference as well.
Ohio State's athletic department, in supporting varsity sports that are merely distant rumors at most universities, made over $50MM in ticket sales alone during 2011, which included a football season whose enthusiasm was siphoned by scandal.
It earned another $61MM in licensing rights and donations. That's $111MM which by itself could fund every single other athletic department in the country except for Texas and Michigan's while still producing a surplus. That wasn't even all of Ohio State's athletics income. Not by several million.
Cash is not an issue for the Big Ten, which has six of the 15 most-expensive athletic departments in the country. The SEC, for whom cash shouldn't be an issue either, also has six. Texas, Oklahoma and Florida State are the other three.
Currently, no major conference spends more on its regular students than the Big Ten. It's openly fought against recruiting deregulation in football while still managing to stay competitive, finishing the 2012 season as the fourth-strongest conference behind the SEC, Big XII and just a sliver behind the PAC (now) 12.
But more importantly, as you look at the gaping disparity between the investment in athletes and non-athletes, Big Ten athletics truly separate themselves by how they're funded: By and large, they don't force regular students and taxpayers to fund athletics.
Only Illinois and Iowa still attach fees to student tuition to help fund athletics. Every single other department is self-funded. Huge, mostly-full stadiums help pay those bills. The Big Ten Network is extremely helpful. Smart investments and licensing agreements are as well.
These are all things that the SEC has too, yet every public school except Alabama, Arkansas and LSU charges its students - who are already the least-funded among all major conferences, even ranking below the FBS average - fees to pay for its well-funded athletes.
Alabama and Arkansas take millions out of their own institutional funding to cover athletics' costs, which means America's third and fifth-poorest states use tax money to pay for, basically, college football. Only LSU's athletic department is completely subsidy-free.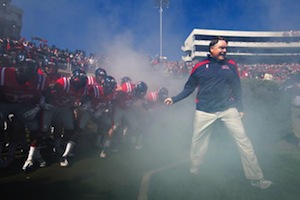 And yet we're a big ball of furious, fake outrage arguing over paying players while students on financial aid and taxpayer money are being used to fund billion-dollar athletic departments.
Once ESPN's SEC Network is installed and distributed, no major conference will generate more TV money. That takes us back to that knee-jerk reaction to all of those dollar signs: Time to pay the players? Maybe it's just time to stop soaking everyone else.
The SEC's current deal already brings in a ton of money that is applied to the spiraling cost of winning every phallus-measuring contest that doesn't involve higher education. It's the Athletic Department Industrial Complex that Eisenhower failed to warn us about.
Meanwhile, Big Ten payouts hit $25.7MM per school this year, which currently dwarfs what other conferences get to split up when the school years close. Its members are also spending more on athletics. The Complex is a B1G phenomenon too, but funding it on the backs of the proletariat largely is not.
So what will the SEC do once its dedicated ESPN channel begins to flourish, allowing it to meet and exceed the annual payouts being enjoyed even by Big Ten standards?
The answer is in the data: More of the same. The SEC will continue eating itself to win football titles.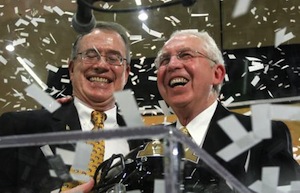 The growth of spending on athletics overall is unsustainable. It's climbing at a rate that's double what it costs to fund a normal student, which coincides with tuition costs that are already skyrocketing at their own unsustainable rates.
I personally don't care enough about creating a strategy to knock of an SEC team in a single January football game, largely because I'm not one of the consumers that college football has to fight to keep engaged. I also can't get too worked up over paying players who garner seven times the investment (or in SEC athletes' cases, 12 times) that a regular college student does.
They should be be paid, but it shouldn't be the financial priority.That should be holding publicly-funded schools with booming athletic departments in power conferences that have the means to be sustainable exclusively through non-tuition and non-tax dollars accountable for doing exactly that.
They should be expected to spend institutional funds and tuition dollars strictly on institutional and academic expenditures (I'll save bloated administrator costs and the Academic Industrial Complex for another column - that I'll never write).
Americans now hold more student loan debt than credit card debt. If we have to fund athletics through debt, do it through the latter, which is consumer-driven and voluntary. Ticket prices are rising faster than inflation, and that's fine. Free market economics will determine when that needs to stop.
In the meantime forget about paying players, and just remind yourself who is currently paying for them.