A year ago, Lenzelle Smith Jr. had a career that appeared to be trending toward David Lighty territory. Smith showed he could defend and do whatever was necessary to help his team win — scoring, rebounding, and slashing into the paint to either score or open up a teammate. He just needed to become more consistent.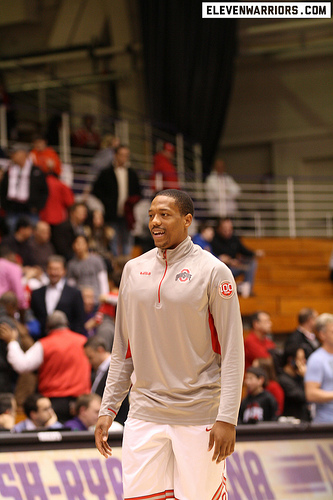 Smith appeared to be an important cog to the 2012-13 Buckeyes, especially early.
He opened the season with 33 points in the first two games, on 12/20 shooting. He hit 5/6 from the three-point line and 4/6 from the stripe in those games, grabbing nine boards, with three assists. That was the Smith we expected to see, despite the level of competition (Albany, Rhode Island) not exactly being the highest quality.
Then the inconsistency showed up. Smith went 0/5 and failed to score in Ohio State's 77-66 win over Washington. A passable 13-point performance against Missouri-Kansas City was followed by 6/21 (3/12 from three) in games against Duke and Northern Kentucky.
That trend continued throughout the season for Zelle. A 7/10 performance against UNC-Asheville was good. A 3/13 (0/7 from three) night against Kansas was not.
Smith couldn't seem to put together a prolonged stretch of solid play. He started the B1G schedule with 17 points (6/9 shooting, 5/7 from three) and six boards against Nebraska. But in the next four games — at Illinois, at Purdue, vs. Michigan and at Michigan State — Lenzelle scored 20 total points and turned the ball over 13 times. Two of those games were losses. He did manage 29 rebounds in those games, but his 7/26 shooting in that span was less than optimal.
There were times during that stretch when the Buckeyes were much better off with the junior on the bench. That was partly due to Shannon Scott's emergence, but also Smith's inconsistency.
Zelle backed up a pair of average outings against Iowa and Penn State with just five points in the home win over Wisconsin on Jan. 29. Then he destroyed Nebrasketball again with 6/6 shooting (3/3 from downtown) in Lincoln, finishing with 21 points, but he tallied more turnovers (2) than rebounds (1) in the contest.
He went 4/10 (2/7) in the overtime loss at Michigan and then failed to reach double figures in four of the next five games. Smith scored 24 with six rebounds at Northwestern, but then scored 25 total points in the final five B1G games (regular season and tournament).
Smith reached double figures just once in Ohio State's Elite Eight run, going 5/10 for 12 points against Iona in the tourney opener.
He clearly has the talent to be a glue-guy type for Ohio State, which desperately needs one, but can Smith find the consistency to pull it off?
He may have to if the Buckeyes are going to return to the Elite Eight in the post-Deshaun era. Tank supplied much of Ohio State's offense, and LaQuinton Ross may be able to step into that role, but Ohio State will need more than potential to challenge Sparty for the B1G crown. Consistent performances from Zelle would go a long way toward mitigating Thomas's loss to the NBA.
If Smith can just turn some of those 2/7 performances into 4/7s and some of his 2/6 nights outside the arc into 3/6s, it would take the pressure off Ross, who will be asked to shoulder an offensive load for the first time in his collegiate career. Ross sure stepped up in the NCAA tournament, but most of his best performances took place over the course of a 20-minute half, not a 40-minute game. There's no way to know if Ross can take that next step.
Similarly, Aaron Craft will need to perform the way he did in the postseason. The Buckeyes are at their best when Craft attacks the basket and either gets to the rim or finds his open shooters when the defense collapses.
Then there's the five spot, which was more of a soft spot last season. Amir Williams is running out of time to escape the "bust" label and the Buckeyes won't be able to go with a small lineup without Thomas.
With all the unknowns about the 2013-14 season, Smith's development into a consistent complementary player and all-around glue guy is more important than ever.