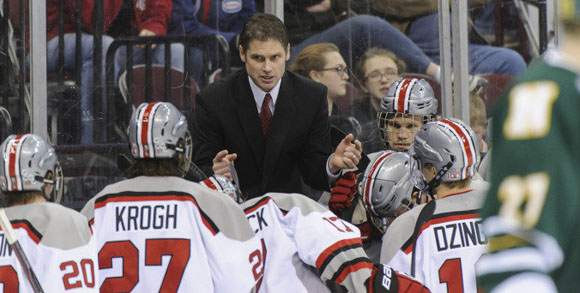 Football and men's basketball will always be the cash cows and interest gatherers at Ohio State. Men's hockey isn't going to be paying the bills for the country's largest athletic budget. But the program did turn heads in recent weeks when it fired Mark Osiecki, the coach that made Ohio State hockey relevant again.
One line in the university release announcing the decision raised eyebrows. "There was a difference of opinion over the management of the program that could not be resolved," athletic director Gene Smith said. An air of secrecy and uncertainty still hangs over the firing. Asked weeks later, Smith said he would not comment on personnel decisions. Senior associate athletic director Chris Schneider, who oversees the hockey program, used the typical administration speak when addressing the topic – "moving forward" being the most popular phrase.
"I can agree with our fans when I say our men's hockey program is doing great things," Schneider said. "We believe that on the ice, our men's program has evolved very well in the last three years."
Nine days after Osiecki's dismissal, the Buckeyes hired the only person they interviewed for the position – Steve Rohlik. The career assistant counts Osiecki among his closest friends and most recently served as his top assistant at Ohio State the past three seasons. The university's decision was confirmation that it was fine with the re-emergence of the hockey program; it just wanted a change at the top.
Rohlik, who's spent 16 years as an assistant, including 10 at Minnesota Duluth, never imagined these would be the circumstances with which he'd be presented his first head-coaching job. He and Osiecki befriended each other at the University of Wisconsin, where they were roommates and part of the 1990 national championship – Rohlik the captain and Osiecki the assistant captain. The roles were reversed at Ohio State. Osiecki: head coach; Rohlik: associate head coach.
The Buckeye brass quickly moved into action to alleviate any damage that might be done with Osiecki's ouster. An impressive recruiting class is due in Columbus next season on the heels of a trip to Joe Louis Arena for the CCHA Tournament semifinals. Coming to a rink near you is the Big Ten Hockey Conference. Ohio State is not in the business of failing to compete. Enter Rohlik's impressive credentials and built-in relationship with current players and recruits.
He quickly went from job-hunting to having a dream job.
"It certainly was an emotional week," Rohlik said. "I am honored and humbled by this opportunity to become the next coach at Ohio State."
Rohlik said he told the administration that the current locker room has the makeup to bring success to Buckeye hockey and that passionate people are already immersed into the program.
"I felt my time was ready," he said.
The decision was a hit in the locker room, as Ohio State's current icers had grown close to Rohlik during their brief time in Columbus.
"When we opened up this position, we knew there would be a lot of interest," Schneider said. "The more I talked with our student-athletes, our staff and coach Rohlik over the past week, I knew we would not have to look very far for our next head coach of our program."
Already, it appears Rohlik's hiring has put forward Zach Stepan and goalie Matt Tomnkins, two NHL draft picks, at ease. Zero recruits have indicated they'll be going elsewhere.
"(Rohlik) has made positive impressions within the athletics department, in the hockey community and with the men's hockey student-athletes," Smith said. "He has a well thought-out plan for how to lead our hockey program into the future that is in line with the expectations we have for each of our head coaches."
"We're playing against the powerhouses of college hockey, but you know what, that's why we're here and that's why we're moving into that conference."
Said Rohlik, describing his first interaction with the team as head coach: "It was pretty surreal. When you put the skates on at 3 years old and you go through this process and this journey, you dream about one day standing in a locker room addressing your team. My dream came true today. To talk to these guys, they know my passion, know where I sit, and I think this is going to be the driving force for our program and these guys."
Osiecki was 46-50-16 in three seasons but improved each year. The temperature will rise significantly in Rohlik's first season. Call it jumping into the fire. The Big Ten features some of college hockey's top traditional powers – Michigan, Wisconsin, Minnesota and Michigan State. Penn State, which dominated the club level for decades, is entering its second season as a full-fledged Division I member and is poised for instant success.
Many point to the Big Ten as the toughest conference in the nation. Ohio State is considered the weakest link. But don't tell Rohlik.
"I'd like to think our expectations are high," he said. "We know we're playing in the best league in the country. We're playing against the powerhouses of college hockey, but you know what, that's why we're here and that's why we're moving into that conference. I feel good about what we have in the locker room. I feel good about the kids we have coming in. We're going to compete."
The foundation has been set. It's a matter of continuing the building blocks and keeping the program afloat. Playing in the toughest league might provide competitive disadvantages in the beginning, but it should also give the Buckeyes an added boost in recruiting and exposure.
Rohlik has been waiting a lifetime for this moment. Now he has a team to call his own. As he leads them into a new and unknown frontier, Rohlik will harken back to the days on a frozen-over pond when he coached the neighborhood kids. Coaching has been a journey that brought him to a final destination: Ohio State.
"I think 40-plus years for me being a player and a coach, 21 years as a coach, has put me in this position," Rohlik said. "Every level I've been at as a player, I've been a leader, been a captain. It feels like I've been coaching since I was 7 years old, so this experience has put me in a position where I can stand here today and honestly say I'm ready to be a head coach."