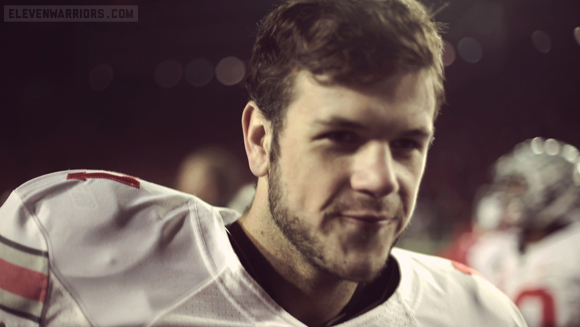 The 2013 NFL Draft came and went with only three Buckeyes – defensive tackle Johnathan Hankins, defensive end John Simon and tackle Reid Fragel – selected, but several other members of Urban Meyer's first Ohio State team quickly signed undrafted free agent deals with teams around the league soon after the draft ended.
Jake Stoneburner, Zach Boren, Travis Howard, Orhian Johnson, Nathan Williams, Etienne Sabino, and Garrett Goebel all earned NFL camp invitations by signing contracts Saturday night. As anyone that's seen Hard Knocks can tell you, making a team as an undrafted free agent is tough sledding, but it can be done. Just ask Arian Foster, Wes Welker or Antonio Gates.
Stoneburner has an opportunity to catch passes from one of the game's best in Aaron Rodgers if he can make the best of a free agent deal with the Green Bay Packers. Seeing time split out and at H-back in Urban Meyer's offense means Stoneburner has a chance to work himself into the Packers offense in several spots and he couldn't be more excited about it.
Today didn't turn out how I expected... But I am SO GLAD to say, I'm a Green Bay Packer!!!

— Jake Stoneburner (@STONEYeleven) April 28, 2013
Stoneburner's college stats may not be eye openers – 53 receptions, 714 yards and 13 touchdowns – but his potential is still something football minds are enamored with. A lack of utilizing the tight end was a major factor in Stoneburner's stats. Still, he is second all-time in program history in touchdowns by a tight end.
Boren, Howard and Johnson, all signed with the Houston Texans, where they'll join former teammate DeVier Posey (when he heals, at least) on a team that will make noise again in the AFC. 
Howard was named First Team All-Big Ten following a 39-tackle, four-interception senior season, but saw his stock slip at the East-West Shrine Game when he left scouts unimpressed. The Texans also signed Michigan State's Johnny Adams, Howard's counterpart on the coaches version of the All-Big Ten first team, so that could be an interesting battle to keep on eye on.
Boren is looking to take his fullbacker role to the Texans, ready to fit in however the team needs him. After three and a half years at fullback, which he was very good at, he made the switch to linebacker where he finished with 50 tackles, averaging more than eight per game during his six-game stint on defense.
Johnson, once a starter at safety for the Buckeyes before settling into a nickel role, finished his senior campaign with 39 tackles and two interceptions. He was equal parts excited and gracious on Twitter:
Headed to #HOUSTON!!! - @houstontexans - Thnk u 2 the #Texans, fans 4 the continued support, & @ohiostate 4 my foundation, time 2 go 2 WORK!

— Orhian Johnson (@Airpatrol_19) April 28, 2013
Sabino, a five-star recruit that overcame early struggles to become a team leader for the 12-0 Buckeyes, will join Johnathan Hankins with the New York Giants. Hankins, as the team's second-round draft pick, has a spot on the team. Sabino will have to earn his. If the way he bounced back from a broken fibula is any indication, we like his odds.
GMEN!!! #TIMEtoWORK

— Etienne Sabino (@bino6) April 28, 2013
Although he was plagued with injuries in Columbus, including a microfracture surgery, Nathan Williams still finished with 25 TFLs and 12 sacks and earned an invite from the Minnesota Vikings.
Thank you Minnesota!!! Can't wait to be a Viking!!!

— Nathan Williams (@Natew_naw) April 28, 2013
Goebel was a team co-captain as a senior and a five-year member of the program that started the final 25 games of his career along Ohio State's defensive line, finishing with 86 tackles and 11 TFLs. He's headed to St. Louis Rams where he'll join former Buckeyes linebacker James Laurinaitis and longsnapper Jake McQuaide.