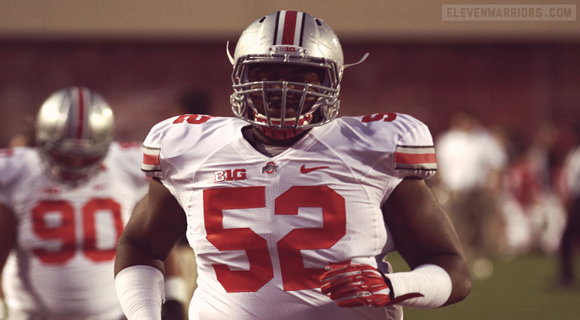 He waited an extra day, but Johnathan Hankins is now on firm footing in the NFL. The man affectionately known as "Big Hank" is now Giant Hank, and he's headed to New York. The Giants drafted Hankins in the second round with the 49th overall pick. 
An All-Big Ten selection, Hankins finished the 2012 season with 55 total tackles, including four tackles for loss and one sack. He had a career-high 10 tackles twice, against California and UAB.
Over his three-year career, Hankins had 138 tackles, 16 tackles for loss and five sacks. He appeared in 38 games and started 25.
Hankins, a native of Dearborn Heights, Mich., played in all 13 games his freshman season of 2010 and was named Ohio State's defensive freshman of the year. His sophomore year was a breakout season. Hankins tallied 67 tackles, including 11 tackles for loss. He earned the Jack Stephenson Award, which goes to Ohio State's outstanding defensive lineman.
Marc Ross, Director of College Scouting for the New York Giants, was impressed with Hankins' technique, saying "He has played a lot of football at Ohio State. He started and plays with good technique. He plays with good hand use. He plays with good leverage. He has got really good awareness inside to find the ball, recognize the blocking schemes."
"He just shuts people down when they try to run the ball," Ross said. "Whether it is taking on one block, two blocks, he just bangs inside and he holds the point. You need those guys to win. It helps everybody on your defense. It helps your linebackers get free. So we really like that about him."
Hankins, represented by Kevin Poston, was expected to be a first-round pick when he announced his intentions to enter the draft in December. But he underwent a precipitous fall the past four months, resulting in Ohio State having zero players drafted in the first round for the second straight year. Wisconsin center Travis Frederick, at No. 31 to Dallas, was the lone Big Ten alum taken in first round. 
Thaddeus Gibson, following the 2009 season, was the last Buckeye to forego his senior season and opt for the NFL. He was drafted in the fourth round by Pittsburgh in the 2010 NFL Draft. Hankins is the 10th Ohio State early-entry player not drafted in the first round.
In his previous 10 seasons as head coach, Urban Meyer has had 35 players drafted – five at Utah and 30 at Florida. That list includes 2005 No. 1 overall selection Alex Smith. Hankins becomes the first Meyer-coached Buckeye to hear his name called.