Everyone loves an underdog, which is probably the best explanation for how Rocky was awarded the Best Picture Oscar instead of Taxi Driver.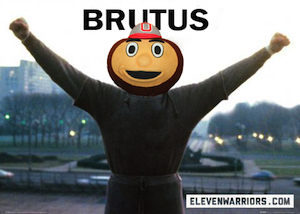 But even in real life, there's something magical about a sports underdog, whether it's the 1980 U.S. Olympic hockey team, the 1983 NC State basketball team coached by Jim Valvano, or No. 15 seed Florida Gulf Coast University, which introduced us all to the high-flying entertainment of Dunk City this past March. 
Yet when Louisville, the overall No. 1 seed in the tournament, took home the national title earlier this month, I thought, "good for them" — and not just because they beat Michigan.
Louisville historically has had a successful basketball program, one that makes the tournament almost every season and normally plays well in it. But when it comes to national championships, they can claim only three — and before this season, the last one was captured in 1986.
A traditional powerhouse that often falls just short of being crowned champs? You could say I related a little too much to Louisville's situation. 
This time, though, when all the pressure was on the Cardinals, the No. 1 team in the country that many predicted would win it all, they prevailed.
The 2002 Ohio State national championship team and last year's 12-0 squad — the only two perfect seasons of Buckeye football in my lifetime — share a lot in common. They were each coming off disappointing seasons1 and had a penchant for dramatic, heart-palpitating games. And while the chance of going undefeated wasn't entirely out of the question, especially with the caliber of players being typically Ohio State-ish, it still wasn't necessarily expected to happen. After all, both teams began the year ranked outside of the top 10.
This year, however, the expectations are much higher. Ohio State will most likely start the season ranked at No. 2, behind defending champs Alabama, and the Buckeyes are a popular pick to make the last-ever BCS title game, with Vegas giving them the second-best odds of winning it.
In order to get to Pasadena on Jan. 6, 2014, though, Ohio State will have do what they have painfully failed to do many times before — win every game when they're supposed to win every game. 
On the surface, that doesn't seem like a terribly difficult task. They have Urban Meyer, who boasts two BCS titles and a 116-23 record as a head coach. They have Braxton Miller, a legitimate Heisman candidate, at quarterback. And they have a schedule that looks softer than last year's marshmallow-like one.
So of course hopes are high among Buckeye fans. But as excited as we are about the upcoming season, and the promise of what it could bring, there's also the underlying concern of "yeah, but remember 1996? Or 1998? Or 2006? Or 2010*?"
Each one of those teams finished with one loss. Each one of them was loaded with talent. And save for the 1996 squad, whose pinnacle was No. 2, each one of them had been ranked No. 1 at some point. 
In August of 2006, the Buckeyes were atop the AP preseason poll and aimed to become the first Ohio State team to be ranked No. 1 from the start of the season to the finish. That in itself is hard to do — the 2004 USC Trojans were the last college football team to accomplish that feat, and one of only six ever — but they managed 15 straight weeks in the top spot. Unfortunately, the AP poll is released 16 times a season, not that anyone needs reminded of 41-14.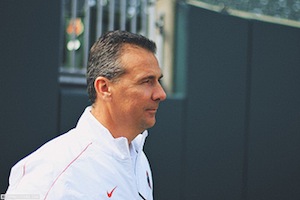 Although that matchup against Florida was basically abysmal for 59 minutes and 45 seconds, the other years, the blame for Ohio State's lone loss could mostly be attributed to one poor half of play.
It's a sentiment that Thad Matta understands. Before the NCAA Tournament tipped off, Matta said, "one bad half of basketball can end your season."
In 2010, that's exactly what happened to his team, one that dominated the competition throughout the year. During the regular season, they lost just two games, both on the road to ranked opponents, and entered the tournament as the No. 1 overall seed. Against Kentucky in the Sweet 16, they couldn't make much of anything or get a stop when they needed one, especially in the second half. The basketball team would meet a similar fate the following year, albeit in the Final Four as a No. 2 seed.
All it takes is one bad game or one bad half or one bad quarter, and a perfect season is no more. That's why it's extremely difficult for a team to go undefeated. In basketball, it's so rare that it hasn't happened in 37 years. It's much more likely in football, though still not very commonplace. Ohio State was the only team that produced an unblemished record last year, and the year before, no one was able to do so.
Ohio State fans are well aware of how quickly the quest for perfection can be thwarted — or saved. If not for heroics like Kenny Guiton's drive for the ages or Craig Krenzel's divine touchdown to Michael Jenkins, the 2012 and 2002 teams would have also received the "close but no cigar" status.
But to meet expectations and get back to the national championship game, they can't afford to slip up, or they'll be remembered as another also-ran Ohio State team that didn't fulfill their promise.
On the other hand, if things play out as forecasted — which, admittedly, is scarcely ever the case in college football2 — then Ohio State will meet Alabama in January with the crystal football trophy on the line. Even though Bama has won three of the last four titles, maybe that's the best scenario because the Buckeyes would be the underdog, just as they were in the 2003 Fiesta Bowl against Miami.
And if history has taught us anything, Ohio State doesn't win national championships when they're expected to.