The game of football has changed. A lot.
Those changes have been for the good in some cases – like the commercialization of the sport which helps mid-major colleges gain television exposure they never would have had access to in years past – and bad for the game in some cases, like the commercialization of the sport which has taken college student-athletes and turned them into celebrities to the nth degree. 
As the game has changed on the field, and the attention paid to it off the field has increased, the attention paid to recruiting and recruiting websites (thankfully) has also increased exponentially, prompting thousands of fans and prospects alike to flock to Twitter, Facebook and whatever other medium that can be found. Day in and day out, overzealous fans pimp their favorite programs, hoping to somehow lure the nation's elite to whatever college campus serves as the home for their glory days. At the same time, recruits and their families work tirelessly to promote themselves and their talents so that they can land whatever offer they covet the most. 
It's actually kind of beautiful. The passion, the intensity, the love of the game; but the rush ends at some point, the appeal of non-stop attention ends at some point and when it's all said and done, the recruit who was so fawned over during his recruitment becomes just another small potato at a football factory pushing out order after order of large fries. It's a constant push for attention and affection from schools that offer much with little guarantees, and the players eat it up, often without truly considering half of the schools that offer them a scholarship, yet each offer is met with screams from the mountaintop.
One prominent Midwest high school football coach can't really understand that concept. Why clamor for offers and yet not truly consider every school that's willing to pony up hundreds of thousands of scholarship dollars for your services?
"Why do they want offers if they never take visits?" he said. "I don't understand it. How do you truly know what you want? I just wish kids would make sure. If you've waited your whole life for one school, then jump on it, but it's folks who never explore their options that I worry about. I'm just trying to make sure our kids see more schools, it's good for everyone."
The Case of Drew Barker
Some players, like Hebron (Ky.) quarterback Drew Barker, garnered so much positive attention for the affection that he had for Ohio State early in the process – he visited the Buckeyes upwards of six times in 2012 – that the perceived "slighting" from the Buckeyes (read: no offer – yet) has many people shaking their heads and wondering why Ohio State would not have secured his pledge early. With scholarship offers from 14 schools spanning the SEC, Big Ten, and ACC and recently named an ESPN Top-150 player, Barker wanted to get his recruitment over with quickly, wanted to start the ball rolling as a leader in his class.
The simple answer is this: there's no simple answer, and more importantly, it's really not been "that long."
All things considered, Barker and his 2014 classmates are not finished with their junior years of high school. The old days of recruiting, when players got recruited as juniors and seniors has been replaced with a new, accelerated calendar that sees commitments from 15-year-olds and scholarship offers to 8th graders. Barker has seen his name tossed around recruiting circles, and especially Buckeye circles since the end of his sophomore year, so two full years of being "slow-played" by the team that was his longtime, and admitted, favorite has no doubt seemed like twice that long.
The Buckeyes have extended two offers to quarterbacks in Barker's class, so while it's apparent that he was not one of their top two choices at the position, is being the "third" choice (if in fact he is, which I can't verify with certainty) at the school you've dreamt of playing at your life enough of a reason to push you to another college? Barker has waited, but has he waited long enough for his own contention? The scuttlebutt surrounding his recruitment is that perhaps he has, and that a decision could be pending (South Carolina, Tennessee and Kentucky being rumored as the leading candidates). Barker admits he's been frustrated at times, and that the Buckeyes haven't been in touch as often recently, but that he was asked to give the staff a call this week. Is there still hope for Barker? If the Buckeyes make the call four months from now, is it too late?
Why wait? Why hurry? Tough decision for a 16-year-old kid trying to make a life-altering decision. Are the Buckeyes wrong for not offering a player who might not be the perfect fit for their system when there's still nine months to signing day? It's a complex situation.
The Case of Demetrius Knox
As a 6-foot-4, near 300-pound kid, it's kind of hard to do anything and not get noticed. Demetrius Knox does not – and has never been one to – mind the attention.
When the offensive lineman made his commitment to the University of Texas in November, it was not without some disappointment from the Buckeye staff and droves of recruitniks on the internet.
It was the right time for Knox, an Ohio native living just outside of Dallas, to pull the trigger and pledge "Hook 'Em," and he got the added bonus of knowing that he was going to play college ball with his good friend, teammate Daniel Gresham, a fullback that the 'Horns had also brought on board. The commitment of Knox was one that was a bit surprising, because many expected him to ride out the process a bit, and Texas coach Mack Brown has a notoriously stringent policy against issuing a verbal commitment to Texas and subsequently visiting other schools. Long story short? Mack no like it. Mack no like it at all.
So, it was with some consternation amongst Texas fans when – despite the knowledge that Mack no likey – Knox planned to check out the Buckeyes, still actively recruiting him despite his commitment to Texas, on a trip to Ohio in April. Ohio is, after all, "home" for the lineman known as "Meechy" and a visit was nothing more than cursory. He was forthright with Texas, ensuring that Brown knew of the trip, but that was not enough to calm the storm that followed. After his visit to Ohio State, Knox went back to Texas and reiterated his commitment to Texas, actively recruiting for the Longhorns, but never denying that he was always going to be a Buckeye fan. That did not go over so well with the fans who had rooted him on for months, and the divide between him and Texas grew to uncomfortable levels, culminating in his decision to re-open his recruitment last Thursday.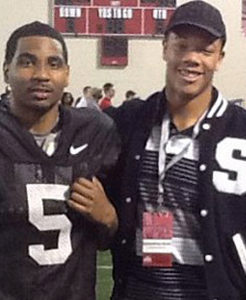 "I decommitted Thursday because I felt like I was growing more and more away from (Texas)," Knox said. "The fans didn't seem like they had much love for for me anymore, so I thought I might as well give them what they want (and decommit). I had to do what was best for me, and I let Coach Brown decide when he wanted it to be public."
Now, Knox has decided it's in his best interest to wait until January to make a decision again. He sees this as his moment to be in the spotlight and doesn't see a reason to shy away from it. You only live once, right? 
"Ohio State fans have always shown me love," he said. "I don't know for sure if I will make an official visit there, but I'd like to get there for the Penn State game. I've never been to a game at Ohio State, but I have always wanted to and I want to see my boy Braxton again."
For Knox, the situation is simple. Why decide now? He's seen the ugly side of the recruiting cycle and wants to make sure that he gets to see what he wants to see. It's his decision, his recruitment and his time.
"I don't have any favorites at this time though. I am wide open," Knox added. "People were saying Ohio State, UCLA and Miami are my top three, but that's not accurate; they are just three of the schools recruiting me the hardest right now."
Buckeye Targets Heading Elsewhere & Other Notes
There was a flurry of commitment action yesterday, specifically at the tight end position, and none of it was positive for the Buckeyes. Three different tight ends that had varying levels of Buckeye interest all made their decisions, and all three chose other schools. The highest-rated of the three, North Carolina's Jeb Blazevich, let 11W know last week that a decision was coming, and he ended up making an appearance on ESPNU, choosing the Georgia Bulldogs. He did however, have even more parting compliments for the Buckeyes and their coaching staff.
"I called the Buckeyes in the morning, before making the final decision," Blazevich said. "The call went well, and I have even more respect for Coach Hinton than ever. He's an incredibly classy guy. 
Hinsdale (Ill.) product Ian Bunting decided to make his choice as well, issuing a verbal commitment to Michigan and Glen Elyn's (Ill.) Daniel Helm, who visited the Buckeyes recently but left without an offer, became the second tight end in two weeks to verbal to Tennessee and Butch Jones.
Middletown (Del.) has now seen two players that were garnering Buckeye attention commit elsewhere. Quarterback Darius Wade visited the Buckeyes two weeks ago and then promptly committed to Boston College after a visit there the following weekend, and now Wade's top receiver, Chris Godwin, has made a decision to attend Penn State. 
Another target at the tight-end/H-back/big wide receiver spot for the Buckeyes, Carmel (Ind.) prospect Austin Roberts, has been rethinking his decision to announce his school choice in mid-May, a timeline he announced roughly a week ago. He's recently received an offer from Florida State, and Roberts – a Florida native – just thinks he needs more time to properly evaluate all his choices.
"I've got a lot of options and I think they all deserve a full look," Roberts said. "My dad agreed that I should hold off a bit on the decision, also." 
Ohio State defensive backs coach Kerry Coombs is slated to stop in and check on Roberts later this week.
---
Speaking of players making their decisions "early", I talked briefly with Caleb Henderson and C.J Reavis, two Virginia juniors. Henderson is another QB prospect that the Buckeyes had been eyeing for the past year that was long-rumored to be leaning towards Ohio State if they were to offer, and he recently committed to North Carolina. His reasoning?
"Why keep looking when you find what you're looking for? UNC has everything," Henderson told me. "It's a good school, the players are all very cool, Coach Fedora is cool and it's a great family atmosphere."
Reavis, a four-star safety who was offered by the Buckeyes in February after two visits last summer, chose to stay in-state and pledged to Virginia Tech, who was the first school to give him a scholarship offer.
"I just felt really at home there and they were the first school to offer me so it was like love at first sight," Reavis said. "Why wait and take away opportunities from other recruits looking to get offers by holding out when I already knew where I wanted to be?"
---
Ohio State continues to be the front-runner for Akron St. Vincent-St. Mary's Dante Booker according to most in the know, but a second visit to Notre Dame has some wondering if that footing is less solid than once thought. Ohio State has continued to offer linebackers throughout the country, and with the long-held belief that Booker and Hinesville (Ga.) star Raekwon McMillan had their "spot" in the class secured, one could wonder what the additional offers going out are for. The Buckeyes, I've been told, only intend to take three linebackers in this 2014 class, and McMillan and Booker, along with Kyle Berger all fit the spots. Better safe than sorry for the Buckeyes?