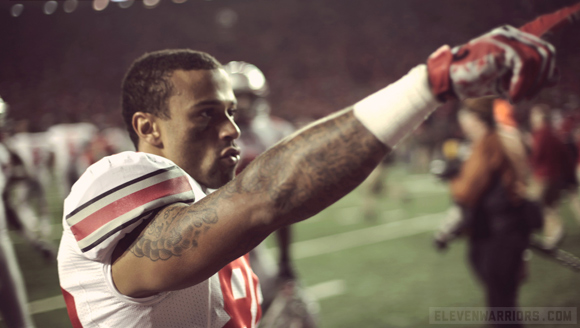 There are a thousand different things that go into making a championship football team. One component you'll always find in such teams, however, is an upperclassman emerging as a key contributor.
In 2002, Cie Grant was named a starter on what would eventually be Ohio State's first national championship team in 34 years. He had come to Ohio State after a standout high school career in multiple sports, but football was his calling card.
His first three seasons as a Buckeye were fine, not exemplary, though. Luckily for Cie (and Buckeye fans), a switch went off before his final season. Grant was one of the leaders of the defense and helped anchor one of Ohio State's best defensive units of the past 25 years. It was Grant who was there to deliver a hit on Ken Dorsey on the final play of the second overtime in the thrilling national title game victory.
Four years later, Antonio Smith was the Buckeye who emerged amid championship hopes. A walk-on from Columbus, Smith went on to earn All-American honors in 2006. His steady play in the secondary contributed to Ohio State's stellar defensive numbers – until that meeting with Urban Meyer's Florida offense.
Sometimes a switch goes off, the proverbial light coming on, but it isn't that simple. Division I college athletes don't just see change with a sunset and dawn of a new day.
"It takes a lot of dedication, hard work and discipline," Smith told Eleven Warriors. "Those were the three key characteristics I was blessed to have. I believe all of those things worked hand in hand and all of the components linked together."
Those traits were evident once again last season in John Simon and Zach Boren. It was Etienne Sabino and Reid Fragel that truly stepped up, though, in their last hurrahs. The seniors – fifth-year in Sabino's case – provided a strong presence in the locker room and huddle, and also enjoyed breakouts on the field when it was "now or never" time.
The all-in attitude lifts teams and players to new heights. 
"Leadership is developed all the time," said defensive coordinator Luke Fickell. "But it's really how the people around them accept and handle and take it."
In the spring of 2013, fifth-year senior Chris Fields, of which so much has been expected, heard the chatter. He'd performed well in the spring before, but it never panned out during the regular season, even though the previous regime showered praise on the "next Santonio Holmes."
Suffice it to say, things haven't exactly gone according to plans for the Painesville, Ohio, product. In three seasons, Fields has 15 receptions for 191 yards and a touchdown as a receiver. Ordinary numbers, though Fields does have two critical touchdowns in his career – the only two of his career.
"I've been working my butt off the entire winter and the offseason, just trying to get my mechanics right. It's been paying off since then."
Last season, he had the final-minute scoring grab against Purdue, and in the forgettable 2011 season, Fields returned a punt for a touchdown that saved the day in a win over in-state foe Toledo.
Well, Fields now has the opportunity to leave lasting memories in the minds of Buckeye fans. Following the spring game – and months of transfer rumors – Meyer named Fields one of the starting wide receivers. The championship season reclamation is on target.
"I'm not going to stop working," Fields said. "I'm not going to quit on myself. I've been working my butt off the entire winter and the offseason, just trying to get my mechanics right. It's been paying off since then."
His performance in Paul Brown Stadium was the first glimpse fans got of the player they figured would already be garnering headlines. Fields finished with 46 total yards and a touchdown. Combined with 14 practices of improved on-field technique and intensity, Meyer and the staff felt Fields was finally the skilled receiver that could provide Ohio State with something sorely needed on the field.
"Chris Fields has earned the starting spot, which is amazing," Meyer said. "He is a wonderful guy that last year was very inconsistent. He's earned the starting spot."
The expression of surprise from Meyer stems from the first impression Fields made on his new head coach. One look at the 2012 stats and depth chart reveal it was not a good one. Fields played in only eight games, but he's immune to adversity. It's something he's battled through before.
"He was always talented enough to play here," wide receivers coach Zach Smith said. "There was just a different level of commitment by him both in learning the offense, understanding the offense and really developing himself fundamentally as a wide receiver. He did a great job this spring. I couldn't have been happier with what he did."
When you come to Columbus as a coveted recruit only to languish in unfulfilled potential for multiple seasons, quitting would be easy. Some would even understand the rational. Fields didn't even entertain those thoughts. When he became a Buckeye, he had a purpose and that remains.
"I never was going to quit on Ohio State," Fields said.
"When you go through adversity, you try to overcome it and try to work harder. That's what I've been doing each year. Every time I go through something, I always keep a positive mentality that there's always going to be a light at the end of the tunnel."
On Sept. 1, that cliché will literally happen. Fields will be near the front line of Buckeyes charging out into Ohio Stadium from a tunnel in the southeast corner.
Perhaps the turning point of Fields' career – when the light at the end of the tunnel became visible – was that dramatic Purdue game. He had a nondescript season up to that point. Zero catches. A few hours later, he would have three, including that season-saving touchdown.
Chris Fields by Season

| Season | Rec | Yds | Avg | Lng | TD |
| --- | --- | --- | --- | --- | --- |
| 2012 | 4 | 55 | 13.8 | 35 | 1 |
| 2011 | 8 | 114 | 14.3 | 33 | 0 |
| 2010 | 3 | 22 | 7.3 | 10 | 0 |
Fields only caught one more pass the rest of the season, but all he needed was the realization that he could deliver when Ohio State needed game-defining plays. His answer was resounding.
"I was thinking too much about on and off the field stuff," Fields admitted. "I wasn't really glued into my right mindset. I'm having fun now. I'm muting everything outside the field, so it's been good."
Meyer isn't the only Scarlet and Gray spectator taking notice in Fields. The wide receiver's teammates also see a player responding to the final bell. Fields' fellow starters – Philly Brown and Devin Smith – noticed hard work and better overall skills.
"Every time I go out there on that field I always try to make a big play," Fields said. "I go out there and I think to myself that I deserve to be out here.
"This is my time to shine."