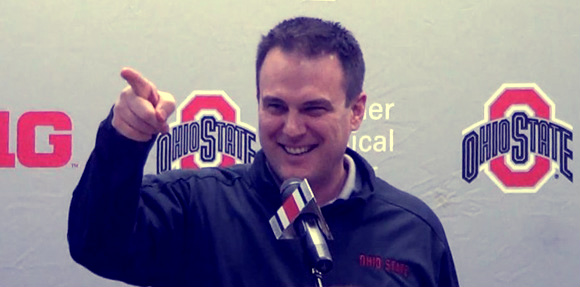 Tom Herman is no longer frightened to throw a pass. That fear went through his mind 308 times as Braxton Miller and the offense approached the line of scrimmage. Considering the final results – 12 wins, zero losses and Miller's Big Ten player of the year award – one must wonder what Ohio State will do this season with the offensive coordinator at ease.
In Year 1 of the Herman-Urban Meyer partnership, the Buckeye offense rose from No. 79 in scoring to 21st. With continuity on offense in the form of nine returning starters, combined with a clear understanding of the philosophy, Ohio State's offense could be one of the best in the country in 2013.
"I would be disappointed if we're not the best offense in the Big Ten," Meyer said, with one caveat: right tackle. If the Buckeyes can shore up that spot, a 50-point per game offense is a possibility.
"We have a legitimate concern about who that player is," Meyer continued. "You can't play with four linemen."
But offensive line coach Ed Warinner put any trepidation at ease on Wednesday when he admitted with a coy smile that he is no longer staying up late at night thinking about who will play at right tackle. Ohio State will be fine, Warinner said.
The optimism for the offense stems from having Miller surrounded with an assembly line of talent. He's in a state now where he understands how and why plays develop, and Miller's wide receivers have shed their inexperience and traded it for dynamic capabilities.
"This year, it's like night and day," he said.
There are no more befuddled looks from the coaches during practice or perplexed receivers watching film. With all parties on the same page, the execution of the offense is at a level Meyer and Herman believe can leave the rest of the Big Ten playing catch-up – for years. 
"We definitely have the weapons and we have the quarterback and we have a lot of guys coming back on offense," offensive lineman Jack Mewhort said. "I definitely feel we have the players and the system to do something special."
The Buckeyes led the Big Ten in scoring last season at 37.2 points per game, scoring 60 touchdowns in 12 games. All that in a year where Herman was scared as he called and watched plays.
"The thought of that sent shivers down my spine at times last year," Herman said.
In the spring game, Ohio State ran 75 pass plays, a change from last season when around 35 percent of the plays called were for passes. That number rose to nearly 75 percent last Saturday.
Witnessing completion percentages hover around 60 percent and far more touchdowns than interceptions left Herman relieved. It also validated what he already believed. Starting March 5, he saw a group of quarterbacks – and Miller specifically – that clicked.
"Are we where we need to be? Absolutely not. But at least I don't lay awake at night and get night sweats because I have to call a pass tomorrow."
It's easy to get swept up in the euphoria of a 12-0 season, and many fans did. But don't forget, two days after the Buckeyes beat Michigan, Meyer was lamenting the fact that Miller was not anywhere near a finished product, still lacking basic fundamentals. That fell on Herman's shoulders, Meyer said. 
Ohio State finished 11th in the Big Ten in passing last season – and 101st nationally. Five months after the closing of one chapter, another has blossomed. This time consider the apprentice and his boss satisfied at what took place.
"Are we where we need to be? Absolutely not," Herman said. "But at least I don't lay awake at night and get night sweats because I have to call a pass tomorrow."
Another coach who can put the sleep aids back in the cupboard is wide receivers coach Zach Smith. It was his position group that had an unimaginable 2011. And even though Smith was coaching at Temple during that season, the pressure to restore the receiving corps to not just respectability but also an elite level was immense.
"We were almost in panic mode," he said. "Where we are today is not panic mode, but we can always get better and we still have a ways to go before we can truly run out into the Horseshoe and say we're the best wide receiver group in the country or the Big Ten."
That's fine with coaches. All it does is leave the Buckeyes motivated as they depart for the final weeks of the semester and then the summer. It will be four long months for the coaches without monitoring the inner workings of what happens on the practice fields at the Woody Hayes Athletic Center.
It will take leadership, with a majority of that falling on the broad and already tired shoulders of Miller, for the Buckeyes to enter fall camp where the coaches are satisfied. Last year's seniors – "legendary" as all nine Ohio State assistants put it – were one of the central ingredients in an improbable fairy tale season. That group is still lauded by the coaching staff, but don't think that isn't strategic at the same time.
"They've got to buy in and put in the work and the sweat and the hours and all that," Herman said. "If all you did was the minimum that the NCAA allows us to be a part of, you're probably not going to be a real good football team. So the leaders have to get those guys out there, do extra football-specific drills. Obviously the quarterbacks and receivers and skill guys need to throw as much as they can."
Evidence of Miller's growth in that category is all around, most specifically in his work, along with wideout Michael Thomas, in California with quarterback coach George Whitfield. Meyer and Herman have already defused the outside praise on that matter, though. Meyer referred to Herman as the quarterback guru, while Herman downplayed the impact of the trip.
Still, he was thrilled to see Miller step up and take charge when there was limited time to improve his craft.
"He did a good job of taking it upon himself to go and work for a week when we didn't have bowl practices," Herman said. "That was good. I encouraged that. That's great, awesome, pat on the back, job well done."
A return trip to Southern California the first week of January will be the ultimate payoff.