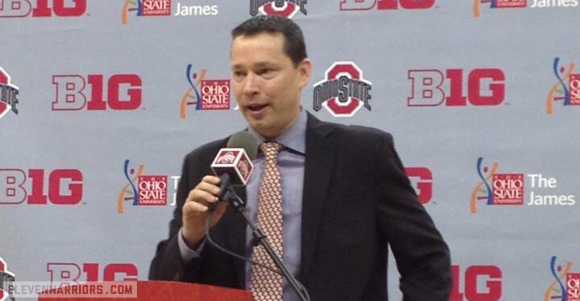 It took more than a month, but Ohio State finally has a women's basketball coach. In between firing Jim Foster and hiring Washington head coach Kevin McGuff, the Buckeyes attempted to lure several big names to Columbus, including Connecticut's Geno Auriemma.
A titan in the coaching profession, Auriemma has referred to Ohio State as a top-five job in the past. But receiving overtures from the Buckeyes after they fired one of his best friends left Auriemma miffed. So Ohio State went after several more big-name candidates.
First, South Carolina's Dawn Staley, regarded as one of the best women's players of all-time, declined before talks with former Duke and Texas head coach Gail Goestenkors broke down. Then Jeff Walz, who had just led Louisville to the national championship game, told the Buckeyes to look elsewhere.
The bumbling search came to a crossroads a few weeks ago when Ohio State appeared to have struck out on getting a difference-making name coach. The consolation prize emerged as Toledo's Tricia Cullop, an up-and-comer in the profession, interviewed for the position. But just as abruptly as she entered the foray, McGuff was named Foster's successor.
Cullop has been a popular name in coaching searches the past couple seasons, but never took the bait. According to the Toledo Blade, Cullop turned down the Michigan job when she was offered the position following the 2011-12 season. Ohio State was different, though. Cullop didn't shy away from the interview process.
"Ohio State is an incredible opportunity, and it's intriguing," Cullop told The Blade. "I have a tremendous job at Toledo, and I'm very grateful and honored to be the coach at Toledo. There are very few opportunities in the country that are right for me if I was to move on.
"This was the first offer for an interview I've accepted in the five years I've been here."
She's been named the Mid-American Conference coach of the year three times and has led the Rockets to four 20-win seasons in her five years. The blemish on an otherwise impressive resume has been zero NCAA Tournament appearances. That is a deal breaker for a school that just dismissed its coach in part due to postseason failures. Foster's teams lost in the first or second of the NCAA Tournament seven times during his 11-year tenure.
So the Buckeyes targeted a candidate that had been to – and won – in the NCAA Tournament. While at Xavier, where McGuff won 214 games, he led the Musketeers to the brink of the Final Four. In the 2010 NCAA Tournament, Xavier lost in excruciating fashion, missing two point-blank layups in the final seconds against Stanford.
The expectation of McGuff from inside the athletic department is advancing beyond the Sweet 16 threshold.
"Certainly there are high expectations and it's not going to be easy to meet those. But I like the challenge and the opportunity to do it."
"I think, quite frankly, there were a lot of people that knew the same thing and didn't want to take the job because of that," he said. "It's no secret they've talked to other people about the job, which is fine. Certainly there are high expectations and it's not going to be easy to meet those. But I like the challenge and the opportunity to do it. I would not have come here if I didn't think the commitment was commensurate with the expectations, and they are. I think what they're asking of me is fair."
The 43-year-old McGuff had recently signed a contract extension at Washington that includes a hefty $1.75 million buyout. But the Hamilton, Ohio, native called the Ohio State head-coaching position his "dream job."
If you're Ohio State, why wait a month when the person you hired was available when the search was in its infancy?
"It was a thorough, comprehensive search and we wanted to make sure we got the right person, and as we went through the process, we were really happy with the selection," associate AD Miechelle Willis said.
McGuff wasn't contacted by Ohio State until the search was three weeks old.
"We were doing due diligence and looking at a number of (candidates)," Willis said.
That included a series of nos. Even McGuff – and his boss – believed he was out of the running when he committed to his contract extension on March 26.
"We thought we had locked Coach down with a contract extension we did less than a month ago and felt real good about it," Washington athletic director Scott Woodward told the Seattle Times.
But Ohio State couldn't help but pursue someone who shared a mutual interest.
"Kevin was strongly recommended by many in and around college basketball," Willis said. "And after his interview, we knew he was the right choice."
She compared it to the summer of 2004 when she, along with then-athletic director Andy Geiger, sat in a conference room with another head-coaching candidate with experience at Xavier – Thad Matta. Ironically, Matta was one of those people who put in a good word for McGuff.
He described Matta as a personal friend and confidant, a relationship that began when they were both assistants at Miami (Ohio) in the mid-1990s – McGuff for the women's team, Matta for the men.
Now McGuff will attempt to match Matta's success. When Matta came to Ohio State, the men's basketball program was on the decline and nowhere near a consistent player in the Big Ten. While the women's program is more stable in the conference, postseason achievements have been nearly nonexistent.
"As someone who is from the state of Ohio, I know how special of a place this is, and my goal is to have Ohio State competing at the highest level of women's college basketball," McGuff said.
Ohio State women's basketball has long been a sleeping giant. The potential is there to be a top-flight program, but it hasn't been able to take off for whatever reason. It's been 20 years since the Buckeyes reached the Final Four. That doubles as the last Elite Eight appearance. 
There were six consecutive Big Ten championships under Foster, a Hall of Famer, but attendance still waned. A blah style of play contributed to having only a few thousand fans at each home game. McGuff admitted that rallying the fan base was mentioned in the interview process, which took place via Skype. Ohio State did not do an in-person interview.
"Winning (contributes to better attendance)," McGuff said. "A presence in the community certainly helps. I think that's an important part of growing the program. We have such great fans and this is such an Ohio State town. We want to try and help create buzz in the program.
"This needs to be one of the toughest environments to play in in college basketball. We need (fans) to come support us. One of the great equalizers is homecourt advantage. We have the most passionate fans in the country."
Six of ESPNW's top 60 preps, including three of the top 16, are Ohioans.
McGuff has been handed the keys to a Toyota Camry. The mission now is turning it into a Rolls Royce. The university has given him all the backing to accomplish that. He's been given a competitive salary – $850,000, nearly twice as much as he made at Washington – a private jet for recruiting and an arena that's undergoing significant renovations which include an updated locker room and new practice gyms.
"(Recruits) want to be at a place with great facilities. It absolutely matters," McGuff said.
Recruiting has been a major sticking point with the women's basketball team in recent seasons. During Foster's first eight years, he inked seven McDonald's All-Americans. That number dropped to zero in his final four years.
In Seattle, McGuff signed two McDonald's All-Americans during his first two seasons.
The most prominent criticism of Foster was his inability to secure the best talent in Ohio. He was able to sign just four of the 14 McDonald's All-American that hailed from the state.
This weekend, McGuff will be wearing scarlet and gray at AAU tournaments, and he's already been in contact with coaches and recruits.
"We will recruit the best of best worldwide," McGuff said. "We want to be a program young people want to be a part of. We want players in the state of Ohio to stay home and play for this great university.
"We want to compete for championships. I wouldn't have come if I didn't think we could compete for championships."