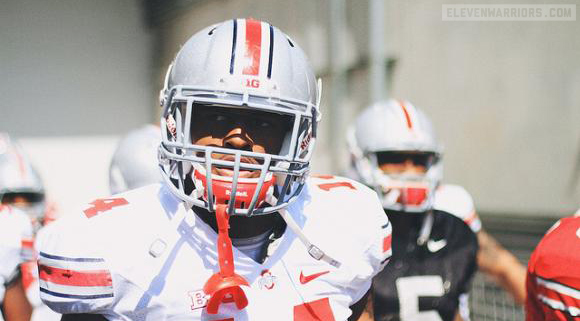 Curtis Grant is entering his junior season as Ohio State's starting middle linebacker. No surprise, right? When you're the top-rated player at your position coming out of high school and the No. 2 overall recruit in the country, earning a starting job is practically a brithright.
But Grant took the scenic route when he arrived in Columbus. Through two bumpy years, it appears that he has finally discovered a smooth surface. Grant was elevated to starter status last year. It feels far different in 2013, though. It feels real this time.
A year ago, Grant was still grasping life in college football. He wasn't confident and his tentativeness showed in September, when he was quickly sidelined for his unimpressive play on the field. One year later, Grant is starting to show glimpses of that can't-miss prospect that electrified the high school football fields of Richmond, Virginia. He's now immune to the pressure that was once paralyzing.
"People expect so much," Grant said. "But they don't understand that college football is a lot different than high school. You're not the biggest guy anymore, you're not the fastest guy. You have to get up with the competition."
Even while he was still in high school, Grant had a frame that looked more WWE than FBS. At 6-foot-3, 241 pounds, he was destined for success the moment he enrolled at Ohio State. Much hoopla surrounded Grant's arrival, but his freshman season consisted of special teams duty, though a touchdown in the dramatic last-minute win over Wisconsin provided an uplifting moment. An early benching during his sophomore season was even tougher to deal with.
"That's where the maturity level comes in," co-defensive coordinator and linebackers coach Luke Fickell said. "Can he respond? He didn't. That's probably what he didn't do a great job of last year."
"It knocks your confidence down and your passion. You don't know how to adjust."
Said Grant, candidly: "I got complacent. I couldn't handle the glory of being a starter. I should have kept working harder.
"I was real mad. I didn't know what to do. I would just sit back and watch, and I wasn't used to that. It knocks your confidence down and your passion. You don't know how to adjust."
Time alone allowed Grant to refocus. When he came back to Ohio State in January, Grant knew he wanted to be a contributor and lead a defense that lost nearly its entire front seven. The lone returner – Ryan Shazier – happens to be Grant's study buddy. The roommates create time each night to go over game film. That rededication has spurred a growth in Grant's football IQ.
"Instead of going out all the time, I'm either in the house watching film or calling Coach (Fickell), asking if can he help," he said.
Despite being a bust his first two seasons, Grant was not abandoned by Ohio State's coaches. If anything, he was embraced. The reclamation project began in earnest on March 5, when the Buckeyes took to the practice field. Asked if the coaches still had hope for Grant, Meyer, somewhat bewildered, responded emphatically: "Absolutely."
But that doesn't mean there wasn't an underlying sense of urgency. Meyer, Fickell and Grant were all aware of the stakes. A passion for the game, which Grant claimed he lost, had to be present. It became his now-or-never moment. 
Under intense scrutiny and a microscope that witnessed his every move, Grant no longer looked like the guy that was supplanted in 2012 by a fullback and someone who wasn't even on the team when the season began. It quickly became clear that Grant's best days were still ahead of him.
"You man up or get out. I manned up," he said. "Your junior year, if you don't do anything, there's no guarantee there's another year to do it."
Throughout the spring, fans heard passages about the linebacker with which so much had been expected. But it wasn't until Saturday in the spring game that they saw it with their own eyes. Grant finished with a game-high eight tackles, including one sack of Braxton Miller.
Weather reports indicated 21 mile per hour wind gusts at Paul Brown Stadium, but it can't be ruled out that it was actually a collective sigh of relief from more than 37,000 people.
"He solidified (his starting spot)," Meyer said. "He's a fully engaged player this year."
And it's a good thing, for Grant's sake. With Ohio State's recruiting methods, another trip behind the 8-ball could signal game over. A player that describes himself as "determined," Grant unearthed a level of maturity that wasn't present until visions of his junior season illuminated.
No more partying, no more scoffing at schoolwork and no more lack of dedication to football.
"Everybody matures at different times, and it's not his lack of ability," Fickell said. "It's just having some confidence, the ability to let loose."