It's Wednesday afternoon, it's 4:30 p.m. and moving forward that means that you're stuck with me. I'll be your humble host on a journey that will take us all over the landscape of Buckeye recruiting. We'll traverse the highs and lows and we'll roam from coast to coast trying to make sure that you, our faithful readers, want for nothing when it comes to Buckeye recruiting news. 
Every week I'll try to bring you something different but this feature – the mailbag – so wonderfully executed in the past by Alex and Derek, will be a regular and recurring column. The feedback and number of questions I've received in the past day has been overwhelming, and it's clear that there's no end to your ravenous recruiting appetites, so I will do my very best to satiate you monsters.
This particular version of the mailbag will focus on where the Buckeyes stand with a number of their key targets as we reach the midway point of this recruiting cycle. The recent commitments of Cleveland St. Ignatius standout Kyle Berger and Cincinnati Moeller star Sam Hubbard pushed the Buckeyes to seven commitments in a class that could number no more than 16-17, so it stands to reason that you'll see the normally aggressive Buckeye coaching staff playing it close to the vest in the coming months.
Now that we've got the pleasantries and how-do-you-dos out of the way, let's cut to the chase. 
We'll get started with a question from Twitter user @Buckeye1421, who has a two-piece question about the 2014 wide receiver situation in the wake of a trio of Buckeye targets – Michigan's Drake Harris (TTUN), Springfield's Thaddeus Snodgrass (UK) and California's Dallis Todd (Oklahoma) – committing elsewhere.
How do we lose a player like Snodgrass to Kentucky? With him and Harris off the board, who are the top WRs left?
Snodgrass was a player who wanted to commit to the Buckeyes late last year, but the Buckeyes were not ready to take his commitment and because of that it seemed that two sides went their separate ways. He's an excellent player, but Ohio State had other targets in mind and he went elsewhere. Kentucky is getting a heck of a player, but the Buckeyes are not lamenting the loss. Harris is a different story – he is a talent that would have been "waited" for until signing day – and the Buckeyes gave it their best shot but there was too much drawing him to Ann Arbor. Dallis Todd was scheduled to visit this weekend, but after his pledge to Oklahoma on Monday, he's off the list as well.
Now the Buckeyes will turn their attention to securing Demarre Kitt, who has a big visit to Tennessee looming this weekend, Cincinnati's Derek Kief and Scottsdale WR Mark Andrews (visiting Thursday) to fill two outside WR spots. They will be in it until the end for Cleveland Glenville's Marshon Lattimore and would have to be the favorite to secure his commitment when it's all said and done.
Other players to keep your eyes on would include Durham (N.C.) Hillside's Trevion Thompson, the interesting Lonnie Johnson, Middletown's (Del.) Chris Godwin and a handful of others that could include Jacksonville (Fla.) Trinity Christian's Isaiah Ford and Braxton Berrios, a slot-type WR from Raleigh (N.C.) who has been in steady contact with the Buckeyes and would be thrilled to eventually get an Ohio State offer.
Did Clifton Garrett really drop the Buckeyes? – Buckeyes125 
Clifton has not officially dropped the Buckeyes, but it does appear that his recruitment is trending away from Ohio State. There has been speculation that he's turned off by what he perceives as the Buckeyes' LB strength (Mitchell and Johnson last year and the commitments of Berger and Hubbard, combined with the notion that Raekwon McMillan and Dante Booker are leaning scarlet and gray), but he flatly denies that any competition is going to scare him off.
He did admit that he's "really liking the SEC right now and a few schools on the West Coast." He will be checking out LSU this weekend for their spring game, and while I don't expect him to commit this weekend, I do expect him to be utterly blown away by the experience and would not be surprised if that was his eventual landing spot, despite popular belief that Ole Miss should be considered the favorite. Bottom line straight from the horse's mouth? 
"I've not eliminated the Buckeyes, but we've not really had much contact lately."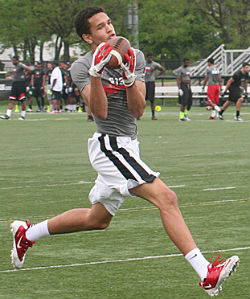 Watson is the obvious #1 target at QB, and then? If he doesn't flip, is there a chance the Buckeyes don't take a QB in this class? – TennBuckeye19
At this point, the Ohio State recruiting situation is about as mysterious as it could possibly be. Yes, the common thought is that Watson is – and has been – the number one guy for some time and that's accurate, to a degree. That being said, there's another committed QB who the Buckeyes would be thrilled to hear from in the event that his situation changed, as unlikely as it is.
I think the coaching staff is intent on taking a quarterback no matter what, and they will go one by one down their list until they find the guy who fits the system the best and wants to be a part of their program. They are not in dire need at the position, thanks to the improvement of Cardale Jones and J.T. Barrett waiting in the wings, but I think ideally they'd have five in the system.
Is Hubbard being recruited as a LB? He seems like a TE to me. – DanBrown7665
I'm with you, I see Hubbard as a TE – or maybe a defensive end – but I don't think he ends up at linebacker for a few reasons. The most important of those reasons is that I have it on good authority that the Buckeyes are taking three linebackers this year, and that they still are trying to find two more. Logically then, with Berger in the fold, they believe that they currently have one linebacker committed.
One 11W user, Danify, took a shot at getting a number of queries answered at once. I'll answer two, because this is not the Danify show, after all.
With Jeb Blazevich not visiting, what other tight ends do you see the staff focusing on? With Caleb Henderson recently committing to North Carolina, what QBs (without offers) are the Buckeyes focused on? 
Blazevich is one of my favorite players in this class, because I think he's a great example of a kid doing things the right way, and while I am not ruling out OSU as his eventual destination, I think it's more likely that he stays a bit closer to home. If that happens, the Buckeyes will hope to get good news from Indiana's Austin Roberts in May, and if he ends up spurning them for another school, I could see them "settling" with Hubbard at TE, but that could also open the door for Daniel Helm, who visited last week, to get a longer look as well. 
I briefly talked about – and with – Bossier City (La.) quarterback Brandon Harris yesterday and the Buckeyes are suddenly one of many schools hot on the trail of the junior QB. I don't know the "order" of things from the coaching staff's perspective, but I think it's clear that they did not have exactly what they're looking for in the popular trio of Kyle Allen, Caleb Henderson and Drew Barker, so they are continuing to look beyond Watson. Allen has not been in contact with the Buckeyes lately, Henderson has committed elsewhere and Barker has turned his attention to the schools that have offered him (understandably) and might not have the same "love" for the Buckeyes that he once had.
One thing is for sure: the Buckeyes will find a QB to fit their system. Remember, Kenny Guiton and Troy Smith were virtual afterthoughts in the recruiting process.
Of the Georgia players Myles Autry, Raekwon McMillan, Deshaun Watson and DeMarre Kitt, who do you think is the most likely to land at OSU? – Poison Nut
I think in order of greatest possibility, it would have to be McMillan, Kitt, Watson and then Autry.
Which current commit or possible commit is/would be the best to help recruit other talent? – 45oh4io
I'm a big believer in the tenant that your on-the-field leaders are generally your off-the-field leaders, and so in that vein, a commitment from a quarterback or linebacker that is an assertive, charismatic, extrovert is what I think best helps draw in other players. At present, the Buckeyes are not close to getting a commitment from a signal-caller, so I'll suggest that Kyle Berger (among the current commitments) and Raekwon McMillan (among players who could eventually choose the Buckeyes) would have the biggest impact. The Buckeyes have a great – and active – group of players already committed that are aggressively attempting to help recruit, so don't worry about that.
Where do things stand with Derek Kief? – Ahh Saturday
Kief is an interesting player, and I've been told a number of times that his offer is in fact committable, but something seems to be keeping him from committing, despite numerous smoke-signals surrounding him and a pending decision. Whether or not that delay is a result of Kief being uncertain of his decision or the possibility that he's this year's Ryan Timmons, one thing is clear: he's a big-time talent with a lot of very good offers and the Buckeyes have not shied away from keeping tabs on him. It's almost as if he is perpetually on the "next to commit" list but is just as likely to never get the chance. 
What is the latest at RB? – Squirrel Master
The Buckeyes are filthy loaded at running back, and I just don't think that they have a desire to really expend too much energy and time recruiting a position that is not of need at this time; they have a number of other spots (LB, OL, WR) that they believe are much more pressing. Would they have turned down commitments from Jalen Hurd or a Joe Mixon type? Of course not. Will they discourage a player like Derrell Scott, a speedburner from Havelock (N.C.) who lists the Buckeyes firmly in his top five without visiting, from doing so? Again, of course not. They will take an elite-level running back if one comes knocking, but they won't be disappointed if they don't this season.
Jordan Hall and Carlos Hyde depart after this year, but Rod Smith, Bri'onte Dunn, Warren Ball, Ezekiel Elliott and Dontre Wilson are waiting in the wings, so don't be surprised if they look to 2015 – where Urban is already aggressively courting Orlando sensation Jacques Patrick – to make their next running back splash.