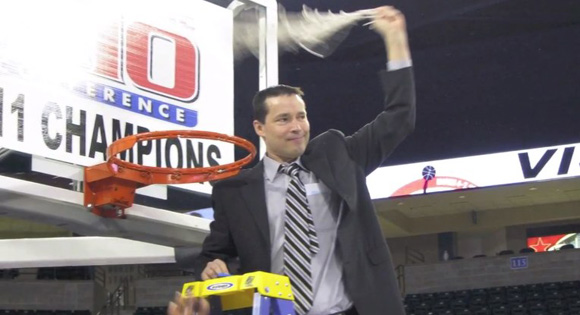 Ohio State's long search for a women's basketball coach is finally over. The school announced the hiring of Kevin McGuff Tuesday with an introductory press conference scheduled for Wednesday at 5 p.m.
McGuff leaves Washington, where he spent the previous two seasons, to return to his home state.
"I am extremely excited and humbled to be the next women's basketball coach at Ohio State," McGuff said. "This is an amazing opportunity for my family and me to come back to the state of Ohio. I would like to thank Gene, Miechelle Willis and President Gee for putting their faith in me to be their next head coach. As someone who is from the state of Ohio, I know how special of a place this is and my goal is to have Ohio State competing at the highest level of women's college basketball."
McGuff just finished his 11th season as a head coach. Prior to his stint with Washington, McGuff spent nine years at Xavier, taking the Lady Musketeers to the postseason every year on the way to compiling a 255-99 record, a school record for wins. While with Xavier, McGuff worked with then men's basketball coach Thad Matta.
A native of Hamilton, Ohio, McGuff is an excellent recruiter, having signed back-to-back McDonald's All-Americans at Washington for the first time in school history. While at Xavier, he recruited nationally, successfully pulling in top-rated players from all over the country.
The 43-year-old McGuff is married to wife, Letitia. The couple has six children: Kilyn, Keiryn, Lukas, Lake, Lily and Leks.