I had the opportunity to watch the Scarlet squad thoroughly dismantle the Gray team in person last Saturday.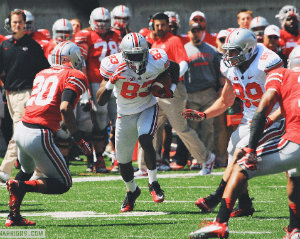 Sitting halfway up section 108, I had a perfect vantage point to watch the Buckeyes and evaluate the nine predictions I made last week about the spring game. 
It turns out that I'm not completely clairvoyant. Decker did not exactly "seize the right tackle spot" as I predicted, nor did Warren Ball turn on his afterburners while pulling away from the second-team defense. 
It wasn't all bad though – Curtis Grant and the defensive linemen really came through for me. 
In lieu of "Good, Bad, and Ugly" sections, I'll take a look at my "Surprising, Accurate, and Completely Wrong" predictions. 
What I Never Saw coming
Dunn's Soft, Soft Hands: Unless you regularly watched Bri'onte at Canton GlenOak, you (I) might have never known how good Dunn can be catching passes out of the backfield. Dunn in fact tied for second on the team with five receptions in Saturday's pass-heavy offense.
Bri'onte doesn't have the typical build of a pass-catching running back, but he displayed great hands when catching check-down, dump-off passes, hardly ever getting tackled by the first defender. With a logjam at running back (and with Hyde and Rod likely ahead of him), the 6'2 Dunn might get a chance to catch more passes on Saturdays. 
Chris Fields in the Starting Lineup: While we will always remember Chris Fields' heroics against Purdue, I did not expect Meyer to provide such a ringing endorsement of Fields after the spring game.
"I'm naming him a starter today," Meyer said. "I told him I would if he finished the spring (well). He's a wonderful guy that was very inconsistent last season. He's earned a starting spot. I know Tom Herman feels the same way."
What I Got Right
Grant Hit the Ground Running: As the Buckeyes transition into offseason workouts, the coaches can at least be comforted by the play of their middle linebacker. Curtis Grant looked and played like a starter according to Meyer, who said that "He solidified (his starting spot) today. He's a fully engaged player this year."
Grant finished the day with six solo tackles, four assists, and a sack, which are fantastic numbers for a pass-heavy spring game with shortened quarters. It actually seemed like the neck roll-wearing defender's name was called by the announcer even more than that.
Grant's chief problem so far has been play recognition and reaction time, but he was moving at top speed and delivering bone-jarring hits of receivers over the middle of the field on crossing routes.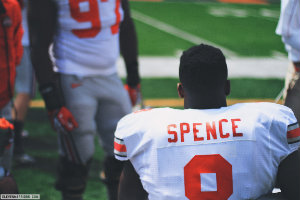 Defensive Line Domination: Diesel Washington and Noah Spence completely dominated whichever Scarlet offensive lineman lined up in front of them.
In a pass-heavy day, the pair combined for seven sacks while prolonging the battle for right tackle (which I'll get to in a second).
Even more impressive than those numbers was the fact that the two didn't seem to take any plays off. Braxton, Kenny G, and Cardale Jones felt the pressure on almost every play, even apart from the gaudy statistics. 
Thomas, the Spring Game Hero: Last spring I argued that Michael Thomas' spring game performance was not an aberration, but a sign of what was to come in the fall. I was wrong.
Two years in a row, though, and you have to think that Thomas' performances are more than merely a passing trend. 
The guy looks absolutely huge in person, with a big frame and the ups to grab those red-zone floaters that put points on the board.
While Meyer didn't single out Thomas in the same way as fellow receiver Chris Fields, Thomas figures to be a key member of the outside receiver rotation with Devin Smith, Corey Brown, Evan Spencer, and incoming recruit Corey Smith. 
What I Got Wrong
Last (and least), I had a number of spring game predictions that were totally off the mark: 
Ball Had Solid, But Not Spectacular Day: Warren was solid, finishing with 11 rushes for 45 yards, as well as the longest run of the day at 15 yards. We have heard great things about Ball's long runs all spring, but he didn't especially separate himself from the pack on Saturday. As Meyer said yesterday, "They've all shown flashes of being very good. They're certainly nowhere near where they need to be to be the starting tailback at Ohio State."
Quiet Day for Tight Ends: With Vannett out and Heuerman having a quiet day with only one reception for six yards, Blake Thomas picked up the slack, snagging two passes for 40 yards. 
Meyer has praised this group repeatedly: "The tight end area is the best I've had and I had Aaron Hernandez at Florida. I have two legitimate guys that are very good blockers, good receivers – Nick Vannett and Jeff Heuerman – so we're going to utilize all of our personnel."
However, I was wrong in my prediction that Heuerman and Vannett would have huge days, so I have to put this prediction in the "wrong" column. 
Decker Didn't Seize Anything: While it was awesome to see Diesel and Noah Spence tear up the Scarlet offensive line, that also meant that neither Decker nor Farris emerged as the clear starter at right tackle. This battle is likely to continue into summer practices and fall camp.