Urban Meyer and the Ohio State staff want to start making a bigger recruiting impact on the state of Michigan.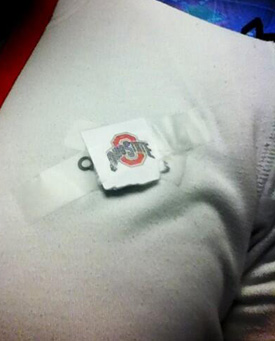 They scored a commitment from one Michigan's best when Cass Tech's Damon Webb shocked the recruiting world and chose the Buckeyes over Michigan, Michigan State, and a host of other elite football programs back on January 13.
Another player the Buckeyes would like to steal from Michigan is 2015 Detroit Cass Technical running back Mike Weber. Weber is one of the three highly rated prospects in Cass Tech's sophomore class, the other two being quarterback Jayru Campbell and defensive end Joshua Alabi.
The 5-foot-10, 205-pound sophomore was in Columbus a week ago with Webb and Alabi. It was Weber's first trip to Columbus to check out Ohio State and he definitely came away impressed with the school.
"It was a really cool experience. The facilities I saw were sick. The fans and coaches also showed me a lot of love. It was a very good visit," Weber said. "They are very well organized and everything around there is about winning."
Weber received an offer from the Buckeyes during the visit, which he was very excited to hear about.
"I was in the running backs meeting and after the meeting Coach Drayton pulled me aside and told me I had a scholarship offer from Ohio State. I was very excited."
While Weber is still "getting to know" the Ohio State coaching staff, he has built a pretty good relationship with Ohio State running backs coach Stan Drayton. "We talk some football, but we mainly talk about what's going on with each other. We talk about school, our families, and other stuff like that."
Weber has not had many conversations with Ohio State head coach Urban Meyer, but that doesn't mean Meyer hasn't made an impression on the star tailback. "I've only met him two times, but we get along really well when we see each other."
Webb is doing his best to get his younger teammate to join him in Columbus to play football for the Buckeyes. "Damon and I have a close relationship," Weber said. "Damon always tells me that if I want to win championships I should come to Ohio State."
He is also pondering the idea of going to the same school as his classmates Campbell, who the Buckeyes have not offered, and Alabi, who, like Weber, holds an offer from the Scarlet and Gray. "Jayru, Josh, and I might go to the same school if things work out that way," Weber said.
Weber is looking at many different aspects of schools when he considers them. "Depth chart length, the game atmosphere, if it's a good fit in general for me," he added. "All of the obvious factors."
Still just a sophomore, Weber is nowhere close to making his decision, saying, "I'm not going to decide until my senior year." This will give the Ohio State coaching staff plenty of time to develop good relationships with Weber and his family.
As for future plans, Weber wants to take trips to Alabama, LSU, and USC this spring and summer. He will also attend the Rivals camp later this summer.
When asked which schools are after him hardest, Weber replied, "Michigan, Ohio State, and Michigan State."
It sounds like this will be a classic Big Ten battle for this sophomore star.