One of the top tight ends in the country – and a Buckeye target with a long-standing scholarship offer – is starting to wind down his recruiting.
Charlotte (N.C) Christian tight end Jeb Blazevich has offers from Alabama, Clemson, Notre Dame, Michigan and a who's who of other schools around the country, and he finds himself in the enviable position of being able to handpick the path his future takes. That future is becoming more and more clear to the 6-foot-5, 240-pound junior, but he is not entirely ready to divulge exactly what he's thinking.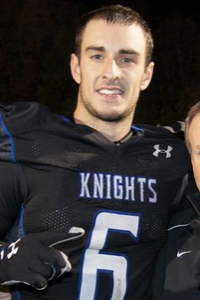 The reason he's holding off? It's simple, or at least it is if you're a person and player who subscribes to life the way that Blazevich does. 
"My parents, my coach and I are going to sit down this week or the next and figure everything out," Blazevich said. "I'm hoping to be committed not too long after that. I won't name the last few schools that stand out at this time, not until I've figured out which other coaches I have to say no to. I just feel like that's the right thing to do."
Blazevich won't talk publicly about which schools are standing out for his services until he's told each school that is no longer in the running that he's going to choose someone else, a matter of deference and respect that is customary – and expected – when talking to the tight end.
Blazevich visited Ohio State last summer and again this past November, where he checked out the Buckeyes' gameday atmosphere, and he came away impressed with the school, the crowd, the coaching staff and more. Will that be enough to push the Buckeyes to the finish line? 
A player who puts his faith at the forefront of every decision he makes and one of the nation's top players, Blazevich has seen his fair share of attention during the recruiting process. He admits that it's had its up and downs, and for the most part it's been a process that he's thoroughly enjoyed, but he's glad it's winding down because of the toll it's taken on the old odometer.
"The best part in all this has been dealing with the people, even getting to know people like yourself. It's very encouraging knowing that as a high school kid that Christian values are not only appreciated, but taught and looked for in kids to play this great game of football," he said. "The worst part about all this is just making the trips, literally traveling and being in a car 8-12 hours a day. I've missed out some of developing relationships with friends but I know in the end it'll all be worth it."
Blazevich had intended to make a trip to Ohio State a few weeks back, but was unable to as the lingering winter made travel difficult. Still, he's confident that he's seen enough from Ohio State to know if the Buckeyes are a realistic, and more importantly, a good option. One doesn't make a 850-mile round-trip – twice – otherwise.
"I talked with (Buckeyes co-defensive coordinator) Coach (Everett) Withers and have been in touch with (offensive line coach) Coach (Tim) Hinton a good bit too," Blazevich continued. "I have seen OSU twice now and that is more than a couple other schools that I'm looking at, so I think I've given them, then, a fair chance especially as I see what they have to offer.
"The Buckeyes have a great coaching staff, great drive, determination, and a history of success. They have an amazing fan base and an even better alumni base, the education is great and they plan to utilize the TE position. Getting to know Coach Withers, then Coach Hinton and in the summer Coach Meyer was truly an honor, and they have all impacted my life regarding decisions I've made throughout this whole process especially in trying to narrow all my schools to my top 6. Ohio State has been great through the entire process."
Now, Blazevich says he intends to shut down the communication with outside sources and focus on making his decision, understanding that he will have a new role in the coming months and years.
Another role that many prospects are filling these days – serving as a recruiting assistant – is one that Blazevich is also comfortable doing. He wants to make sure that whatever school he commits to surrounds him with other talented players. 
"I understand that at the next level I will be developed into more of a receiving tight end that can stretch the field and go catch passes, but I will need to stay in the box and block too," he added. "I'll be a three-down player that can switch positions no matter what personnel is on the field.
"Honestly, if the coaches want me to do that (help recruit), I would. I'm definitely going to be super relaxed about all of it. I intend to just give them my number, leave the option of them contacting me, but not bothering them too much," he said. "I've gotten to know a lot of great guys like just at camps and other places."
If you've not seen what Blazevich could bring to the Buckeye offense, you can check that out below.
---