The 2013 Ohio State Spring Game is in the history books and now we wait out the weeks between now and the Aug. 31 opener against Buffalo. The Buckeyes put on a good show in the Queen City, even though the whistles kept us from fully enjoying the magic that is Braxton Miller.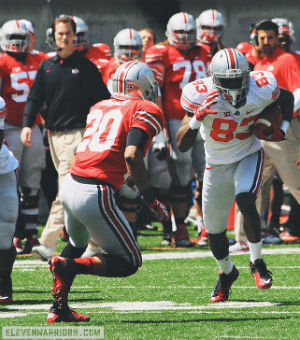 As expected, the emphasis was put on the passing game in an effort to maximize reps for the quarterbacks and offensive line, and in an attempt to mitigate the chance for injury. The Gray team did more running, with Warren Ball looking good in his 11 carries for 45 yards. The Scarlet team had only 20 carries, and several of those were by Miller on "sacks." In fact, Bri'onte Dunn carried from scrimmage only twice.
Some of our fears were partially allayed (Curtis Grant at linebacker), while others weren't (what to do about right tackle). But in all honesty, it's a glorified practice and there isn't much you can really take from it.
For example, there's no way to know how the Buckeyes will be on defensive line, because there was no attempt at smashmouth football. Can Michael Bennett play the 3-technique effectively at his size? Will Noah Spence and Adolphus Washington maintain their run responsibilities? Saturday told us nothing about it with the pass-happy play calling.
Like any other practice, all you can really do is sit back and pick out what was good and what was bad about it. As such, here is a list of what I would hypothetically upvote and downvote from Ohio State's spring game.
Upvotes
Braxton's pocket presence: Miller's mechanics have been a hot topic of discussion for a while now, particularly after his visit to noted quarterback guru George Whitfield, Jr. I'm not a football coach, but even I recognized smoother deliveries.
But beyond that, Miller was smart about throwing the ball away to avoid sacks, better at looking off defensive backs, and more patient with his progressions. A better passing Braxton will allow Tom Herman's offense to really open up and eviscerate opposing defenses.
Linebacker wishes Grant-ed: Again, it's difficult to take too much out of a practice performance, but I'm pretty sure everyone feels a little better about Curtis Grant at linebacker. According to the box score issued by Ohio State, Grant finished with six solo stops, four assists and a sack. Considering the quarters were 10 minutes long and the high percentage of pass plays, that's a pretty nice day.
We don't know how he'll react in the run game, but young linebackers generally have more trouble against the pass anyway. Call me encouraged by the performance.
Runaway Diesel: They call him Diesel, but Adolphus Washington is a nitrous-powered Sherman tank. Admittedly, Chase Farris may not be a good barometer of a defensive lineman's prowess, but Diesel ran over, around and through just about everyone that lined up in front of him.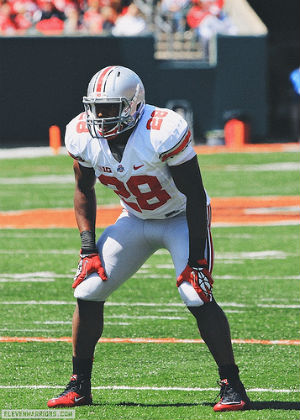 Noah Spence is getting the pub, but Washington is trending similarly in my eyes. Spence and Washington may force teams to run the ball just to keep their quarterback healthy.
Downvotes
Tight end targets: There wasn't much to see from a tight end perspective. Jeff Heuerman caught one ball and Nick Vannett didn't play. While Blake Thomas and his glorious neck pad did make two catches for 40 yards, the tight end position wasn't targeted a whole lot.
I'm not worried about the talent at the position, especially with the addition of freshman Marcus Baugh, but this position seems underutilized every season. Then again, we usually hear about the tight ends in the spring and they disappear in the fall, so maybe the reverse will be true in 2013.
Hole among the hogs: Taylor Decker and Chase Farris both failed to put a chokehold on the starting right tackle spot. As Chris previously mentioned, the edge on Saturday definitely went to Decker, but the fact is that neither was good enough and Urban's public statements of concern are more understandable now.
Still, the reports about Reid Fragel weren't that encouraging last spring, with Decker remaining in the mix for a starting spot into the fall. Ed Warinner performed wonders with last year's line. He'll have his work cut out shoring up that leaky right side.
Other assorted notes
Philly Brown should have a monster season this year, but a key third-down drop was disappointing. He was wide open for the first down and didn't look it in.
He got beat a few times, but Eli Apple opened some eyes with his play on Saturday. While his sack-strip-recovery was a play that everyone will remember, his slapping the ball out of Michael Thomas's hands in the end zone was the kind of play we hope to see regularly.
Speaking of Michael Thomas, it's encouraging to see him perform well again in the spring. Hopefully he can carry it into the season this year, because the wide receiver position must get better for Tom Herman to be able to floor the throttle on his offense.
I enjoyed the various ways Chris Fields was used on offense. He doesn't strike me as the game-breaking type, but he showed good versatility.
I'm a big fan of trick plays (caveat: when they work). It was fun to see multiple QB throwback plays and there was a new wrinkle on the zone read, giving the quarterback the option of a shovel pass, a pitch to a running back or a give on the misdirection to the wide receiver coming back against the grain. It's hard to stop all of those options.
The running backs were difficult to stop. Warren Ball and Bri'onte Dunn not only showed good power and tackle-breaking ability, but both caught passes. Dunn in particular looks like he has soft hands.
The weather didn't really cooperate much in terms of seeing what Drew Basil can do. He's a known commodity in the kicking game, but I was eager to see him punting. His numbers were ok, but Meyer will want more. For Gray, Basil punted once for 39 yards. Meh. For Scarlet, Basil punted twice for just a 31.5-yard average, pinning one inside the 20. I'll give him a pass due to the high winds, which looked to be affecting every kick.
Bradley Roby didn't play, but the coverage by the corners wasn't what it needs to be. Evan Spencer should have scored on the first play, but stumbled.
I was disappointed not to see a bunch of diamond formation plays. That's football porn that I can't wait to see this fall.
No Buckeye football until Aug. 31? DISLIKE.