Congratulations to the Louisville Cardinals for winning the men's basketball national championship last night. 
Too often, title games can be anticlimactic and frankly, unmemorable1. But this year's title game was very representative of this season as a whole: thrilling, hard-fought, unpredictable at times, and even questionably officiated. 
In their 82-76 victory, Louisville proved to be the best team in the nation and while that's certainly not surprising — they were the top overall seed and one of two teams to boast both an adjusted offense and defense ranked in the top 10, according to noted stats wizard Ken Pomeroy — it was hardly a boring contest. 
Michigan became the fifth Big Ten team to finish as the national runner-up since Michigan State's championship run in 2000, but the only shame they should feel is being Michigan, and not for their play or effort yesterday.
Still, the fact that I don't have to deal with a Michigan national championship has me celebrating á la Peyton Siva's dad.
For a while, though, such a horror looked to be on the verge of becoming a reality. In the first half, Michigan went up by 12 with NPOY Trey Burke on the bench for much of it thanks to early foul trouble. Spike Albrecht2, however, channeled his inner Brandon Paul witch and exploded for 17 points after averaging under two per game this season.
Then Luke Hancock, the tournament's Most Outstanding Player, quickly got the Cardinals back in the game in seemingly the blink of an eye. He put in 16 of his career-high 22 points in the first half and Michigan's lead was down to one at halftime. 
From then on, Louisville owned the glass, especially Cincinnati native Chane Behanan, who grabbed 12 boards to go along with his 15 points. Siva produced several key plays and his senior leadership was evident in his statline — 18 points, 6 rebounds, 5 assists, 4 steals. Gorgui Dieng also made up for his subpar game against Wichita State with 8 points, 8 rebounds, and 6 assists.
Burke, as is his M.O., was the game's leading scorer (24 points) and helped keep it close in the second half, but when Louisville took the lead with less than 14 minutes to go, they wouldn't relinquish it. And once again, the veteran team beat the younger, less experienced one and appropriately enough, the entire Fab Five was on hand to witness the loss and yet another counting error.
It was Louisville's first title since 1986, and even if you're not happy for Rick Pitino, who became the only coach to win a national championship at two different schools, at least Kevin Ware got to cut down the net.
And now we look to next year, when Ohio State's chances to do the same are actually pretty good, according to Vegas:
Since LaQuinton Ross was mysteriously excluded from the One Shining Moment montage, he can try to rectify that in 2014. 
In his really very super early Top 25 for next season, Jason King lists Ohio State as No. 6, three spots below Michigan State, the only other B1G team in his top 10. Indiana (#19) and Iowa (#25) are also included. I guess that assumes that the core of Michigan's team leaves for the NBA, as they should.
STEELE TALK. Now that college hoops is over and the spring game will soon be upon us, we look ahead to football. Although really, when don't we? 
I tend to make fun of preseason polls, but I just wrote about a basketball one in April, so I'm not one to talk. Plus, I listen when they involve oracle Phil Steele. And while his projected preseason Top 26 is not his own ranking of the top 26 teams, he's pretty accurate at this sort of thing. 
Like many expect will happen come August, Ohio State is at No. 2 behind Alabama, thanks in part to a pretty stacked and experienced offense. As for the defense:
The Buckeyes do have to replace their entire starting defensive line, but Meyer has done a great job of recruiting at that position in his short tenure while the D's other stars in linebacker Ryan Shazier and cornerback Bradley Roby should help fill the void as the young lineman mature.
Well, Ohio State might be in trouble if only one young lineman matures. Typo aside, this is a good point because it took a while for the defense to come together last season and we might have to deal with some growing pains again. Luckily the nonconference slate doesn't look all that formidable on paper, so between that and the proficiency of the offense, that should give the new starters on defense room for a learning curve.
Ostensibly, Ohio State's most challenging games will be at Northwestern and at Michigan, both of whom are ranked — UM at No. 19, Northwestern at No. 20. Nebraska, who the Buckeyes won't face this year, is slotted just a little higher at No. 17.
WELL I GUESS THIS IS GROWING UP. One younger defensive player who could contribute significantly this season is "Dammit" Tyvis Powell, a redshirt freshman DB who has looked good this spring at the Star position.
He's been practicing a lot with the first team this spring and has earned praise from Urban Meyer, but last year he often found himself in a terrifying position that weaker men would not survive — getting constantly chewed out by Kerry Coombs. But that was all part of toughening him up and it seems to have worked:
"I think he's come a long way, probably the furthest of anybody in the room," Coombs said. "I think Tyvis was reasonably immature, and that's not his fault. He was a high school senior at this time last year and you throw him in the mix and the game went a little fast for him. He had to catch up.

"He responded. He never buckled, he never quit, he never folded his cards, and he went to work. He's not there yet, now -- but he has got a chance to be a very, very good player."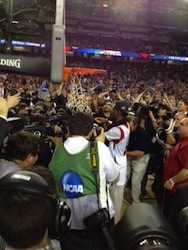 Even though the secondary should be Ohio State's strength on defense with three returning starters, Powell still has the opportunity to make his mark. The progress he's already made sounds promising and if nothing else, he's a teacher's pet. I mean, Coombs screaming obscenities at you until he passes out due to lack of oxygen — then immediately reviving himself due to the amount of Red Bull/coffee/shark blood in his system — is really the ultimate compliment.
THROW IT TO LUCAS. After 11W's own Johnny Ginter, Jerry Lucas is one of the most well-known people to come out of Middletown, Ohio. Lucas, who won a basketball championship at every level including Ohio State's (sadly still) lone title in 1960, reunited last Friday with his 1972-73 Knicks championship team in Madison Square Garden. The next day, he was honored in Atlanta during the Final Four alongside other NCAA Tournament greats like Bill Russell and Kareem Abdul-Jabbar. 
And he was promptly booed by Michigan fans in attendance. They were probably just jealous of his ability to count:
Lucas, teammates said, was unselfish to a fault. He might have been able to keep a running box score in his head (which he was known to do), but statistics never really meant that much to him, especially during that championship season.
Together with Bill Bradley, they would outsmart opponents in the NBA, so it's no surprise that Lucas believes strongly in keeping his mind active, hence the elephant-like memory. Now, he's turning his attention to a children's educational website, which is set to debut at the end of the year. He hopes it will "revolutionize education." That seems like a lofty goal, but maybe he'll win another championship of some sort. 
TEAM SUPPORT. Yesterday, Minnesota punter Chris Kluwe visited The Ohio State University for a talk about — you know the commenting policy, folks3 — acceptance for gay athletes. 
At the event, sophomore Derrick Anderson, a member of the track team, stated that he came out to his coaches and team this year. They've been supportive of Anderson, and although track is not as high profile as football or basketball is, he's optimistic that an athlete from one of those sports can be openly gay at Ohio State:
"I think there would be more media involved and you'd have to deal with that in your face," Anderson said. "I feel the people on campus would be supportive. So for the first two weeks it would be this big ordeal, but after the two weeks is up, just go live your life and produce on the field."
Not everyone is going to be accepting, but at least Ohio State has taken steps so that more Derrick Andersons feel comfortable being out. And if Brendon Ayanbadejo is to be believed, it could happen sooner than later in the NFL.
OBLINQUE CITY. One Shining Moment... Dumb Shining Moment... Michigan State fans will still probably get blamed for this... Clowney has finally been beaten... Jent is the latest Ohio State assistant to be a rumored candidate for the FGCU job... An NFL Draft profile of Reid Fragel.... Mike McNeil's plea deal... #YOLOJACKETS is actually not the brainchild of Adidas... Finally, an analysis of Mad Men through a football lens.
1 I remember nothing about last year's except that Kentucky beat Kansas, and I have successfully blocked out most of the UConn-Butler one from two years. IT SHOULD HAVE BEEN OHIO STATE. ↑
2 He even overtook Mitch McGary as the player I suddenly knew everything about since people wouldn't shut up about him. Unless it involves Little Giants, Buffy the Vampire Slayer, or Do the Right Thing, I don't want to hear the name "Spike" for a while. ↑
3 Seriously. ↑