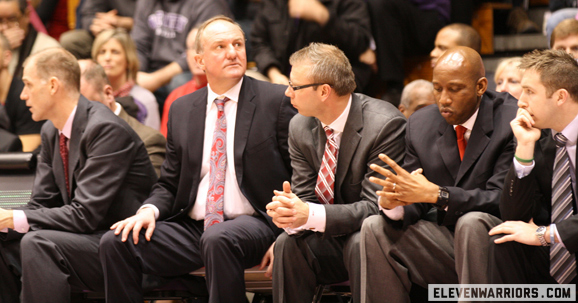 Thad Matta's coaching tree, which already includes the likes of Illinois' John Groce, Butler's Brad Stevens, Arizona's Sean Miller, Dayton's Archie Miller and Charlotte's Alan Major, among others, is already impressive enough. If recent reports hold true, it could be growing again.
Ohio State assistants Chris Jent, Greg Paulus and Dave Dickerson have all been linked to openings and the departure of one or more would not be a surprise.
Jent, a Sparta, New Jersey native, is being bandied about as a guy that could take over at Rutgers, following the school's termination of Mike Rice:
Here's a name that's been tossed out to me a couple times by a good source as a possibility for Rutgers: Ohio State assistant Chris Jent.

— Jeff Goodman (@GoodmanCBS) April 4, 2013
Jent is Ohio State's shooting coach and is a favorite of LeBron James from their time together in Cleveland.
On Saturday, former UCLA coach Ben Howland's name surfaced for the Rutgers' gig:
Sources told CBSSports.com on Saturday that former UCLA coach Ben Howland is "intrigued" by the opening, and that third-party conversations designed to gauge possible interest on both sides have taken place.
We certainly wish Jent the best and would love to see him get a head coaching job soon, but with Rutgers set to join the Big Ten, most Ohio State fans would rather not have to root against a former Buckeye great two or three times a year.
Dickerson, Ohio State's associate head coach, joined Matta's staff in 2010 and is being floated as a replacement for Andy Enfield at Florida Gulf Coast. Dickerson was a finalist for the Old Dominion job recently, which ultimately went to Jeff Jones. Dickerson was also considered a strong candidate to take over at Miami (OH) last year, so it's just a matter of when, not if, he leaves Ohio State to take over another program.
Not long after Northwestern tabbed former Duke star and Blue Devils assistant Chris Collins as the replacement for the fired Bill Carmody, rumors began to swirl that current Ohio State video coordinator Paulus, another former Duke star, may be bound for Evanston. Though his departure is still possible, the Chicago Tribune's Teddy Greenstein reported Paulus as "less likely" to join Collins' staff.
And finally, there's Jeff Boals. Although he hasn't been connected to any coaching searches this year – that we're aware of, at least – Boals has been connected to openings at Dayton, Kent State and Fresno State in the past.