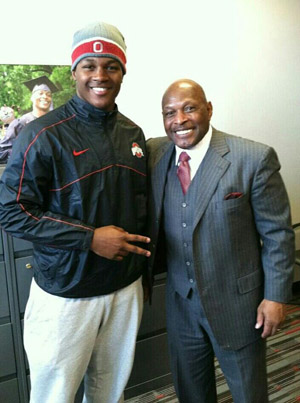 Not long after signing one of the nation's top classes, Urban Meyer and his staff are in on some of the nation's most coveted prospects in the class of 2014.
Under Jim Tressel, the Buckeyes built a fence around the state of Ohio with that strategy paying dividends in the form of most of the state's top-ranked talent finding their way to Columbus. The list of five-star recruits he pulled in from Ohio is impressive: Maurice Clarett, Ted Ginn Jr., Alex Boone, Beanie Wells and many others.
Meyer, however, takes a more national approach to recruiting, which is why we're starting to see the Buckeyes in the mix for highly rated recruits across the nation, not just in the great state of Ohio. The recruiting battles are always going to be a little more ferocious when you venture out of your backyard, but the prizes can often make the fight worth it.
Today, we'll take a look at Ohio State's top targets in the class of 2014, current high school juniors from across the United States. To form this list, I used position need, the chance of Ohio State landing the prospect and overall talent.
1. LB Raekwon McMillan, Hinesville (GA) Liberty County
The Buckeyes still have some holes to plug at the linebacker position and McMillan is one of the top talents at that position in the 2014 class, making the nation's No. 1 inside linebacker a main priority. McMillan has long had the Buckeyes at the top of his list and is visiting Columbus as you read this – his fourth visit to Ohio State in the last year. Alabama, Clemson and the home state Bulldogs are all making runs, but I think the Buckeyes are currently in pretty good shape to earn McMillan's signature on NSD 2014.
2. DB Jabrill Peppers, Paramus (NJ) Catholic
Aside for Da'Shawn Hand, the nation's No. 1 overall prospect, Peppers might be the best defensive player in the class. He also plays things very close to the vest, but it is known the Buckeyes and Stanford are two of his favorite schools. Peppers is supposed to be on campus for the first time this weekend, so the Buckeyes have a chance to move into the lead. Bonus: Kerry Coombs is Peppers lead recruiter.
3. ATH Marshon Lattimore, Cleveland (OH) Glenville
Although Ohio State is going national, it's still very important to keep premier talent in the state of Ohio, especially talent from Ohio State's prime pipeline, Cleveland's Glenville Academy.
Back in February at the Best of the Midwest combine in Indy, Lattimore proved to me that he is the best player in Ohio's junior class. I think the Buckeyes are leading this race and don't think a commitment sometime over the summer is out of the question. His versatility opens up a lot of doors for the Buckeyes.
4. LB Clifton Garrett, Plainfield (IL)
As mentioned, the Buckeyes need linebackers and Garrett is one of the best in the junior class. He has visited Ohio State on many occasions and has always had the Buckeyes as one of his top schools. That said, there are a host of SEC schools in on Garrett and USC is lurking. This will be a battle, but I think OSU has a solid chance with Vrabel doing the heavy lifting.
5. QB Deshaun Watson, Gainesville (GA)
With Braxton Miller graduating after the 2014 season (wishful thinking, just in case), the Buckeyes will need to add depth alongside J.T. Barrett and Cardale Jones. Watson, a current Clemson commit, is their top guy in this class. In fact, he's the only guy Ohio State has offered. The Buckeyes still need to get Watson to visit, which I think they will, and then things will get very interesting.
6. WR Drake Harris, Grand Rapids (MI) Christian
The Buckeyes are always in need of playmakers on the offensive side of the ball. Not only do I consider Harris the best junior receiver in the Midwest, he's also from Michigan. It would be huge to steal another prospect from Michigan, in addition to having already landed Cass Tech standout Damon Webb. I think Michigan has the advantage right now, but a trip to Columbus could definitely change things.
7. LB Dante Booker Jr., Akron (OH) St. Vincent St. Mary's
Booker is probably the second-best player in Ohio's junior class. He is also a linebacker, which the Buckeyes need as many of as they can get. Dante has always had the Buckeyes out in front and while he wants to give other schools a look, I think he will be all Buckeye in the end. The good news is that we might not have to wait too long for this commitment to happen, either.
8. OT Jamarco Jones, Chicigao (IL) De La Salle Institute
Offensive line is another position of need in this class. The Bucks have already received commitments from two offensive linemen, Glenville's Marcelys Jones and Lancaster's Kyle Trout. They would still like to add a couple more and Jones has long been on the radar for the Ohio State staff. He has been to Columbus many times and has enjoyed all of his visits. He has offers from across the country, but I like Urban Meyer's chances.
9. OG Braden Smith, Olathe (KS) South Senior
Smith reminds me of Chance Warmack, the former Alabama guard. He visited Columbus in mid-March and I think the Buckeyes are gaining ground on Notre Dame and some of his other leaders. If Ohio State continues to build a relationship with Smith, his odds of becoming a Buckeye will only improve.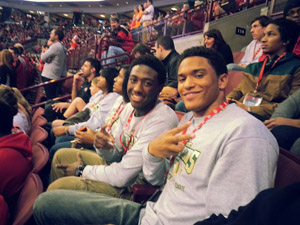 10. WR Demarre Kitt, Tyrone (GA) Sandy Creek
Kitt is another player from the state of Georgia the Buckeyes would love to add to their class. He's a playmaking receiver, an area the Buckeyes could use some help in. He has been to Columbus twice already and arrives for a third time tomorrow. I think the Buckeyes have a decent chance here, but will need to beat out Clemson, the Buckeyes' main competition.
11. TE Jeb Blazevich, Charlotte (NC) Christian
The plan was to take two tight ends in the 2013 class, but Marcus Baugh would become the only one Ohio State brought in. Expect Ohio State to grab at least one TE in the 2014 and Blazevich has visited a few times already and is trying to schedule another visit in the near future. He has the Buckeyes in his final six schools and there's a very good chance he decides in the next few months.
12. LB Kyle Berger, Cleveland (OH) St. Ignatius
Berger is another in-state linebacker the Bucks would love to get. He has visited many times since the new year and has always had OSU as one of his top two schools. Who's the other school he likes? You guessed it, the Michigan Wolverines. This is a battle that's very important for OSU to win. He should be deciding in the not-too-distant future and right now, I'd peg him to the Bucks.
13. QB Drew Barker, Hebron (KY)
If the Buckeyes miss out on Watson, I think their attention turns to Drew Barker, another quarterback who fits the system well. The Bucks have yet to extend an offer Barker's way, but if they do, I think they'll have a very, very good chance to add him to the class. They would have some competition from several schools including in-state Kentucky and South Carolina.
14. DE Da'Shawn Hand, Woodbridge (VA)
Hand doesn't have the Buckeyes in his top five, but he still has a spot on this list because of his talent. He was in Columbus for the Michigan game and had a pretty good time. The Bucks may get lucky if Hand decides to visit again, but this is a longshot as things stand.