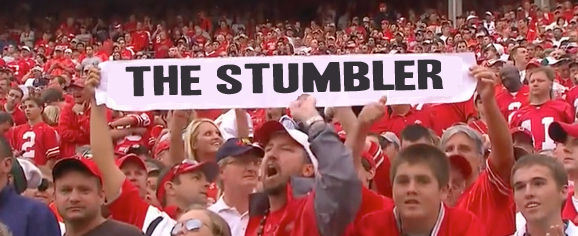 The Item – A Piece of Clarett's Cape
Oh, hi there. Welcome to another 11W Stumbler. This week's edition was a tough one as I unearthed a number of eBay gems from politically incorrect B1G posters, to a gumby Woody Hayes and even a creepy Ohio State chef baby.
In the end those were all great Stumbler candidates, but I ultimately landed on this interesting piece of Buckeye goodness: a Maurice Clarett Jersey Card.
What is that exactly? Let's let the seller do the talking:
"OSU FOOTBALL MAURICE CLARETT game used jersey swatch card ...GUARANTEED AUTHENTIC !!!  Sage certifies the piece of a jersey / uniform worn by Maurice Clarett on the reverse side of the card ..."
Is that an ACTUAL piece of a game-worn uni or is it just part of a local junior high practice jersey? Who's to say. Either way, it looks great and makes for an excellent conversation piece.
If indeed it did spur a conversation, that chat might go a little something like this: "Man, remember Clarett? That dude was a man among boys...as a freshman."
Then the talk might wander into some statistics to back up those claims.
Here's a chart comparing Maurice Clarett to former Heisman-winning RBs in their trophy seasons:
| Player | Rush Yards | YPC | Rush TDs |
| --- | --- | --- | --- |
| Ron Dayne 1999 | 2,034 | 6.0 | 20 |
| Ricky Williams 1998 | 2,327 | 6.0 | 29 |
| Eddie George 1995 | 1,927 | 5.9 | 24 |
| Rashaan Salaam 1994 | 2,055 | 6.9 | 24 |
| AVERAGES | 2,000 | 6.2 | 22.8 |
| Maurice Clarett 2002 | 1,237 | 5.6 | 16 |
Now some of those numbers don't look all that close, particularly yards, but consider this: Clarett achieved those figures despite not reaching the 100-yard mark in 4 of the team's 14 games. In addition, he missed 3 games during his freshman season due to injury.
Let's also keep in mind we're talking about the stat averages of the best seasons of some of the greatest college RBs to play the game. 
Now let's dive a little deeper. Take a look at the stats of the last RB to win the Heisman, Mark Ingram, pitted against Clarett's season figures.
| Player | Rush Yards | YPC | Rush TDs |
| --- | --- | --- | --- |
| Mark Ingram 2009 | 1,658 | 6.1 | 17 |
| Maurice Clarett 2002 | 1,237 | 5.6 | 16 |
Again, keep in mind Maurice missed 3 whole games. Are you serious? Simply put, when #13 was healthy, he was playing at near Heisman levels.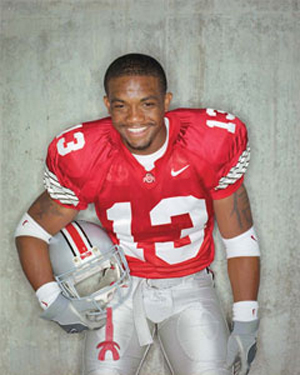 Say what you will about Clarett, but as a freshman he was the engine of an offense content to grind out three yards a down and wear a defense out. With the exception of Kent State, Minnesota and the national championship, in games where Clarett did not play or did not reach the 100-yard mark, the offense sputtered.
Cincinnati: Clarett DNP – FINAL SCORE: 23-19
Penn State: Clarett 39 yards – FINAL SCORE: 13-7
Purdue: Clarett 52 yards – FINAL SCORE: 10-6 HOLY BUCKEYE!!!
Illinois: Clarett DNP – FINAL SCORE: 23-16 in OT
Rarely, if ever, has a freshman had such an impact on an OSU team. That makes his well-documented fall from grace all the more Shakespearean.
Clarett has since picked up the pieces, but let's flash back to a time when he WAS the piece.
The Clips –  A Bulldozer With a Wrecking Ball Attached
As previously mentioned, this kid was lights out. Many times during the 2002 season it was give him the ball and get out of his way. The following footage is grainy, the soundtrack is questionable but the feats within are unadulterated smash mouth football. Tell 'em, Maurice:
We appreciate the memories, Clarett, and good luck with rugby. Thanks for stumbling in. Let's do this again sometime.