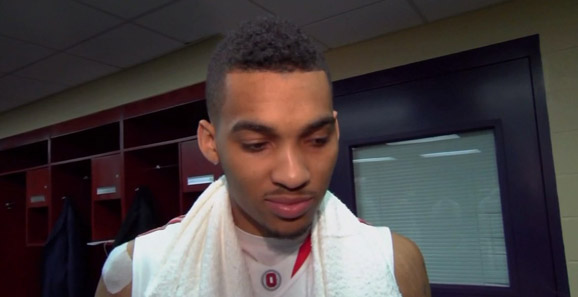 LOS ANGELES – There's been an unspoken intrigue surrounding Ohio State's entire season: would it be Deshaun Thomas' final year in scarlet and gray? The answer is still unknown.
Following his 23-point performance in a 70-66 losing effort against Wichita State, Thomas evaded questions about his future, saying he has not come to a decision nor given it much thought.
"I'm just going to go home, enjoy my family, get back in the gym, and think about this," he said. "This is a great group of guys I have around me and great coaching staff, so I'm going to enjoy my time off and not remember this loss and get back in the gym and get better."
Thomas was an All-Big Ten selection this season and led the conference in scoring at nearly 20 points per game. He is widely expected to forego his final year of eligibility and enter the NBA Draft, even though he's projected as a second-round pick. Thomas has a 1-year-old child, which could factor into his decision.
The Buckeyes' other pro talent, LaQuinton Ross, ended any speculation about his future by revealing he hasn't even considered leaving Ohio State.
"I'm coming back next year," he said. "Right now, I really haven't thought about next season. I really haven't thought about that. I've only been focused on this year."
Ross became an X-factor off the bench during Ohio State's postseason. The Buckeyes looked for a second scorer all season to put beside Thomas, and it finally came.
Ross averaged 15 points and four rebounds during the NCAA Tournament, with a majority of those points coming in the second half, including 15 against Wichita State. The biggest shot he had was a game-winning three-pointer against Arizona in the Sweet 16. Ross made the shot with 2.1 seconds remaining.
"I tried to come off the bench and be a spark," Ross said.
Thomas and Ross were both named to the All-Regional team.
"The growth of that young man has been tremendous," head coach Thad Matta said of Ross. "He's got a great future."
---
DISAPPEARING ACT: Ohio State entered Saturday's game converting on 50 percent of its three-point attempts during the NCAA Tournament. Against Wichita State, the Buckeyes made only five of 25 attempts from beyond the arc.
Trailing 35-22 at the half, Ohio State shot 2 of 10 from 3. It didn't get much better in the second half.
"When you're shooting as poorly as we were, you're trying to find just anything in something to become contagious," Matta said. "With this team, when we don't shoot the ball well, we're not real productive."
The Buckeyes also only forced 12 turnovers. During their win streak, creating offense with good defense was their bread and butter. But Ohio State only had six points off turnovers and zero fast break points against the Shockers.
"They're a very disciplined team on offense, had a lot of sets, and they do a pretty good job of taking care of the ball," Ohio State point guard Aaron Craft said. "We got in transition some and didn't really finish. We had some layups that we didn't make, and probably took a couple early shots that we probably shouldn't have taken. But got to give them a lot of credit."
---
CASHING OUT: Money is probably far from Thad Matta's mind. But Ohio State's four-point loss to Wichita State in the West Regional final didn't just hurt his heart, it also hit him in the wallet.
A win would have triggered a $20,000 bonus. If Ohio State had won the national championship, Matta would have collected $100,000. Even without the Final Four berth, Matta earned $100,000 in bonuses this season and a one-year contract extension worth at least $2.5 million.
Ohio State athletic director Gene Smith also missed out on $61,540 – a month's salary – because of the loss.
Wichita State's Gregg Marshall was the big winner this postseason. He's due $380,00 for leading the Shockers through an improbable March run to the Final Four. He gets $36,000 for each game Wichita State plays in the NCAA Tournament. Marshall's annual compensation is $1.15 million. If he leads the Shockers to a national title, he will have earned $616,000 in bonuses. 
Saturday wasn't the first time this season Matta has missed out on a bonus. If Michigan had held on against Indiana during the regular-season finale, he would have been awarded $80,000 for winning the Big Ten championship.
---
RIVALRY RENEWED: The West Regional final may have been a matchup of unfamiliar teams, but the programs actually have a storied history.
During the 1960s, while Ohio State and Wichita State were at the height of their powers, the two teams played a four-game series. The Buckeyes were victorious in three of the games, but the Shockers were able to upset the No. 2 Ohio State in December 1962.
The games took place from the 1960-63. The Buckeyes won the 1960 national title and advanced to the championship game in '61 and '62, while Wichita State, then known as the University of Wichita, earned a Final Four berth in '65 and played in the Elite Eight in '64.
In four of the five meetings, Ohio State has been ranked in the top 10. The Buckeyes were the top-ranked team when they travel to Wichita in 1960. Jerry Lucas missed four shots all night on the way to 27 points and a 93-82 Ohio State victory.
The Buckeyes led by as many as 23 points until the Shockers, ironically, employed a full-court press. The deficit was cut to 10, but Ohio State held on.
"I wish that I had known that a full-court press would bother the NCAA champions so much and I would have started it sooner," Wichita State head coach Ralph Miller said after the game.
The teams played in Columbus the next season, with Lucas again scoring 27 points. This time, though, he only missed one shot and added 15 rebounds. The top-ranked Buckeyes won, 85-62, at St. John Arena.
The trip back to Kansas in 1962 resulted in one of the Shockers biggest wins in schools history, as they beat No. 2-ranked Ohio State, 71-54. The game took place in front of a record crowd at WU Field House – 11,375.
Wichita State led by four at halftime and managed to stretch the lead out after the break behind 18-of-27 shooting. The Shockers also beat defending national champion Cincinnati the same season.
The Buckeyes got revenge in 1963 behind 28 points and 16 rebounds from Ohio State great Gary Bradds. The Buckeyes won, 78-60, though there was controversy with Wichita's All-American, Dave Stallworth. He finished with 25 points and 12 rebounds but fouled out with nearly seven minutes left in the game.
"It seemed like I got five fouls called on me on five straight plays," Stallworth told the Wichita Eagle Friday. "I didn't understand it, but I accepted it."