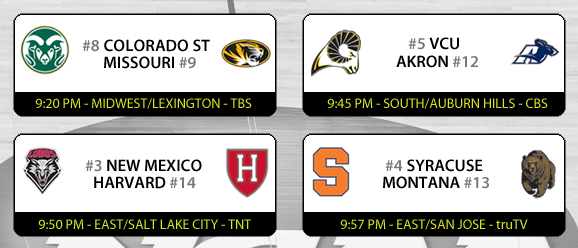 Remember to hydrate. And by "hydrate," we mean keep "keep bourbon nearby."
The late night lineup is solid with three games that should be close. Syracuse is a heavy favorite, but enter the tournament with a black cloud hanging over the program.
And Harvard, if you could do us this one favor and knock off New Mexico, that would be fantastic.
| TIPOFF | Game | TV / Internet | Region | Location | Favorite |
| --- | --- | --- | --- | --- | --- |
| 9:20 PM | #8 Colorado St vs #9 Missouri | TBS / NCAA.com | Midwest | Lexington, KY | MIZZ (-2½) |
| 9:45 PM | #5 VCU vs #12 Akron | CBS / NCAA.com | South | Auburn Hills, MI | VCU (-7) |
| 9:50 PM | #3 New Mexico vs #14 Harvard | TNT / NCAA.com | East | Salt Lake City, UT | UNM (-9½) |
| 9:57 PM | #4 Syracuse vs #13 Montana | truTV / NCAA.com | East | San Jose, CA | SRY (-13) |