Good morning and welcome to the second and final day of first-round action in the NCAA Tournament. Well, technically I guess it's considered the second round now, but let's face it, the First Four is the equivalent of a webisode.
Last year, the first Thursday of the tournament was sort of a yawnfest, but the next day, March Madness began to live up to its name. Could we be in for the same this year?
After all, yesterday got off to a bit of a slow start in terms of entertainment value. Sparty cruised behind Derrick Nix's double-double, Butler and Bucknell managed a Wisconsin-esque halftime score of 21-14, and it wasn't until late afternoon when things started to get interesting. 
Memphis, being Memphis and all, nearly blew the game because of missed free throws and turnovers. But Matthew Dellavedova's last-second three for St. Mary's was no good, so Marquette-Davidson looked to be the first real upset of the day1, until Marquette, without any timeouts, came back from a five-point deficit with a minute remaining. With 10 seconds to go and up by one, Davidson turned the ball over and Vander Blue took it to the hoop to give the Golden Eagles the one-point win. 
Top-seeded Gonzaga avoided the elusive 16 vs. 1 upset against Southern, winning by only six. Michigan woke up in the second half to take down South Dakota State, while Cal and UNLV kept it close at the end. But it was 12-seeded Cal who emerged as the winner and gave us our second "everyone called it so it's not really an upset" 12 over 5 of the day. Fellow Pac-12er Oregon topping Oklahoma State was the first.
The biggest surprise of the day was one of the final games of the night when the No. 3 seed in Ohio State's region, New Mexico, lost to 14-seeded Harvard. It was Harvard's first win ever in the tournament, so that school finally has something to be proud of. 
This could be relevant to Ohio State in the near future, but first up is Iona tonight. 
There are a few more intriguing matchups on tap today, some involving Big Ten teams. The methodical plodding of Bo Ryan's crew facing off against the brashness of Marshall Henderson2 and Ole Miss at least sounds promising. In two B1G vs. Pac-12 games, Illinois plays Colorado and Minnesota might top higher seed UCLA. Or, equally likely, they could fail to show up. 
The other B1G team to play today is Indiana, who will go up against James Madison, a Founding Father, Federalist Papers writer, and our shortest president in history. And then Ohio State's potential next opponent will be decided late tonight when Iowa State and Notre Dame meet. 
BUT YOU DON'T KNOW WHAT IT IS, DO YOU MR. JONES? Don't even mention to Iona, though, that Ohio State might possibly win tonight. Despite claiming that their earlier quotes were taken out of context, the Gaels aren't backing down from them. Momo Jones3 had this to say yesterday:
Jones is the nation's third-leading scorer and also went to an Elite Eight with Arizona two years ago before transferring, so it's not like he's unfamiliar with the spotlight, but poking the bear like that is probably not the choice I would've made. And the Buckeyes are certainly aware of what the Gaels have been saying.
The Iona senior elaborated:
"I think they haven't played against the style of play like we play," Jones said. "I think they play a lot of teams that like to slow it up, and they can really get into them. Because we pressure so much and we go against it every day in practice, I don't think it's something we'll have a problem with."
Yes, Ohio State has certainly played against slow-tempo teams — what up, Wisconsin and Northwestern? — but teams like Indiana don't fit that description. And I doubt Iona has any players as defensively skilled as Craft or Scott that would prepare them in practice. The stats seem to back that up. Although Iona averaged 80.7 points per game this season, they also gave up 75.8 points. As LaQuinton Ross pointed out, "I don't think Iona's been guarded by a team like us."
Like the article mentioned, Ohio State has the athletes to run, but the B1G style of play doesn't exactly allow for high-scoring offense. And while the Buckeyes are ready to push the ball more and put up more points than in conference action, they also have to be true to their identity. Craft summed it up nicely:
"I think there's a fine line. I don't think we want to try to do what they do. That's going to play into their hands. But we're not afraid to get out in transition and score off our defense."
THOUGHTS ARE BURNIN', TURNIN', THEY'RE TURNING AROUND. Speaking of defense, that has obviously been a huge part Ohio State's eight-game winning streak. John Gasaway — in an Insider article, sorry — examines that and other reasons the Buckeyes have managed to turn it around following the Wisconsin loss in February.
Most of it comes down to defense, and Gasaway praises Craft and especially Scott:
Craft earns the lion's share of the adulation on defense, and, to be sure, the junior is indeed adept at harassing opposing guards. But keep in mind the highest per-possession steal rate on the team, by far, belongs not to Craft but to Shannon Scott. Indeed, it's at least a suggestive coincidence that OSU's turnaround on D has occurred at the same moment as a big jump in minutes for Scott coming off the bench.
With Scott and Thompson both coming into their own and earning more playing time because of it, Ohio State has found their best lineup and one that forces a lot more turnovers. On the offensive end, Gasaway argues that turnovers have also been a key component to the team's improvement. It's not that they finally found a consistent second scorer, as good as Craft has been lately; in fact, the team's shooting percentage hasn't really changed since earlier in the season when they were struggling. Instead, what it boils down to is that they're not turning the ball over as much.
One concern Gasaway has, though, is Deshaun Thomas' legs. He wonders if he's now dealing with tired legs and that's why his three-point shot has been off — 19% over the course of the winning streak. Deshaun isn't going to stop shooting, so hopefully we don't have a Je'Kel Foster situation on our hands.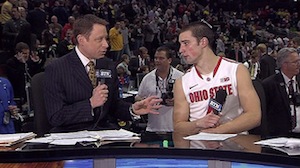 CAUGHT UP IN CIRCLES, CONFUSION IS NOTHING NEW. Once again, Craft has brought out the haters, this time on Deadspin's 13 Most Annoying Men of March Madness list. This topic has certainly been covered quite a bit, but man, this one irked me more than Craft irks his opponents.
He was actually on the list twice, and Ben Cohen of the Wall Street Journal penned more of a love letter to Craft. Will Leitch, on the other hand, couldn't hide his Illini blood and wrote perhaps the most inaccurate description of Craft I have ever read. First of all, it's very "pot calling the kettle black" of Leitch to refer to Craft's behavior as "obnoxious overachieving smugness," but he is also totally off base, especially when he relished in the idea that Craft has peaked and his life after college will basically be like Glory Days. 
In this week's Dubcast, Johnny and I compared Craft to Leslie Knope4: both are hard-working, productive, determined, intense, and extremely competent. Many people can appreciate this; the cynics who can't, however, just come off as bitter jerks who are probably from Eagleton. 
For what it's worth, other people to make the list included Ted Valentine (yup), the Plumlees (okay), Marshall Henderson (a troll, but at least an entertaining one), and Western Kentucky's mascot Big Red (agree to disagree).
WHEN THE SPRING ARRIVED, WE WERE TAKEN BY SURPRISE. The football team held another spring practice yesterday and afterward OL coach Ed Warinner, DL coach Mike Vrabel, and a few of the players met with the media who weren't in Dayton for tournament.
The defensive line needs four new starters and Vrabel likes how they're progressing and thinks going against the talent of the offensive line only helps them. Echoing Urban Meyer, Vrabel said, "We need Michael Bennett" and he and Joel Hale are ready to be leaders both on and off the field. Bennett admitted to his injuries last year keeping him from playing to his potential, but didn't use it as an excuse. 
A lot of eyes are on Adolphus Washington and Noah Spence, two guys who had encouraging freshman seasons. 
On Washington:
"He probably weighs 285 pounds or whatever he weighs, which he could play inside, but his God-given natural skills are really well suited outside," Vrabel said of Washington. "He's got great length, he's a great basketball player so he is a great athlete. He's everything that you could ask for … he's a great kid."
And Warinner offered a glowing review of DE Noah Spence:
"I'm glad he's on our team, that's all I can say," Warinner said, smiling. "His speed off the edge is amazing. He'll make us better (on offense) because he gives us something every day to work on. … He can change the game on the edge. So that's going to be good for us."
As for the only starting spot on the OL that needs filled, Taylor Decker is the front runner for right tackle, but Chase Farris and Darryl Baldwin shouldn't be counted out either.
I WON'T BACK DOWN.  It was announced yesterday that Ohio State's spring game on April 13 won't air live on BTN, though it will air later that day. While it might seem like a ploy to get more people to buy tickets to the game at Paul Brown Stadium, the real reason is that Michigan's spring game is scheduled for the same day and same time (1 p.m.) and like any good rivals, neither team would move their kickoff. 
Both games will be streamed live and then air on BTN in the evening, with Ohio State getting the earlier slot at 7 p.m. Good luck following that, Michigan, at 9 p.m.
A LINK IS LOST, THE CHAIN UNDONE. Sam Thompson predictably owns Ohio State's dunk contest during yesterday's practice... Butler bench celebration is very Butler... He knew it was coming too... Woo hoo... I guess Carolina wanted a player who can do everything... Rob Thomas talks a little more about the Veronica Mars movie... A supercut of Gary Oldman losing it in movies... No love for The Girl Who Cried Monster?