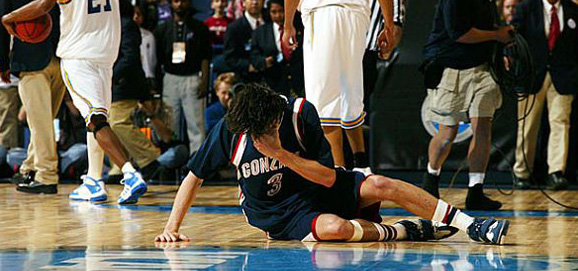 Welcome, college basketball fan. As you know, today marks the beginning of the best time of the year as the 2013 NCAA Tournament kicks off in earnest with a full slate of 16 games broadcast on four different networks.
You've waited a long time for this day. Here's how to own it.
Television
CBS and the Turner family of networks (TNT, TBS and truTV) will televise every game of the 2013 NCAA Tournament, so if you have access to a television (or four) for Thursday and Friday, you're living large.
The first order of business is finding out tipoff times, networks and announcer pairings. We have you covered.
Chances are, you know where CBS, TNT and TBS are in your channel lineup, but you may not know how to find truTV. Luckily, the network provides a channel finder on its website. For complete channel lineups, consult your carrier's guide: Time Warner, WOW, Buckeye CableSystem, Comcast, AT&T U-verse, Cox, Verizon FiOS, Dish or DirectTV.
Once you've figured out how to find the games, you'll want to keep the numbers handy. Thanks to Mark Titus, you can do that easily by printing this off and hanging it above your TV or placing it next to your remote.
Internet Viewing
The good news is that every game of the tournament will be streamed once again through the March Madness Live website – if you live in the US, that is. All CBS games will be available for free, but Turner games may require cable authentication, so if you don't have cable, buddy up to someone that does and kindly ask to borrow their login.
If you live outside of the US, you'll have to find a streaming option online. This should not be too difficult if you are good at the Google.
If you'd rather go mobile, March Madness Live works across a wide array of iOS devices, including iPhone, iPad and iPod Touch, as well as a range of Android smartphones and tablets. To download for iOS, go here. To download for Android devices, go here.
Radio
If you can't watch the action on television or through the internet, radio may be your best bet.
If you happen to live in the footprint of one of the Ohio State radio affiliates, you should at least be able to catch Ohio State's games on the AM or FM dial.
For those of you that subscribe to satellite radio, SiriusXM will air all tournament games in their entirety, with no blackouts, on Sirius channels 91, 92, 93, 94 and 85 and XM channels 91, 190, 191, 192 and 85. For a full list of channel assignments, go here.
Other Options
This year, the NCAA is releasing 15-second videos of game highlights through Twitter via their @MarchMadness account.
Noted screencapper Timothy Burke of Deadspin is sure to tweet images and GIFs as the action unfolds, as will @WorldOfIsaac. Be sure to follow @11W on Twitter as we'll be doing the same.
If you're a fan of IFTTT, they added ESPN as a channel, meaning you can do cool things like pipe updates and breaking news to SMS, email, and whatever else you can imagine. (If you're unfamiliar with IFTTT, take a minute or two to check it out. It's amazingly powerful.)
The NCAA now has an on-demand YouTube channel, that provides clips from years past (as well as clips from the 2013 tourney if you're patient).
Finally, Google has embedded the NCAA tournament bracket into search results, so if nothing else, you have that.
Brackets
Thanks to taxes and the tournament, this is a word that enters your lexicon every March. By now, you've probably filled out a bracket or two, but if you haven't, here's a blank one. Print it and fill it out so you can look back on it and laugh at your picks.
If you read this in time, you can still get into our contest with a chance to win a basketball signed by Jared Sullinger.
Want to compare your bracket to those of the experts and heads of state? Here you go: ESPN's Jay Bilas and Joe Lunardi, Gary Parish, Jeff Goodman, Matt Norlander and Jerry Palm of CBS, Luke Winn and Seth Davis of Sports Illustrated, FiveThirtyEight's Nate Silver, President Barack Obama, and Supreme Leader of North Korea Kim Jong-un.
Want to know your odds of picking a perfect bracket? How about between 1 in 128 billion and 1 in 9.2 quintillion.