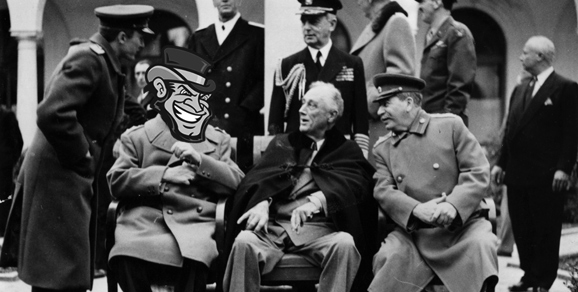 UD Arena has not been kind to Ohio State head coach Thad Matta. At least not since he's been at the helm of the Buckeyes. There was that one time in college when the Butler guard drained a shot at the buzzer to beat Dayton.
Matta described the moment as his "grandest" game ever.
"I say that jokingly, but I hit a last-second shot," he said.
That was the end of his luck. During his nine-year career, this marks the third trip down I-70. Each time, Ohio State failed to make it out of the weekend, winning just one game.
Iona says, why not us? The Gaels would love nothing more than to add to Ohio State's Dayton misery.
"I told them more than one team in this tournament is going to pull off upsets and going to be the team that everyone is speaking about a week, two weeks down the road," Iona head coach Tim Cluess said. "Why not us? Why not all of us dream a little bit right now?"
According to the oddsmakers, it would register as one of the biggest upsets of the first round. Ohio State is tabbed as a 13.5-point favorite. But the high-scoring Gaels are a dangerous team for anyone. An off defensive night could spell disaster.
Iona has only won one NCAA Tournament game in its history and even that was vacated. A victory Friday would register as the biggest in school history. It also wouldn't be the Gaels' first win against Ohio State in a tournament. They beat the Buckeyes in the 1981 Great Alaska Shootout.
The temperature might be the same in Dayton, but the chances of the same result are slim.
"I hope so," Matta said.
Opponent
Iona has been here before. That could go for a lot of things. It is the school's 10th trip to the NCAA Tournament, and the second straight year the Gaels have ventured to UD Arena.
Last season they were up by a what seemed to be a comfortable 25 points against BYU in the second half of the teams' First Four matchup. But the Cougars stormed back to win, giving Iona a place in NCAA infamy.
It's a new year for Iona, though, with almost an entirely new roster.
"There's nothing to talk about now," junior guard Sean Armand said. "We have a whole new team. There's no point in talking about it. You live and you learn."
The Gaels own two wins over BCS programs this season and possess one of the best offenses in the country. They average more than 80 points per game – second-most in the country – and have the nation's third-best scorer in Momo Jones. The high-octane offense will provide a contrast in styles, matching up against the Buckeyes' vaunted defense.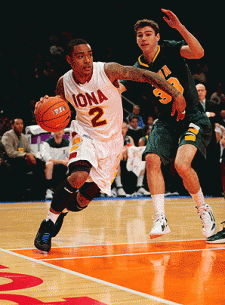 During its monthlong win streak, Ohio State has not allowed a team to score more than 60 points in a game. Guards Aaron Craft and Shannon Scott have led the gritty effort and will deliver a 40-minute challenge to Jones and Iona.
"They're good at positioning on defense," Armand said. "They take pride in that. It's a tough, experienced team. They're one of the best defenses in the nation from stats. It's going to be a good game."
Jones and Armand represent the highest-scoring backcourt in the country, with nearly 40 points per game. Jones is a true scorer, finding baskets however they come, while Armand gets a bulk of his points at the three-point line.
Another factor that could pose problems for Ohio State is forward David Laury. The Buckeyes have struggled at times against strong posts, and Laury can play a physical brand of basketball that's similar to the Big Ten. Iona is 9-3 with him on the roster.
"What you don't hear as much before you do a lot of scouting is they have a bunch of guys that can put the ball in the hoop," Craft said. "It's not just one guy."
For Iona, it's defensively where it will have the most difficulty. Ohio State is bigger, more physical and will have a decided advantage in the stands. UD Arena is only an hour's drive from Columbus.
One way or another, the Gaels will enjoy their second consecutive trip to the tournament.
"We're thrilled to have won the conference," Cluess said. "Obviously we know what's ahead of us and the great team we have to play. At our level to be able to win and be able to go to the Dance is a phenomenal thing. We're going to go in there and give it everything thing we have, just like we do every single game. It's just a great moment for our school and our team."
Buckeye Breakdown
When the basketball season started, Deshaun Thomas was the only offensive threat going for Ohio State. He averaged well north of 20 points during the non-conference schedule. But when the Buckeyes got into the Big Ten portion, finding high-percentage shots became much harder.
The point output didn't always dip, but Thomas' shooting percentage did. An off night usually meant an Ohio State loss. That trend has taken a backseat to team success.
During the Buckeyes' current eight-game win streak, Thomas has had some of his worst shooting performances of the year. In Chicago, he was 3 of 20 from three-point range. He scored 52 points during the Big Ten Tournament, but it was mostly due to taking a lot of shots. And sometimes they aren't worth taking at all.
"Some of them were questionable," Thomas said. He and Craft, seated next to him, couldn't help but laugh.
Still, Ohio State has done nothing but win. That doesn't mean the Buckeyes should get comfortable with the Big Ten leading scorer's lack of efficiency. In the NCAA Tournament, unpredictability reigns.
The maturation of Thomas is a constant. In years past, shots would continue at a high rate, even on off nights. It's just a struggle for Thomas on knowing when to pass up contested shots, but he understands to trust his teammates.
Get Smart
The series history between OSU and Iona is 1-1.
OSU is making its 5th-straight and 25th overall NCAA appearance.
OSU is 9-7 vs tourney teams in 2013.
Jim Nantz and Clark Kellogg have the call.
"I learned that you've got to do something else," he said. "If I'm in a one-on-one situation, I'm going to try to get the best shot that I can. If a man helps on me, I need to kick it out and get a better shot."
Last year came easy for Thomas when he wasn't the No. 1 scoring option. Two-time All-American Jared Sullinger was down low and William Buford, the third all-time leading scorer in program history, were busy distracting defenses.
Thomas was more than happy to get the scraps. He would often end up with the best shot on the floor, as evidenced during the Buckeyes' run to the Final Four last season. Thomas averaged 19.2 points during the five games. Offensive rebounds also became an active ingredient in Thomas' all-around game.
"It was pretty easy to score," he said. "This year, being 'the man,' there is a little pressure. I try to be as patient as I can. I'm just trying to win. I'll do anything to help my team win."
Six more games would be the perfect amount. 
| # | Name | YR | HT/WT | PTS | REB | ASST | P | # | Name | YR | HT/WT | PTS | REB | ASST |
| --- | --- | --- | --- | --- | --- | --- | --- | --- | --- | --- | --- | --- | --- | --- |
| 4 | A. Craft | JR | 6-2/190 | 9.9 | 3.6 | 4.6 | G | 2 | T. Sledge | SO | 5-9/175 | 5.6 | 2.9 | 3.2 |
| 32 | L. Smith Jr. | JR | 6-4/205 | 9.5 | 4.9 | 1.5 | G | 0 | L. Jones | SR | 6-0/196 | 23.0 | 3.1 | 3.5 |
| 12 | S. Thompson | SO | 6-7/190 | 7.4 | 3.2 | 0.9 | F | 0 | S. Armand | SR | 6-4/200 | 16.6 | 5.1 | 3.0 |
| 1 | D. Thomas | JR | 6-7/225 | 19.5 | 6.2 | 1.3 | F | 0 | T. Ridley | SR | 6-7/215 | 8.2 | 5.5 | 0.9 |
| 23 | A. Williams | SO | 6-11/250 | 3.8 | 4.0 | 0.1 | C | 13 | D. Laury | SO | 6-8/240 | 13.1 | 10.4 | 1.8 |