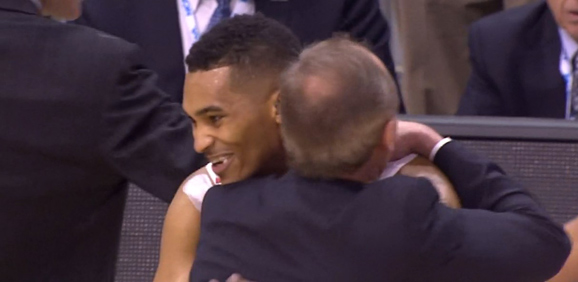 LOS ANGELES – Aaron Craft's game-winning 3 was improbable due to his lack of shooting prowess. LaQuinton Ross' season-saver one week later wasn't forecasted because the sophomore has been an enigma since he arrived on campus, left and then reemerged.
After dealing with academic uncertainty and a season attached to the bench, Ross has evolved into Ohio State's X-factor if it hopes to make a return trip to the South, site of this year's Final Four.
When the Buckeyes needed a lift against Wisconsin, it was Ross who stepped to the forefront. In the second half against Iowa State, he scored 10 straight points and finished with 17 for the game. Once again, it was a second-half surge that Ross provided against Arizona. He scored 14 points in the second half – 11 in the final eight minutes.
When Ohio State got tight, he remained loose. In those closing minutes, the Buckeyes scored 14 points. Yes, Ross had all but three of Ohio State's last 14 points. None were bigger than the Kobe Bryant-esque buzzer-beater.
Staples Center has played host to so many of Bryant's finest moments. Here was the guy occupying his locker engineering the same dramatics.
"I found out from one of the guys that works here it was Kobe Bryant's locker," Ross said. "Before we got here, I called dibs on it anyway. But I didn't know whose it was until he came in and told me."
The win is Ohio State's 11th consecutive overall, second straight in the last seconds, and it is now on the brink of an implausible Final Four berth. On Feb. 17, 40 days ago, the Buckeyes were 8-5 in the Big Ten. They haven't lost since.
Ross' outburst during the most crucial stretch of the season – that happens every game now – wasn't a total shock when you consider the level he's been playing at lately. But if one thinks about where he's come from, the feat is remarkable.
Thad Matta's recruiting classes have become the stuff of legend in Columbus. Two years ago, he brought in another group of players that combined were considered one of the best classes in the country. Ross was the crown jewel.
He enrolled the summer prior to his freshman year and immediately turned heads in open gym. Scoonie Penn, Mike Conley and Ross' current teammates raved about his shot-making. Ohio State was coming off a season in which it was the best team in the country all season but was upset in the Sweet 16.
Now they entered a year of uncertainty without shooting specialist Jon Diebler. His absence was thought to be a missing ingredient to success. But it looked like Ross was plenty capable of filling that void.
Then weeks before practice was to begin in October, Ross received the bad news. He had not qualified academically and would have to go home to Mississippi to fulfill his requirements. Nine times out of 10, players never make it to their original destination when these situations arise. Ross, however, quickly put Matta and Buckeye Nation at ease, declaring his intentions to carve a playing career at Ohio State.
Sure enough, in mid-December, Ross arrived in Columbus. It was different than the summer, though, and it wasn't just because of the weather. Away from the game for months, Ross was not in basketball shape and didn't display the on-court skills he had over the summer. He played all of 35 minutes during the season and found himself on the bench during Ohio State's run to the Final Four.
"Those first two months of the season are the most important months in terms of fundamentals," Matta said. "So when he got here, he was a little behind.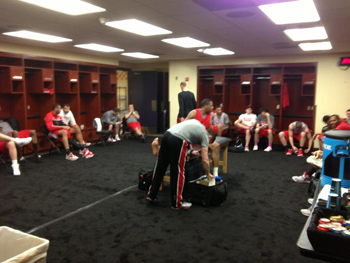 "I told him at one point, 'Look, I can't hold tryouts during the Big Ten because the league is too good.' But, to his credit, he kept working."
Last week, Ross said he didn't feel a sense of accomplishment because his contributions were so minute. In the offseason, he thought to himself, "I want to get a ring of my own."
He made sure he'd have the opportunity with a second half for the ages. Threes, finishing at the rim, getting rebounds – all of it was working for Ross. And on the Buckeyes' final possession of the night, Craft had enough trust in Ross to swing a pass his way, not take the shot himself or go to Deshaun Thomas. Instead, Craft went the way of the unknowable sophomore.
"I threw it and said, 'Knockdown,'" Craft said. "So he'd better make it. I'm glad he listened to me. Sometimes you need to tell him what you need him to do, but I don't think he needed too much reassurance of what to do with the ball there."
Apparently not. It may have been the purest shot Staples saw all night. That Kobe Karma isn't a bad thing to possess.
"LaQuinton Ross is a big part of Ohio State's success," said Arizona head coach Sean Miller, who has now been defeated by Matta, his mentor, in excruciating fashion not once but twice.
But don't forget, 19 seconds before "The Shot" came "The Foul." Down three, Arizona's Mark Lyons drove hard to the basket, drawing a foul from Ross, and making the shot. The and-1 tied the game and made Ross the goat – albeit for less than a minute.
Wildcat coaches and players described the 6-foot-7 Ross, who's skinnier than a green bean, as a matchup nightmare. It's the same terminology the Buckeyes have been using for weeks.
Ross is no longer the guy who complains about playing defense, protests Ohio State's offensive system or is winded halfway through practice because of poor conditioning habits. He's come full circle and developed into a team-first player.
"Coming in my freshman year, I think I was kind of immature as far as my thinking, thinking why am I not playing, why am I not doing this?" Ross admitted. "I think everything paid off, all the hard work is paying off in this tournament."
He's averaging 13.6 points, 3.6 rebounds per tournament game – and clutch baskets galore in the second half. Lenzelle Smith Jr. expressed so much confidence in his sharpshooting teammate that he said he nearly started strutting to the locker room when his final shot went in the air. There was little doubt what the end result would be, Smith said.
"This is what every player grows up looking at on TV and wants to hit that big shot in the NCAA Tournament or the NBA," Ross said. "It just feels great to be here right now."
During Ohio State's shootaround on Wednesday, the players glad-handed with TBS' announcing crew, which includes Reggie Miller, considered by many to be the best three-point shooter of all-time. Ross took it upon himself to find out just how good Miller is and demanded a three-point contest. Right here, right now.
Chris Jent assured Reggie that he had nothing to worry about, drawing a hearty chuckle from those within earshot. Twenty-four hours later, Miller was calling Ross' game-winning 3 and singing the breakout player's praises.
"I think I'm going to try to make him come out of retirement and shoot a little bit," Ross said.
Maybe Ross was more Miller than Bryant on this night.