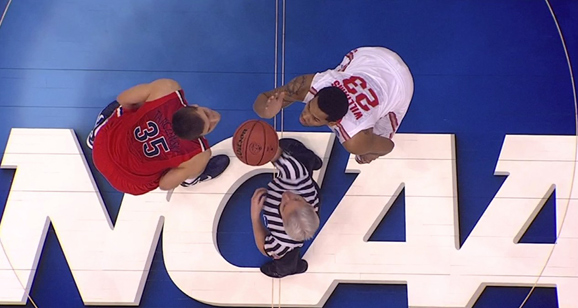 LOS ANGELES – During Ohio State's astounding 11-game win streak, which has the Buckeyes on the brink of the Final Four, unsung heroes have emerged regularly.
In Thursday night's 73-70 thrilling victory over Arizona, Amir Williams, a punching bag for much of the season, came up big with four rebounds – three offensive – two blocks and a steal.
It's a far cry from the lack of production Williams has given Ohio State in recent weeks.
"I had to come out and be ready," he said. "We're trying to get to Atlanta and we have to win every game to get there. I'm just coming to play each and every night helping my team win."
Entering the game, the Wildcats' big men were garnering attention, potentially being a huge mismatch for Ohio State. Williams, 6-foot-11, hasn't played like a McDonald's All-American yet and Evan Ravenel's height can be a disadvantage. But Williams had little problem controlling 7-footer Kaleb Tarczewski, who finished with four points and two rebounds.
"He can do that," said point guard Aaron Craft, about Williams' high level of play. "It's great to see him be successful. He took (the talk about Arizona's bigs) upon himself. He can play with those guys. He's a great player and gets underlooked with all the other guys we have on the team."
In the second half, Williams had a sequence that included a blocked shot on the defensive end and an offensive rebound and putback on offense. It even got the usually reserved Williams showing emotion with a giant Tiger Woods-esque fist pump.
"When I get into the game I get animated, fist pumps, talking more to my teammates," he said. "When I get the juice like that it feels good and gives everyone energy."
The injection of Williams' all-around play was a major spark during the Buckeyes' second-half comeback. But becoming a consistent reliable presence on the court is still needed. Ohio State is one of the few teams left in the tournament that doesn't have a center that's dependable night in and night out.
"That's huge for us," Craft said. "He's done that a couple games this season. He did a phenomenal job battling and getting offensive rebounds. Those are extra possessions and extra points that give us a life and deflate the other team."
Said Williams: "We survive another day."
---
GOOD TIMING: It's been nearly 10 years since Ohio State played a basketball game in the Pacific time zone. And the last time was sad – literally.
The Buckeyes started the 2003-04 season in San Francisco against the USF Dons before traveling to Hawaii for the Maui Invitational. The road trip resulted in a 2-2 record and one unhappy coach.
During the San Francisco game, then-head coach Jim O'Brien, battling a vocal cord issue at the time, wrote, "This is sad," on a dry erase board to show the officials his displeasure. It resulted in a technical.
Thursday's game was the first time Ohio State strayed further than the Central time zone under Matta. A bad back has contributed to the east of the Mississippi scheduling philosophy. A loss at Stanford during his tenure at Xavier also led to Matta's ways. 
But jetlag was nonexistent this time.
"I'll be honest with you, it never crossed my mind," Matta said. "I'm all screwed up on time. I'm where I am now, I guess. But I thought we were playing hard to start the game. We just weren't playing smart. Give Arizona credit. They came out and they were banging threes on us."
For regular games, teams generally only arrive to the destination one day ahead of time. Ohio State was able to arrive two days early in LA for the NCAA Tournament, though. That helped cure the East to West slog.
One win away from the Final Four, Matta might became a present-day Lewis and Clark, traversing west of the Mississippi more often.
---
HOMECOMING: Sean Miller wasn't the only familiar face to Thad Matta on Arizona's sideline Thursday night. The Wildcats' assistant director of operations, Danny Peters, was a walk-on at Ohio State from 2006-2010. When he graduated, Peters was the winningest player in program history.
Now he could be coming back to Columbus. It has been widely reported that Greg Paulus, the Buckeyes' video coordinator, will be joining Chris Collins' staff at Northwestern. Collins, an assistant at Duke the past 13 seasons, was hired to replace to Bill Carmody. Paulus and Collins are both Duke graduates, and Collins was an assistant during Paulus' playing days.
If Paulus leaves, it would create a vacancy on Ohio State's staff. Peters, a native of New Albany, has been on Sean Miller's staff at Arizona since 2010. Former Ohio State assistant Archie Miller, Sean's brother, lured Peters west to be a graduate assistant. Archie is now the head coach at Dayton.
When he left for Tucson, Peters said he hoped to stay at Ohio State but no position was available.
"Arizona is a special place too," he said. "It has a great following, the resources there are second-to-none and the whole West Coast wants to be a part of it."
Coaching is in Peters' genes. His father, Dan, has been a college coach for more than 30 years, including a five-year stint at Ohio State, from 2005-09. He is now the director of basketball operations at Akron. And interestingly enough, Dan told his son to stray from the unstable profession.
Peters actually enrolled at Ohio State with the intention of getting an up-close apprenticeship. He was a student manager during the 2005-06 season and was asked to walk on the next season, along with Mark Titus, after the Buckeyes encountered a short roster which made practicing 5-on-5 difficult.

It was the beginning of 110 wins – and the path to coaching.
---
BLACK MAMBA: When Ohio State found out it would be occupying the LA Lakers locker room at Staples Center, one player immediately shouted out that he wanted Kobe Bryant's locker: LaQuinton Ross. 
And in the arena where Bryant has made so many game-winners, Ross was able to conjure up some of the positive vibes and mimic his basketball hero. Ross' NBA three-pointer with 2.1 seconds left propelled Ohio State into the Elite Eight for a second consecutive season, where it will be an overwhelming favorite over Wichita State. 
"That's one of my favorite players growing up and somebody I model my game after," Ross said about Bryant. 
The good karma was a welcome relief to his teammates. Ross scored 14 of his 17 points in the second half, including the biggest shot of his career. How confident was Lenzelle Smith Jr. when Ross let the ball fly? He said he was ready to walk to the locker room because he knew the shot would fall. 
It was a dream come true for Ross, who said he would play the 5...4...3...2...1 game growing up in Mississippi. Sometimes the shot would fall, sometimes not. There was no issue on Thursday. A no-doubt swish has Ohio State positioned for a second straight trip to the Final Four. 
Maybe Ross will get Tony Gonzalez' locker at the Georgia Dome.