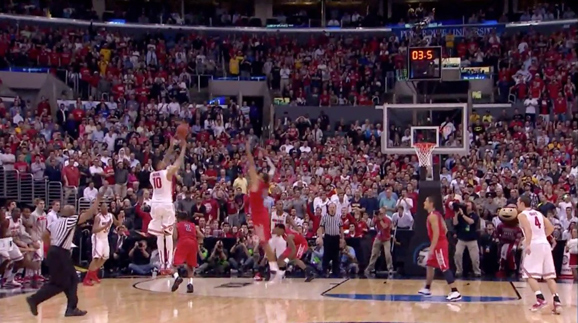 LOS ANGELES – Sean Miller has had nightmares of Ron Lewis for six seasons. Add LaQuinton Ross to the list.
Miller has faced his mentor, Thad Matta, twice now and each game has ended in excruciating fashion for the protégé. In 2007, Miller's Xavier team nearly pulled off the upset of the tournament by beating top-ranked Ohio State. But Lewis made a miracle 3 at the end of regulation, and the Buckeyes controlled overtime.
An extra five minutes weren't needed on Thursday night at Staples Center.
With the game knotted at 70, Ross caught a pass from Aaron Craft, last week's hero, and rose and fired from beyond the arc. There was little suspense about whether it would go in or not. It was nothing but net.
"It feels great, man," Ross said. "I think this is what every player grows up looking at on TV, wanting to hit that big shot for an NCAA tournament team. It just feels great right now."
Two seconds remained, but Arizona's desperation heave was picked off by Lenzelle Smith Jr., who did his best Bradley Roby imitation, setting off a wild celebration among the scarlet and gray-clad cheering sections.
Ohio State 73, Arizona 70.
"That was about as high-powered college basketball game as I've been a part of," said Ohio State head coach Thad Matta. "You look at the plays that the Arizona players made, the players that the Buckeyes made. Just a battle."
In eerily similar fashion to 2007, when Lewis broke Miller's heart, the Buckeyes came out slowly in the next game. That year, Ohio State fell behind Tennessee by 19 points in the Sweet 16 before one of the greatest rallies in program history.
Those fans that were delirious after Ross' shot were quiet much of the first half as the Wildcats jumped out to an 11-point lead. Making matters worse for the Buckeyes was the nature of the officiating. The game was called close, with Craft picking up two fouls in the first 11 minutes. He only missed three minutes, though, due to Arizona's hot shooting.
But Ohio State got new life when Craft returned, ending the first half on a 14-7 run and cutting the lead to four. Arizona scored five points in the final 6:24 of the half. The 19 fouls called during the first 20 minutes caused both teams to adjust.
Defense became a major issue for the Buckeyes. In the rough and tumble Big Ten, few games are called closely. With fouls called on what seemed like every trip down the court – on both teams – the rhythm was inconsistent and Ohio State got timid.
But the Buckeyes' surge continued after the break. They scored the first 10 points, part of a momentous 33-13 run that ended with Ohio State holding a 10-point advantage.
Arizona didn't score its first points of the second half until 14:39 remained. Spanning the first half, it went nearly eight minutes without points. The Wildcats started the game 9 of 16 from the field, but had two turnovers and one basket on their first six attempts after the break.
Part of the stagnant offense was due to point guard Mark Lyons being held in check. He scored 10 of the Arizona's first 22 points – all coming in the first 10 minutes of the game – but went almost 20 minutes without a single point.
"You just have to stay after it," Craft said. "He's a great player. You know he's going to make his shots. He can score in a variety of ways. You just have to keep coming at him, and hopefully he's going to miss some shots, and he did that."
When he finally got going in the second half, Ohio State again had problems stopping him. Lyons scored 13 second-half points, most part of a late rally that was capped by a three-point play with 21.8 seconds left.
"I'm proud of our guys' effort," Miller said. "We tried hard, and losing in this tournament when you play hard to the end hurts more in the beginning, but I think you leave with a lot of pride knowing you played your heart out."
After Lyons connected on a free throw to tie the game, Craft dribbled at the top of the key until five seconds remained. That's when he swung a pass to Ross, who etched his name into Buckeye lore – the second new member in as many weeks.
"Throughout the year, we've had a lot of close games and haven't always come out on top," Craft said. "Going through those struggles and battles has helped us get these past couple games down to the wire. We do a good job sticking with one another and getting stops, rebounds and big shots when we need them."
Ohio State had four players finish in double figures scoring, with Deshaun Thomas leading the way with 20 points – 16 coming in the first half. Ross had 17, Craft had 13 and Sam Thompson added 13.
Ross scored 14 points in the second half, continuing his recent trend of second-half success.
"LaQuinton has really grown in a lot of areas," Matta said. "I think the biggest thing he's done is he's engaged himself in all the little things, and that's made him a better basketball player. We're proud of him."
Another trend: winning. Ohio State has now gone 11 games and 39 days without a loss. The Buckeyes have won handily, closely and with too much comfort for some during the streak. But in a win-or-go-home system, victory is all that matters.
The West Region has been full of upset after upset. So far, Ohio State has been immune to the madness unfolding around them. A berth in the Final Four is on the line Saturday, with the Buckeyes taking on the winner of Wichita State and La Salle.
"We're making our own destiny," Smith said.
In a jubilant postgame locker room, dreams were coming true. Down the hall, a night full of terror was setting in.
---