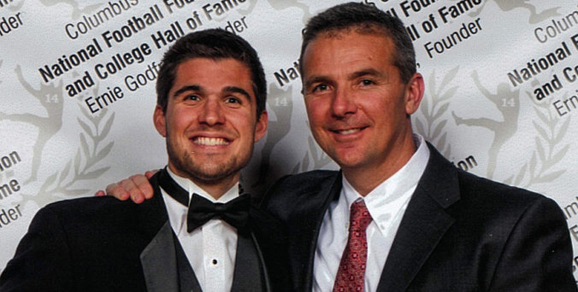 12-0 on the field and 30-0 in the classroom. That's Urban Meyer.
30 Buckeye footballers were named OSU Scholar-Athletes Thursday, recognized for earning a grade point average of 3.00 or better for the academic year. Only the swimming team (34) had more Scholar-Athletes on the men's side and only one other sport, women's rowing (37), had more than Meyer's team.
Punter Ben Buchanan, recently named a Jesse Owens Medal of Honor finalist, and fullback Adam Homan, both fifth-year seniors, were Scholar-Athletes for a fifth time. Hats off, gents. And to all of you, really.
OL Darryl Baldwin – junior from Solon majoring in marketing; 2nd OSU Scholar-Athlete award
RB Warren Ball – freshman from Columbus undecided on a major; 1st award
OL Ivon Blackmon – senior from Bedford Heights majoring in political science; 3rd award
WR Stacey Blunt – junior from Columbus majoring in consumer & family financial services; 1st award
OL Jacoby Boren – freshman from Pickerington majoring in construction systems management; 2nd award
P Ben Buchanan – senior from Westerville pursuing master's in sports administration; 5th award
LB Joe Burger – freshman from Cincinnati majoring in engineering; 1st award
OL Pat Elflein – freshman from Pickerington exploring majors; 1st award
WR Frank Epitropoulos; freshman from Arlington majoring in exercise science; 1st award
LB Craig Fada – freshman from Columbus undecided on a major; 1st award
WR Peter Gwilym – sophomore from Freeport, Maine, majoring in business; 2nd award
LS Bryce Haynes – sophomore from Cumming, Ga., undecided on a major; 2nd award
FB Adam Homan – senior from Coldwater majoring in exercise science; 5th award
DL Claudius Mbemba – sophomore from Lewis Center majoring in computer information science; 2nd award
SAF Najee Murray – freshman from Steubenville exploring majors; 1st award
OL Joey O'Connor – freshman from Eaton, Colo, majoring in criminology; 1st award
CB Armani Reeves – freshman from South Easton, Mass., exploring majors in management & industry; 1st award
WR Taylor Rice – from Dublin and has graduated with degree in human development and family science; 3rd award
WR Ryan Ross – junior from Tallmadge majoring in biology; 3rd award
CB Nik Sarac – sophomore from Orange majoring in exercise science; 2nd award
DL Tommy Schutt – freshman from Glen Ellyn, Ill, exploring majors in management & industry; 1st award
QB Justin Siems – from Charlotte, N.C., and has graduated with degree in aviation; 4th award
LB Stewart Smith – from New Albany and has graduated with degree in biology; 4th award
DL Noah Spence – freshman from Harrisburg, Pa., majoring in sociology; 1st award
OL Ben St. John – junior from Elmore majoring in exercise science; 3rd award
S Ron Tanner – junior from Columbus majoring in business; 2nd award
TE Blake Thomas – freshman from Westlake exploring majors in the health professions; 1st award
WR Michael Thomas – freshman from Los Angeles undecided on a major; 2nd award
DL Adolphus Washington – freshman from Cincinnati exploring majors; 1st award
LB Camren Williams – freshman from North Easton, Mass., majoring in exercise science; 1st award