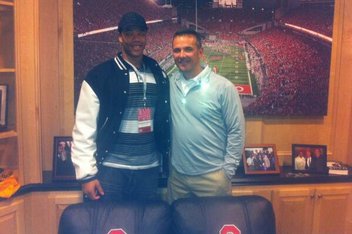 Ohio State welcomed several visitors to Columbus over weekend to check out what being a Buckeye is all about. Several top recruits made the trip as expected but there were also a couple of surprises that showed up on campus.
The OSU recruiting class also received another notch in the committed column from an out-of-state prospect along the defensive line in Lombard, Illinois, native Dylan Thompson.
Another quarterback took in the sights and sounds of Ohio State's campus while further clouding the mystery of what to expect at that position in 2014 for the Buckeyes.
In the past week a prospect slipped off the board as Georgia prospect DB Chris Williams joined DB Kalvarez Bessent in committing to defending national champion Alabama. Williams had an offer from Ohio State but it never progressed into anything serious.
Williams joins a few others in the secondary to choose a school other than OSU recently but it is nothing worth getting worked up about. Detroit (MI) Cass Tech DB Damon Webb has already pledged to the Scarlet and Gray and many more have strong interest in Meyer's bunch including Montae Nicholson, Quincy Wilson, Jabrill Peppers, Erick Smith, Marshon Lattimore, and Tony Brown.
New offers were also handed out this week from the staff that included an in-state prospect from the Cincinnati area who was originally a lacrosse commit to Notre Dame. Jump in for the full story.
The visitor list for this past weekend included a star-studded cast of commit Kyle Trout, newest Buckeye commit DL Dylan Thompson, QB Caleb Henderson, LB Kyle Berger, and surprise guests in Texas commits OT Demetrius Knox and RB Daniel Gresham.
Trout was there to help the staff bring in another sensational class as well as continue to build his relationship with all the coaches and to familiarize himself with campus even more. It was "achievement unlocked" as Core 6 Athletes member Dylan Thompson tried on an Ohio State jersey and left Ohio's capital a Buckeye pledge.
Thompson hails from Illinois powerhouse Montini Catholic HS, Garrett Goebel's high school alma mater. The 270-pound man-child could be instrumental in Ohio State's pursuit of LB Clifton Garrett and OL Jamarco Jones, with the three all being Chicago area prospects and members of Core 6 Athletes.
Caleb Henderson is one of several quarterbacks being looked at by offensive coordinator and quarterbacks coach Tom Herman and other staff members. Gainesville, Georgia, product Deshaun Watson already holds an offer but a few others are trying to prove they're worthy of one as well.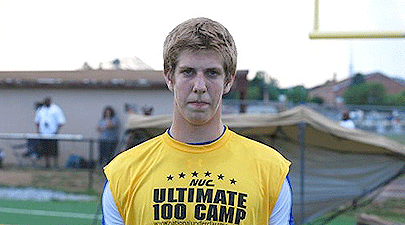 Henderson has liked what he has been hearing and is optimistic that a scholarship offer will be headed his way at some point. Just the fact that the signal-caller was willing to visit shows that OSU remains a real threat to nab him if they choose to make a move to secure the prospect's commitment.
The Burke (VA) Lake Braddock gunslinger has long been an Ohio State fan and reaffirmed that to me recently. Waiting to offer Henderson should not hurt the Buckeyes' chances as he is willing to take his time with his recruitment to explore other options and to receive additional opportunities from other programs.
Kyle Berger's recruitment has been talked about repeatedly and Ohio State did themselves wonders as he came away even more impressed with the university on his visit over the weekend. Berger explained that Urban Meyer took a more hands-on approach in convincing him that OSU was the best place for him, and it was well received by the St. Ignatius star.
Berger maintained it was a 50/50 race between the Buckeyes and Wolverines for his services but I suspect the staff in Columbus will be very happy about his decision. A visit to the spring game in Cincinnati would be very telling in which way he is leaning. 
The surprise visitors this past weekend were Texas commits from the Lone Star State. OT Demetrius Knox already had an offer from Ohio State and is formerly of Springfield, Ohio, having grown up a bit of a Buckeye fan.
During his visit, he posted a photo of himself with Braxton Miller on Instagram with the caption "My favorite college football player. Made my day."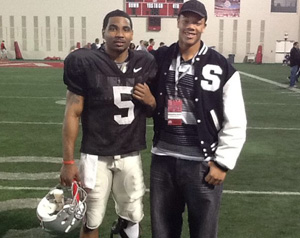 If that doesn't make Longhorn coach Mack Brown nervous, I don't know what will. Brown, after suffering a rash of decommits last cycle, has implemented a policy to pull offers if a commit visits another school, but he's yet to act.
RB Daniel Gresham, a high school teammate to Knox at Fort Worth's All Saints Episcopal, also visited and left with an offer from the Buckeyes.
Both have remained solid to their Texas pledge, but I envision the Buckeyes being a serious threat to poach Knox for the entire cycle. His roots are in Ohio and you saw what he had to say about Braxton Miller.
Joining Gresham and receiving Ohio State offers were Cincinnati (OH) Moeller ATH Sam Hubbard and 2015 Saginaw (MI) WR Brian Cole.
Hubbard was formerly a lacrosse commit to Notre Dame but has since picked up several big football offers that will change his plans. The Cincinnati prospect has reeled in offers from some of the Midwest's best in Ohio State, Michigan, and Michigan State along with West Coast power Stanford.
At 6-6/220 already, Hubbard could be projected at a variety of positions. His height is on the taller end for Ohio State's "Star" type position, so he could continue to grow into a linebacker or defensive end. With his measurables, including the speed and agility required to play lacrosse at a high level, the standout athlete has a tremendously high ceiling and the staff is in hot pursuit to keep him within the state's borders.
Saginaw, Michigan, native Brian Cole also took an OSU visit this past weekend and left with a coveted Buckeye offer. With Cole being a Midwest talent and holding an early offer at this stage, expect him to be a high priority for the coaches throughout the duration of his recruitment process.
Things are starting to shape up on the recruiting front and the pace should pick up a bit as the spring game approaches. Expect Urban Meyer and his staff to receive the good word from another prospect or two shortly.