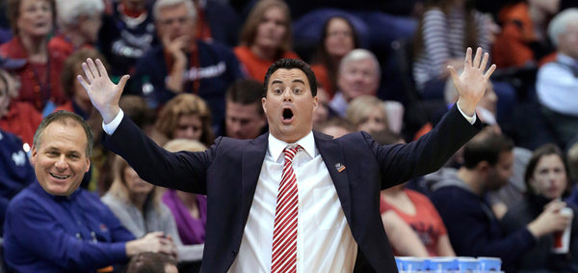 In a region that has two new kids on the block, Ohio State and Arizona are the only remaining power programs. Wichita State and La Salle have had tournament success before, but it was so long ago that The Beatles, not Taylor Swift, were topping the charts.
There's a region every year that becomes the ugly stepchild, resembling nothing close to seeds 1-4 advancing to the Sweet 16. The West Region had that potential on Selection Sunday, and sure enough it came through with several eye-popping upsets.
But Game 1 of Thursday night's doubleheader features two friends – Thad Matta and Sean Miller – facing off with two excellent teams doing the battling on the court. The Buckeyes are arguably the hottest team in the country right now, winners of 10 straight, while the Wildcats have made mincemeat out of their two tourney opponents.
It gets a wee bit tougher for Arizona now. It's had the easiest road to the Sweet 16, beating an 11 and 14 seed. But it's not the Wildcats' fault No. 3 seed New Mexico lost. It also doesn't discount what Arizona has accomplished this season, which includes wins over Florida and Miami.
"It's their time of year," Miller said, referencing his group of veterans.
Now the Wildcats get a de facto home game in the regional semifinal – and final, if it advances. Arizona has seven players that hail from Southern California and a rabid fan base that can easily make the trip across the state border.
"Everyone can look back at the seeding and say whatever we want, but we're really happy," senior forward Solomon Hill said. "I wouldn't want to change the fact that we're on the West Coast. I wouldn't trade our seed for anything right now. Now we have a chance to play in Los Angeles. I'm sure we'll have a lot of fans and this is as close to a home game as we'll get."
Ohio State hasn't been out West for a decade, when they played at San Francisco en route to the Maui Invitational. The furthest west the Buckeyes have been since then is San Antonio, where they won the 2007 South Regional.
"Regular season, I think it's hard to come and play one game with the time zone in terms of you're just off a little bit," Matta said. "We were fortunate enough to come out here and kind of get acclimated. We should be in good shape."
Opponent
When Ohio State and Arizona take the court Thursday night, the Buckeyes will be tasked with beating the best team on the West Coast, according to Matta. That is a tall order.
Despite a less than stellar Pac-12 campaign for the Wildcats, the statement does ring true. Oregon is the only other West Coast team left, and though Arizona failed to beat the Ducks, the Wildcats resume is better.
In the past 10 games, they've shot better than 40 percent from beyond the arc, an area of defense Ohio State struggles with. Height and rebounding also gives the Buckeyes concern.
Seven-foot freshman Kaleb Tarczewski, in particular, poses the biggest challenge – no pun intended. Amir Williams has been dreadful in recent games and Evan Ravenel doesn't have the height to matchup. What Ravenel can do with the best of them, though, is bang bodies. He's physical and won't back down from a challenge.
The Big Ten is much more hard-nosed than the Pac-12, giving Ravenel an upper hand when it comes to defending in the post. Foul trouble has plagued Tarczewski this season.
"I'm kind of used to it," he said. "I've always been bigger than everyone else, so I'm kind of used to getting those calls. But there's great officials here, doing a good job."
He was a ballyhooed recruit out of Massachusetts a year ago, a consensus top-five player. Tarczewski is averaging six points and six rebounds per game, but the adjustment to the college game has been tougher than anticipated. He added 35 pounds to his growing frame.
"I thought college basketball was going to be easy, and that's definitely the farthest from the truth," Tarczewski said. "Players, speed of the game, everything is just at a higher level. It was tough for me in the beginning of the year. I thought I could come to college basketball and beat everyone, but that's not the case."
In the tournament's first weekend, Tarczewski scored 19 points and grabbed 16 rebounds. Another imposing presence is Nick Johnson, a guard that is a disruptive force on defense.
Johnson has defensive DNA in his blood. His uncle is the late Dennis Johnson of Seattle SuperSonics and Boston Celtics lore.
"I take that personally, knowing that I'm the main defensive guy and my energy really affects the team," Johnson said. "I'm taking it personally upon myself to do it every single game and show my team I'm playing really, really hard. It's contagious."
Alertness and anticipation are two assets Johnson possesses, which allow him to steal the ball and block a shot when offensive players least expect it. He limited Harvard's Wesley Saunders, the Crimson's leading scorer, to a nightmarish 1-of-11 shooting and eight points.
And don't forget Mark Lyons. He's Arizona's motor, a do-everything guard that could be the difference-maker. He scored 50 points in the Wildcats' two wins last week, converting 20 of 32 shot attempts.
"It always gets tougher the further you go in the tournament," the man guarding him, Aaron Craft, said. "You play against great players and as a defender you always want to take away their go-to or whatever it is. When you play great players, they have more than one. He's definitely one of those players. He can score in a variety of ways and get a shot off, which is always very tough." 
Buckeye Breakdown
Rarely does Deshaun Thomas do something quietly. But that has been the case in the NCAA Tournament. He's scored 24 and 22 points in back-to-back wins, though you wouldn't know it by reading Ohio State news.
Thomas could be the best scorer Arizona has faced all season, something not lost on Miller.
"On offense, it's not like they're a bad team on offense," he said. "I think they're really good. They're not as talented, maybe, as some of the most recent Ohio State teams, but they make up for it with really unselfishness and togetherness. They have a guy that gets 20 every night, Deshaun Thomas, who, from a scoring perspective, is as good as it gets."
Thomas' size, length and versatility make him a difficult player to prepare for and guard. He can shoot the 3, penetrate and post up. Thomas led the Big Ten in scoring and also feasted on the offensive glass.
During the current 10-game win streak, Thomas' point output has dipped, but he's making more than 50 percent of his baskets. He's scored 14 or more points in 16 consecutive games.
Arizona isn't trying to shut Thomas down, just merely limit his effectiveness and keep a handle on the other parts of his game, such as rebounding.
"He's so different and unique as a player," Miller said. "It's hard to describe how he plays."
Get Smart
OSU 1-0 all-time against Arizona, defeating the Wildcats in the 1972 Bruin Classic at UCLA.
Thad Matta is 0-2 vs. Arizona as a head coach.
Ohio State is appearing in the Sweet 16 for a program-best fourth consecutive season.
Arizona is 13-7 all-time in NCAA Tournament games played in the state of California.
Kevin Harlan, Len Elmore, Reggie Miller and Lewis Johnson have the call.
An unrelated factor that helps Ohio State is its foul discipline. The Buckeyes rank near the top of teams that allow a low free-throw rate for opponents. That's been a theme during Matta's tenure in Columbus. It's no coincidence that defense is the head coach's hallmark.
"They don't foul," Miller said. "His teams are always the best at not fouling. That's one of the reasons they're such a good defensive team and make you score from the field."
It helps when you have one of the best defenders in the country on your team. Praise from opposing coaches and players have become the norm for Craft. He's as disciplined as they come guarding aggressive ball handlers and shooters, always keeping his hands in view to get the benefit of the doubt from officials.
Opposing fans might have a severe distaste for Craft, but coaches respect and adore him.
"If he's not one of your favorite players, then you don't like college basketball," Miller said. "There are a lot of guys that play hard, but they're limited. He has exceptional quickness, quick hands, they're strong and he anticipates really well."
| # | Name | YR | HT/WT | PTS | REB | ASST | P | # | Name | YR | HT/WT | PTS | REB | ASST |
| --- | --- | --- | --- | --- | --- | --- | --- | --- | --- | --- | --- | --- | --- | --- |
| 4 | A. Craft | JR | 6-2/190 | 10.0 | 3.4 | 4.7 | G | 2 | M. Lyons | SR | 6-1/200 | 15.4 | 2.0 | 2.9 |
| 32 | L. Smith Jr. | JR | 6-4/205 | 9.4 | 4.8 | 1.5 | G | 13 | N. Johnson | SO | 6-3/200 | 11.6 | 3.5 | 3.3 |
| 12 | S. Thompson | SO | 6-7/190 | 7.8 | 3.4 | 1.0 | F | 44 | S. Hill | SR | 6-7/220 | 13.3 | 5.4 | 2.7 |
| 1 | D. Thomas | JR | 6-7/225 | 19.7 | 6.1 | 1.3 | F | 3 | K. Parrom | SR | 6-6/220 | 8.3 | 4.9 | 1.9 |
| 23 | A. Williams | SO | 6-11/250 | 3.6 | 3.9 | 0.1 | C | 35 | K. Tarczewski | FR | 7-0/255 | 6.6 | 6.2 | 0.4 |