In a year where there are multiple "very good" teams, but no single team has separated itself from the rest, the Big Ten can lay claim to the most elite college basketball conference.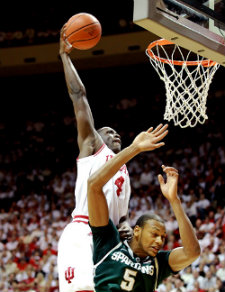 While the Mountain West is the best conference according to the dubious RPI metric, the conventional wisdom is that the B1G is far and away the most talented conference this season.
Which is only fair because we're forced to watch Iowa football in the fall.
Indiana, Michigan, and Michigan State join the B1G Tournament-winning Buckeyes in the Sweet 16, giving the Big Ten the most Sweet 16 teams of any conference (the Big East is second with three). 
It has been a crazy season with multiple changes and upsets at the top, but three of those Big Ten teams – Indiana, Michigan, and Ohio State – began the season in the top 10 and now find themselves in the Sweet 16. 
It's possible that all four teams could make the Final Four. While Vegas seems to only like Indiana and Ohio State this week, Duke and Kansas are only narrowly favored against Michigan State and Michigan, respectively. 
Further, Jeff Borzello would re-seed Michigan, Michigan State, and Indiana in his top five, and the experts at CBS only pick Michigan State to lose this week. 
However, and as I've said all season, none of this conference praise matters if a B1G team doesn't manage to take the whole damn thing (and really, only the Buckeyes matter). 
So how does it look for our conference brethren? Let's take a more in-depth look: 
No. 1 Indiana vs. No. 4 Syracuse
Temple played the Hoosiers tight for most of the game, with Indiana coach Tom Crean resorting to prayer on the bench before watching his team close on a 10-0 run to end the Owls' season.
Bad games were contagious, as Syracuse didn't fare too much better against 12-seed Cal either. The Orange made all of six field goals in the second half, missed 15 free throws, and suffered a 12-minute drought, but somehow managed to advance.
The two keys for the top-seed Hoosiers will be in stopping junior forward C.J. Flair – the Orange's top scorer, averaging 15.5 per game in the tourney – and knocking down shots against the Syracuse 2-3 zone defense. 
It will be strength on strength as the Hoosiers' third-rated offense takes on the Syracuse defense, currently forcing opponents into a meager 37.3 percent from the field. Oladipo and Zeller are complemented by surging role players like Will Sheehey, leading to a balanced offense that will be difficult for the Orange to contain. 
It's somewhat of a statistical coincidence, but Indiana got its first win while scoring under 60 points this season when it faced Temple last Sunday. While Indiana is certainly not invincible, I like the Hoosiers' chances against a somewhat overrated Syracuse squad. 
No. 3 Michigan Vs. No. 1 Kansas
Even though Vegas likes the Jayhawks, Michigan looked strong in their matchup with VCU, with the seasoned Trey Burke and Tim Hardaway Jr. solving the "Havoc" press with ease.
Kansas has yet to play a truly complete game in the tournament, however, Buckeye fans know how dangerous the Jawhawks can be – particularly Ben McLemore and Travis Releford. Even with three unimpressive halves, they completely dominated North Carolina in the second half of last week's matchup.
Furthermore, Michigan proved during the course of the season that it can be dangerous even with inconsistent play from Trey Burke.
This is a matchup of two inconsistent teams and it's difficult to make a convincing argument that one will completely dominate the other.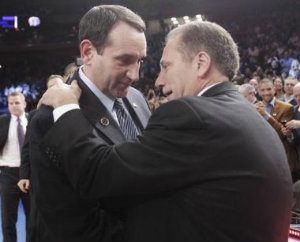 Mark Snyder argues that the difference will be in the Jayhawks' defense and experience, with center Jeff Withey pushing things in Kansas' favor: 
Kansas' senior center might be the country's best defensive player with his 7-foot-3 wingspan...He's the primary reason Kansas leads the nation in defensive field-goal percentage, allowing just 36% shooting, and showed it Sunday, even floating out to block a 19-foot jump shot and forcing a missed dunk simply by his presence.
Big Ten rooting interests aside, we will all be Jawhawks this Friday night.
No. 3 Michigan State vs. No. 2 Duke
Duke is almost unanimously favored in this matchup that features two elite, national championship-winning coaches. 
Michigan State and Tom Izzo are no strangers to the Sweet 16, but they are going up against a higher-ranked, athletically-superior Duke squad, albeit one that was unable to clinch the ACC title.
The Spartans have already faced an athletic squad in Memphis, where they won easily by 22 points. 
The biggest problem for Michigan State will be in slowing down the Duke offense, which averages almost 78 points per game – good enough for ninth in the country. They hope to slow down Duke in the same way:
"A lot of people thought Memphis would turn the game into a track meet and we would be left in the dust," point guard Keith Appling said. "They were athletic, but at the same time, we have athletes as well. Adreian is one of the best athletes in the country I feel like, and we pretty much made them play our game."
The key will be in shutting down Mason Plumlee and Duke's outside game. Duke will likely win on three-pointers, as its inside game and offensive rebounding are poor (245th in the country). 
If I'm forced to make a call in these three games, I'll take only Indiana to advance with Ohio State to the Elite Eight.