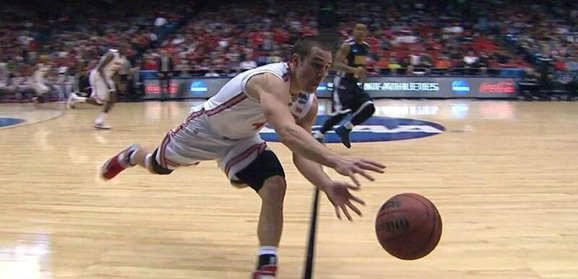 It's appropriate that the court at UD Arena is below ground level, because Ohio State might as well been in an underground bunker the first weekend of the NCAA Tournament. Bombs were bursting all around the West Region, upsets galore sending higher seeds home. 
The No. 1, 3, 4, 5 and 7 seeds all became victim to the dreaded bracketbuster. All that remains is the second-seeded Buckeyes, No. 6 seed Arizona, No. 9 seed Wichita State and No. 13 seed La Salle. There's also rubble strewn from Spokane, Wash., to Madison, Wis., and points in between.
To Buckeye Nation, the Final Four looks as easy as 1-2-3. But Ohio State found out on Sunday how easy it is to lose in the wacky month of March. Not even a 13-point lead with six minutes left in the second half is safe. The Buckeyes managed to squander that healthy advantage with one of Iowa State's top players missing the entire second half, which overlapped with Aaron Craft's three minutes of terror.
"I don't think there's ever a perfect matchup," said Ohio State head coach Thad Matta.
In years past, Ohio State has had close calls – and defeats – in the early rounds, including 2007, when the top-seeded Buckeyes almost lost to Sean Miller-coached Xavier. Miller, of course, was an assistant under Matta at the Cincinnati school and took over his post when Matta went north on I-71. Ron Lewis saved the day against the Musketeers, and Ohio State eventually landed in the national championship game.  
Coaches preach the one-game-at-a-time mentality in every level of sports. That loomed large after the Buckeyes were knocked off in the Sweet 16 of the 2011 tournament as the No. 1 overall seed. Ohio State entered the tournament as the clear favorite with a team loaded at every conceivable position. Still, every team becomes susceptible to an upset when the ingredients sour. A perfect storm developed that March night in Newark when the Kentucky Wildcats ended a dream season.
"It was a good thing Gene was in charge that year," Matta joked. "But that was definitely, definitely a tough bracket. That was a challenge. And, quite honestly, in the Kentucky game, we had a cold half of shooting. Those things happen in terms of matchups.
"As a coach, you can whine and complain, but you sort of just say 'It is what it is, it's who we have to play.'" 
The reaction was far different on Selection Sunday when Ohio State's bracket was released. Instead of college basketball's traditional powers, the Buckeyes got a dose of mid-majors. No. 1 seed Gonzaga and No. 3 seed New Mexico proved overrated and undeserving of high seeds, this after years of tournament letdowns.
What teams did two years, a decade or 30 years ago doesn't impact this year's teams, though. This is the NCAA Tournament – three weeks of the unforeseen and unbelievable. It's a time when players, coaches and universities can become remembered for a singular moment. 
Not to get caught up in the hype, the Buckeyes didn't buy stock in the collapsible region. It harkens back to the 2010 tournament, when Ohio State entered the postseason as one of the hottest teams in the country – sound familiar?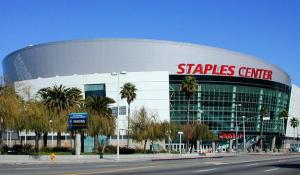 Kansas was the No. 1 overall seed and when it was placed in the Buckeyes' region, many thought the Final Four was a pipe dream. Then Northern Iowa knocked the Jayhawks out in the second round, paving the road with scarlet and gray banners all the way to Indianapolis, that season's Final Four host.
But just as quickly as those thoughts shifted two rounds ahead, Ohio State lost in the Sweet 16. Lessons from the Matta era have been passed down to this season's squad with the message's central theme being focus on the current 24 hours.
"As we saw the last couple years, one half of bad basketball can end your season," Ohio State assistant coach Jeff Boals said. "If you don't focus on the now and present, you're in trouble. I don't think we're good enough to look ahead."
But the Wichita State shocker on Saturday night caught at least one player's attention. How could it not? Any time a top seed goes down early, it's as if a freak snowstorm broke out in the South.
Ohio State sophomore forward LaQuinton Ross said he watched the game intently and was happy to see Gonzaga lose. It was the stiffest competition Ohio State was set to face, he said. Teammate Lenzelle Smith Jr., held a differing opinion.
"It tells us to stay humble and let you know you can't look past any team," he said. "We have to be ready to go. It comes down to whoever is the best team that day is going to win that game.
"I hear a lot of people say, 'Ohio State should be there at the end.' But we can't be one of those guys thinking that."
"The best team on the West Coast is who we play next," he said. "I've seen Arizona and they are loaded. They are extremely talented."
The Arizona Wildcats have the Buckeyes' full attention now. Arizona guard Mark Lyons is averaging 25 points per game in the NCAA Tournament, but Craft and fellow defensive ace Shannon Scott could put a dent in Lyons' scoring output. It will be another offense vs. defense game for Ohio State, something it has thrived in during the current 10-game win streak.
The Wildcats are a team that can beat anyone when they catch fire – the type of team that worries any coach in March. Matta described them as "loaded."
"The best team on the West Coast is who we play next," he said. "I've seen Arizona and they are loaded. They are extremely talented."
You might have forgotten that this is a team that started the season 14-0 and rose to as high as No. 4 in the polls, behind wins over Florida and Miami. A 12-6 record in the underwhelming Pac-12 and five losses in 10 games entering the tournament downgraded the Wildcats' potential.
"I am happy with the draw we got, but it is a challenge because you don't know what you're walking into," Ohio State's lone senior, Evan Ravenel, said. "It'll be fun."
L.A., Hollywood and Staples Center present experiences that Ohio State's players will recall fondly. But a return trip to the Final Four provides a lifetime of memories.
Fun indeed.