The most intense Ohio State-Michigan battle on the recruiting front continues to take form as Cleveland (OH) St. Ignatius LB Kyle Berger has visited both campuses multiple times with the Buckeyes and Wolverines neck-and-neck for his services.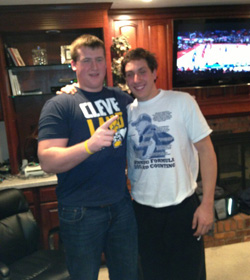 Michigan pledge Michael Ferns, another Ohio kid, is very close to the four-star linebacker and Wolverines defensive coordinator Greg Mattison is playing a large role in Berger's commitment. Mattison's skills as a recruiter are among the best.
But Ohio State still has Urban Meyer at closer and he sat down to break bread with Berger and his family on their visit over the weekend.
Although Berger didn't pull the trigger on a commitment while he was in Columbus, he did leave impressed. If an Ohio State pledge occurs in the near future, current OSU verbal Kyle Trout and newest class member Dylan Thompson will deserve an assist.
The three top-ranked recruits forged a great bond that can only help Ohio State fend off the Wolverines for the services of the Cleveland native.
Join us after the jump to find out what made the visit to Columbus a home run for Berger. Plus, we uncover his timeline for a college decision.
What were some of the sights and events of this trip to Ohio State?
It was the best trip to OSU so far, which is saying a lot.
They let me sit in on the position meetings before the spring practice. Listening to Coach Fickell and observing what it would be like to play for him was a neat experience. I enjoyed that quite a bit.
I was able to visit the trainer's room and speak with the trainer as well. One of the best parts was watching the practice and seeing all the guys get after it. It was great to see the energy and enthusiasm.
Buckeyes commit Kyle Trout was on the trip. Dylan Thompson committed to Ohio State on the trip. What was it like being with them and did you get to share much time with them?
Me, my family, Kyle and his dad, and Dylan and his parents all got to have a meal together with Coach Meyer which was a great time. All of our families enjoyed the time together and the three of us recruits are pretty tight. Kyle has been talking to me about getting back to OSU so I've been in contact with him a bunch before. He's great.
What did your parents think of the visits to both schools, Ohio State and Michigan?
So far only my dad has been up to Michigan with me but he enjoyed it quite a bit. The coaches and all the people at Michigan impressed him a bunch.
My mom and little brother were with my dad and me on the visit to Ohio State. They seemed to fit in very well at OSU and Coach Vrabel hit it off with my little brother.
Are there any other planned trips left to take? Will you visit any other schools in the near future?
Monday evening I'll be in Knoxville to visit Tennessee so it will be a quick turnaround after this visit to OSU. Other than that, nothing is set in stone.
I want to get to UCLA in a few weeks if we can make it happen. The plan is to make it back to Ohio State and Michigan one more time each. It would be for a spring game or another practice. 
Is it safe to say it remains a 50/50 battle between Ohio State and Michigan or were the Buckeyes able to make a significant move?
I think it is still a 50/50 battle. I'm not certain of which school I like more yet and I know I'm going to be very torn when making this decision. My visits to other schools may give them a chance to make a move as well.
Which coaches have been the most instrumental in your recruitment? 
For Ohio State it has been Coach Fickell. He has been the guy I talk to the most. I call him about once a week to catch up on things and he's the closest I am with any coach on their staff.
My relationship with Coach Meyer is starting to really pick up as well. Having Coach Meyer around for a large portion of my visit is really what made it an incredible visit and better than the other trips to OSU.
For Michigan I really get along with Coach Mattison the best. He has been recruiting me personally and he's a great defensive mind. Coach Manning also was just hired there to coach the linebackers and I've talked to him a few times already and I think they made an excellent hire with him.
How's the process been like in terms of Ohio State and Michigan outside of the visits to the school?
It can definitely be overwhelming especially with two schools of this nature putting such a high priority on getting you to commit. I talk to someone from Ohio State or Michigan about every single day of the week in some sort of fashion. I take it in stride and have fun with it.
As far as a timeline goes, do you know when you would like to have a decision by?
The plan I seriously intend on sticking with is to make a few more visits in the next month and to have a decision in May. That gives me a little over a month to figure out where I want to go and I think I can come to a comfortable choice by that date.