"Lewis has been awesome... Lets it go... BRINGS IT HOME!"
Six years ago, Ron Lewis became an Ohio State basketball legend thanks to a game-tying three that still brings goosebumps to any Buckeye fan who takes a stroll down YouTube memory lane.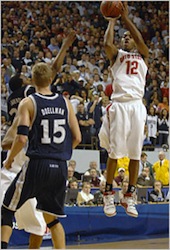 College basketball in March is synonymous with dramatic, clutch shots, and during the Thad Matta era, Ohio State has had its fair share of March Madness highlights.
Matt Sylvester was the star in Matta's first year. Evan Turner was the man the same season when he was everyone's player of the year. Last season, it was William Buford clinching a Big Ten title in East Lansing.
Aaron Craft joined their illustrious company when his three against Iowa State broke a 75-75 tie and vaulted Ohio State to the Sweet 16. Lewis' trey against Xavier sent the game to overtime, and the Buckeyes would go on to win in the extra period, which earned them a spot in the Sweet 16 and eventually, the national championship game. 
That tournament run, in hindsight, made the basket even huger. It's only been six years, but in some ways — the video quality alone — it seems like a lot longer. Yet in other ways, it's almost like nothing has changed. 
Matta is bringing Ohio State to its fourth straight Sweet 16 and fifth in seven seasons. He will face off against Sean Miller, his protégé and former coach of the aforementioned Xavier team, when the Buckeyes meet Arizona in the next game.
Those outside of the Ohio State fanbase continue to point to one officiating call — whether a non-flagrant foul on Greg Oden or Craft taking a charge — as if that was all that decided the outcome of a game. 
Games are won and lost by more than one call or one shot. But those last-minute heroics stand out more than anything, and Ohio State is still giving the editors of the One Shining Moment montage plenty to work with. 
I don't remember every detail about that afternoon when Ohio State and Xavier battled in Lexington. I couldn't tell you who the top scorer was or even who led at halftime without looking at the box score1. But I remember the Buckeyes fell into a double-digit hole in the second half that it seemed like they would never dig themselves out of.
It was also the day before my birthday and even though I was too old to be so precious about it, I felt like the basketball team was going to ruin my birthday. In all honesty, a loss probably would have, but then Ron Lewis hit that three, Gus Johnson went nuts2, and Mike Conley Jr. took over in OT. I will never forget those details.
I will never forget that I was watching, as I did throughout the tournament, with my grandma, grandpa, aunt, and uncle. In a family full of hardcore sports fans, my grandma was forced to watch more games than she probably cared to, but basketball was her favorite sport and she particularly enjoyed watching that season. So did my grandpa, who would get easily agitated when the players screwed up and then he would try to coach them from his recliner.
They wouldn't live to see Aaron Craft suit up for the Buckeyes, yet I have no doubt they would have loved him, approving of his pestering, hustling ways on the court and his nice-guy reputation off the court.
My uncle, a former college basketball player himself back in the day, held Craft in high regard and appreciated all of the little things he does for the team. He's gone now too, but my uncle would've admired Craft's biggest contribution as well, especially the fearless, confident, ice water in the veins attitude that it took to attempt that shot. And he would've remembered a similar bucket from Ron Lewis only six years ago. 
Like I said, there's a lot that has changed in the past six years and a lot that hasn't. 
For many reasons, including those of a personal nature, that Lewis shot is my most cherished March Madness moment of all time. That was the most talented Ohio State basketball team I had ever seen and still have ever seen. We're more spoiled now, but then, after years of average teams who either didn't make the tourney or didn't make noise in it3, getting to the Sweet 16 was a rare feat. 
And before that three-pointer, I had resigned myself to another tournament disappointment, even if I couldn't believe that this team wouldn't make it out of the Round of 32. 
Fortunately, the tables turned and the Buckeyes came as close to a basketball national championship as they ever have in my life. There would be no underachieving that season. 
The same can't be said for the 2010-11 squad. Their fate also hinged on a three-point attempt, though this time, it wouldn't fall. In a Sweet 16 matchup against Kentucky in an absolutely brutal region, top-seeded Ohio State had a chance at the end, but a William Buford three as time expired clanked off the rim and the Buckeyes lost by two points. It was just their third loss of the season.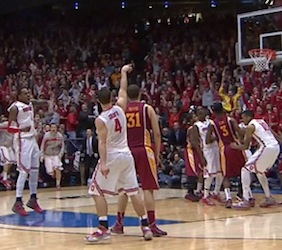 What made it so gut-wrenching was how much it seemed like that team was destined for at least a trip to the Final Four. If not quite the best team in Matta's tenure, I had never had as much fun watching Ohio State basketball as I had that season. When they were firing on all cylinders, like when they blew out George Mason to reach the Sweet 16 or when they were making Bo Ryan deal with it in the regular season finale, they looked utterly unstoppable. And unlike in 2007, there was no Florida standing in their path for a title. 
There was also no game-winning basket. Instead, there was an early exit. 
Of course, that one Buford miss didn't lose the game. His other 13 misses, however, certainly played a part. He was hardly alone, though; overall, the team shot under 33%. 
And come March, all it takes is an off night, or as Matta said on Selection Sunday, "one bad half of basketball" and the curtains suddenly, impotently come down on the season. And sometimes, a made field goal at just the right time bails a team out. 
We don't know yet what Craft's shot will mean in the long run. Ohio State's region is nearly the opposite in terms of strength as it was two years ago, and even if this year's team isn't as skilled as that one, an exit in the same round would be a harsh letdown. If the Buckeyes keep on winning, then maybe that basket will take on a new significance and displace Lewis' shot as my favorite three points in tournament history.
But this is what I do know. In just a few years, we may not be able to recall that Ohio State led by two at the half or that Shannon Scott got called for a technical early in the game or that LaQuinton Ross scored 10 straight Ohio State points. We eventually may not even remember that in the last five minutes of the game, Craft turned the ball over a couple of times, missed three free throws, and failed to hit a jumper with 30 seconds to go. 
What we will remember is where we were and who we were with when he connected on the game-winning shot. And we won't forget how it made us feel. Because no matter what happens next, every time we see that clip, we'll get a shiver down our spine and it'll take us back to that magical moment that only March can give us. 
"He better hurry... Puts up the shot... and he hits it!"