Around the Oval is Eleven Warriors' weekly love letter to Ohio State sports that don't get the coverage they should.
In college basketball, the late-season surge can prove crucial in a sport where anything is possible come tournament time, and the Ohio State women's basketball team was in the middle of one heading into their Big Ten tournament quarterfinal. But their next challenge was their toughest of all: the top-seeded Penn State Nittany Lions.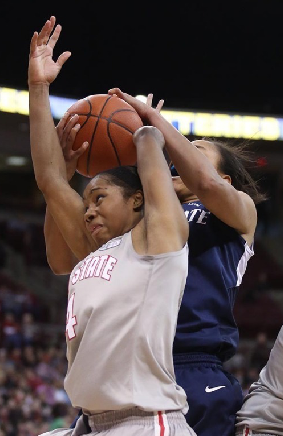 The form that gave them seven wins in their past nine was evident yet again in the first half of Friday's game, and certainly showed the Lady Lions that this would be no walkabout. Even though the conference's top team scored first, the Buckeyes replied early and often, never falling behind by more than three in the first eight minutes. A jumper from Penn State's Alex Bentley extended their lead to five and from there it looked like they would gain control, but instead the opposite happened.
Eight straight points put Ohio State in front by three, and contributions from all five Buckeye starters stretched the lead to five at one point. But a surge at the end of the first half by Penn State gave them a two-point lead at half, and from there they didn't look back. The teams were tied for only 45 second-half seconds, a 10-0 Penn State run effectively breaking things open. Their 62.5 field goal percentage after the intermission was a testament to their top-ten quality, and it was too much for the Buckeyes to handle as they fell, 76-66.
Another 23-point performance was added to Tayler Hill's résumé, her 2,015 career points making her the fifth Buckeye to reach the 2,000 mark. There was 18 points from Amber Stokes and 13 from Ashley Adams, but Penn State's offense played the critical role, scoring 43 in the second half to eclipse Ohio State's 35. 
Like so many other programs across the basketball landscape — including ones with similarly strong end-of-season runs — the Lady Buckeyes are now in waiting mode as we are still a few days away from the women's selection show on Monday evening. Veteran coach Jim Foster knows that no matter how many predictions or scenarios are presented in the run up to the announcement, nobody can be certain of their fate.
"The committee, if you asked me today, `Are we one of the best 64 teams in the country right now?' My response would be we certainly are," Foster said. "But there's X number of automatic bids, and you can look at things in many different ways. So I don't expect it, but you never know."
The NCAA Women's Basketball Selection Special airs live Monday night at 7 p.m. on ESPN.
HE ain't heavy, he's my brother
Despite finishing fourth in the Big Ten tournament this weekend, it was a still a successful competition for the Ohio State wrestling team. In total, nine Buckeyes qualified for the NCAA tournament with their results this weekend, but it was the performances of two brothers that took the headlines.
Monroeville natives Logan and Hunter Steiber were both returning All-Americans coming into this season, and were the undoubted leaders of this Buckeye squad. Logan was the defending champion and number one seed in the 133-pound category, and he met Iowa's Tony Ramos. Coming from behind after losing the first point, the elder Steiber eventually won his crown in a sudden victory period after regulation.
After that it was up to Hunter, who didn't have a Big Ten crown in the past like his brother. In the 141-pound championship he faced Mark Ballweg of Iowa, and came out on top with an 8-3 decision to complete the sibling sweep. 
Among the other wrestlers for OSU, there was a fourth-place finish for Josh Demas, and four fifth-place recipients in Niko Triggas, Nick Heflin, C.J. Magrum and Andrew Campolattano. Those five along with both Steibers, Ian Paddock and Mark Martin will represent the Buckeyes at the NCAA Championships. The tournament is March 21-23 in Des Moines, Iowa.
No Gopher Miracle
As we mentioned last week, the mission in front of the Ohio State women's hockey team — a matchup in the WCHA semi with previously undefeated Minnesota — was always going to be a momentous struggle. It proved to be that much and more.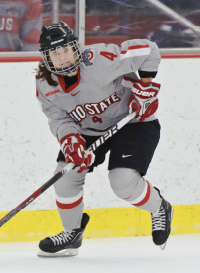 It didn't take long for the Gophers to assert their dominance with two goals in the first period, the first a power-play marker from Maryanne Menefee. There was only one goal in the second period, but it again went to the Gophers. Then in the third, Ohio State goalie Chelsea Knapp was scored on for the final two occasions as Minnesota wound up coming out on top, 5-0.    
Obviously Minnesota's quality was on full show, but even in the loss Knapp had 29 saves to end her stellar season. And for the women's hockey program, you could say the year has been more than stellar: their 19 wins is their second most in program history, and there is clearly no shame in losing to a team that could eventually become the only unbeaten women's hockey side ever. 
Having started the season 14-5-1 the Buckeyes tapered off a bit, but they still managed to win their first playoff series in three years, and won 10 of their matchups at the OSU Ice Rink. Coach Nate Handrahan will look forward to next season as leading scorer Ally Tarr returns for her senior season along with other strong point producers like blueliner Kari Schmitt. 
So congratulations, ladies, on another successful season; we look forward to watching you again next winter. In the meantime, Minnesota faces North Dakota in the quarterfinals of the NCAA tournament. 
Ladies Lacrosse Tops Canisius
Since beating Boston College a few weeks ago to put their record at 2-1, the Buckeye women's lacrosse team lost back-to-back games to find themselves back under .500. Sunday's game against the Golden Griffins of Canisius was their second straight at home and also an important one if they wanted to keep their No. 15 ranking.
It was a pretty even first half, one which included two goals each from Ohio State's Cara Facchina and Jennifer Porretto. But even though the home side scored five in total, Canisius kept in touch with four of their own. The second half was a much different story. 
Within six minutes of the second half the Buckeyes had already put four shots into the Griffins' net, and even though the visitors finally got their fifth tally, it was followed by seven more Buckeye goals as the Scarlet & Gray got the commanding 16-5 victory. 
Facchina finished with six points, as did sophomore Jackie Cifarelli. Facchina and Porretto also added two more goals in the second half to finish with four goals each. Ohio State now faces three road tests in a row, their first coming Saturday at Boston University at 7 p.m.