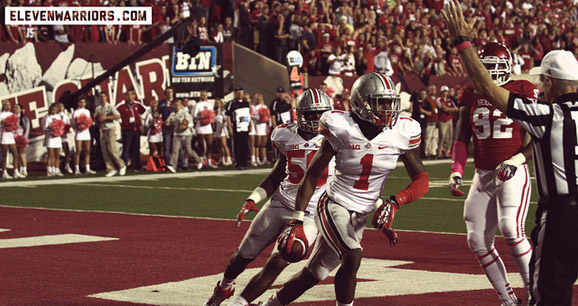 At this time last season, Ohio State's secondary was viewed as a flawed unit on an otherwise solid defense. Praise was lobbed at the defensive line and linebackers. One year later, reveals a role reversal or sorts.  
There's a reason for that. The veteran units from last season are now flush with young, unproven talent, while the cornerbacks and safeties are made up of experienced upperclassmen. The headliner of the group, junior cornerback Bradley Roby, is perhaps the best in America.
And that's the goal for the entire unit: be the best in America. Their rallying cry is "BIA," and after finishing the 2012 season with momentum, they understand their importance to the defense and the team.
"We want to be the best in America, and they're working at that," cornerbacks coach Kerry Coombs said last season. "They understand that they're not. They understand they could be. I think they have the confidence that's necessary to become that. I think that's their strength."
The same statement could be played on a loop during spring practice.
Three starters return – Roby and safeties Christian Bryant and CJ Barnett – and the newbie of the group, cornerback Doran Grant, is a junior who's started in the past and been a regular in the rotation. The talent level of the quartet has their position coaches smiling with the potential for greatness evident.
Arguably the biggest news of Ohio State's offseason was the return of Roby, a second-team All-American that blossomed into a game-changer. The dynamic shutdown corner begins the spring as a frontrunner for the Jim Thorpe Award and a vital part of a national championship contender.
"I think his best days are ahead of him," Coombs said last November. "I think he'll be a great player. But I think he needs more time and more seasoning. He still has things he wants to accomplish, and the least of these things is to be part of a team with a chance to win a national championship."
Expectations are high for Roby, the secondary, the defense and the team. If ever there was a domino effect, Roby's decision is it. This is a guy who scored three different ways last season – on an interception return, fumble and blocked punt.
"It just shows me that I'm on the right path. I'm following my plan," said Roby, who actually committed to Vanderbilt as a wide receiver in high school. "This is all part of my plan I came to Ohio State with. Just the fact that (the NFL) is discussed is good for me, knowing I'm doing things I'm supposed to be doing."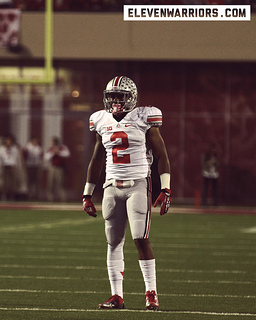 Ohio State's pass defense, much like the defense as a whole, improved as the season went on. The Buckeyes allowed 32 pass plays of 20 yards or more and nearly 250 yards through the air per game. After 12 games, it ranked 76th, not the level Coombs, safeties coach Everett Withers, defensive coordinator Luke Fickell and head coach Urban Meyer were looking to establish.
But upon closer inspection, the numbers were rather inspiring. They surrendered 10.9 yards per completion and only 6.4 yards per attempt. In November, that number was a full yard less. Individually, Roby led the country in passes defended. And don't forget, he only played 11 games.
Poor tackling plagued the team early in the season, as well as differing philosophies on coverages and communication breakdowns. Finally, the coaching staff opted to go man, with Roby and senior Travis Howard putting their signature on the defense, limiting passes more and more as the season progressed. The duo would earn All-Big Ten honors.
"Any time you have a guy on the opposite side of you making plays, it allows you to think, 'I want to do the same thing,'" said Howard, the Big Ten's leader in interceptions, about Roby protecting the other side of the field. "You don't want one guy getting more plays than you. It makes it a challenge and a battle between us."
The playmaking abilities of Bryant and Barnett added to the depth of the secondary. In Ohio State's two biggest wins of the season – Wisconsin and Michigan – they were the ones that made game-clinching interceptions.
"We focused on the fundamentals - tackling better, leveraging the ball and keeping them in front of us," Barnett said. "Coach Meyer really challenged us and put pressure on us to be better. We did a good job of answering the call."
Bryant finished second to Ryan Shazier with 71 tackles and Barnett was fourth with 56 stops. Barnett led the Buckeyes in tackles during the ill-fated 2011 season.
With so much youth in front of them – virtually an entire new front seven – Roby, Bryant and Barnett have evolved into the defense's leaders. The trio is entering their third year as starters. In only two days of spring practice, teammates and coaches have raved about the vocal presence of the three emotional players.
"Energy is contagious. Effort is contagious," Fickell said. "I can honestly say that's what I'm excited about. We have some guys in leadership positions with a lot of confidence and when they have confidence, it exudes confidence to others."
"If we put together a good D-line and linebackers, I think we'll have a good team. If not, we won't. It's pretty simple."
Bryant and Barnett, both seniors, have the added spotlight on them. If Bryant can make another leap, like he did from 2011 to 2012, the Buckeyes will reap the rewards. Staying healthy has been Barnett's main issue. When he's on the field, Barnett has been effective, though he and Bryant are prone to missed tackles.
One of those who needs to gain self-assurance is Grant, who will replace Howard. Great things have been said about Grant since his freshman season. Last spring, he battled Howard for the starting spot, losing out in a highly competitive contest. Grant started one game and finished the season with 19 tackles, an interception and a sack.
A plethora of names, such as Cam Burrows, Devan Bogard, Adam Griffin, Pittsburgh Brown, Tyvis Powell, Armani Reeves, Najee Murray and Eli Apple will also pop up from time to time this season, whether they're a part of the rotation in the secondary or making plays on special teams.
A stout starting lineup and equally impressive depth have made the secondary undoubtedly the strength of the defense. But Meyer is fully aware of where championships are born and where they die. 
"If we put together a good D-line and linebackers, I think we'll have a good team," he said. "If not, we won't. It's pretty simple."
The opportunity of being the best in America awaits.