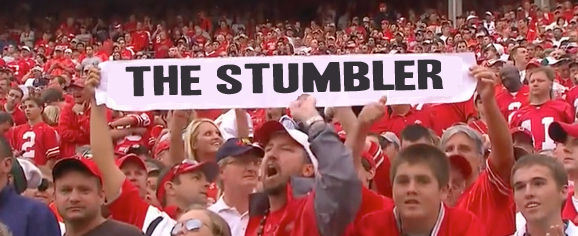 While Stumbling around the Internet for this week's edition, I came across a video entitled "Mark May Hates Ohio State." In the video Lou Holtz, Mark May and Rece Davis discuss Ohio State's 2010 early season matchup with the Miami Hurricanes. 
As these segments have a tendency to do, the conversation devolved into Lou Holtz spitting all over himself, Mark May imitating an angry Mr. Potato Head and Rece Davis trying to hold the whole operation together with dental floss. 
Throughout the video, May questions Ohio State's 2002 national championship, the team's overall speed and their #2 ranking. 
This isn't the first time May has let his Buckeye hate flag fly. In fact, it happens so frequently that theories are being developed regarding the birth of this hate baby.
Now, I suppose we'll never be sure why May harbors such disdain for the Scarlet and Gray, but Ohio State's historic 72-0 beatdown of his alma mater might be a good starting point.
From 1977-1980, May played offensive tackle for the Panthers. His senior year the team lost only one game, finished #2 in the country and was named national champions by a few human and computer polls.
May was a standout on the squad, notching the Outland Trophy and a consensus first-team All-American nod.
The talented May was selected in the first round of the 1981 draft and left a proud Pitt program that went on to tally another one-loss season in that same year.
Flash forward to 1996 and a proud Pitt the program was not.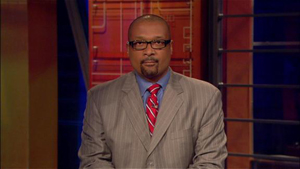 The Panthers opened up their season with a 34-0 loss to West Virginia, a win against Kent State and a 42-35 overtime loss against Houston. The 1-2 record wasn't exactly what Pitt was looking for heading into Columbus to face a #7 Ohio State squad.
While few were expecting a win, even fewer were anticipating what transpired over the next four quarters.
With that I give you:
The Clips: A Historic Hammering
Ohio State entered the 1996 season with high hopes, and delivered in Week 1 with a 70-7 annihilation of Rice before meeting up with Pitt in Week 2. The game had the makings of a trap game, as OSU was set to play #5 Notre Dame in South Bend the following week.
However, from the beginning it was evident the Scarlet and Gray brought their A-game. Here is every score of that "A-game" in full Technicolor glory. I hope you've got a few minutes:
First Quarter
Pepe Pearson 16-yard run
Pearson 9-yard run
Stanley Jackson 5-yard run
Second Quarter
Joe Germaine 19-yard pass to Dimitrious Stanley 
Pearson 2-yard run
9-yard pass from Germaine to David Boston
Josh Jackson 21-yard FG
12-yard pass from Jackson to Boston
Third Quarter
Joe Montgomery 1-yard run
Matt Keller 22-yard run
Fourth Quarter
And the cherry on top: a Boston 67-yard punt return with only 8 Buckeyes on the field.
Is this 72-0 bludgeoning of the Panthers the root of May's hate? Who knows but it sure was fun to relive. Thanks for stumbling in. Let's do this again sometime.