Good morning, lads and lasses. While we await the start of the Big Ten Tournament later this week, five more teams — Gonzaga (WCC), Iona (MAAC), Davidson (Southern), Western Kentucky (Sun Belt), and James Madison (CAA) — won their conference tournaments last night and punched their ticket to the Big Dance.
Ohio State doesn't play until Friday, and hopefully beyond, so the basketball team should get to enjoy at least 20 minutes of their spring break before focusing on Chicago and the standing room only crowd they'll be playing in front of.
As I'm sure most of you saw, the All-Big Ten honors were announced last night with varying degrees of acceptableness.
Because Deshaun Thomas was a first-team selection by both the media and coaches, and Craft by the former, Ohio State was able to keep an impressive streak alive:
After Thomas, Trey Burke, Victor Oladipo, and Cody Zeller, that fifth spot was basically up for grabs. There were several B1G players who would've been worthy, and the media must have been won over by Craft's rosy cheeks increased production over the second half of the season.
The coaches, perhaps less enthralled with Craft because their teams have to face him, went with Tim Hardaway Jr., which seemed to even baffle Michigan fans. I'm just going to assume it was a pretty split vote. 
HONOR AMONG THIEVES. The coaches and media were able to agree on a couple of awards, however. Everyone knew Player of the Year would come down to two guys, and Burke ended up edging out Olapido. There were plenty of arguments either way, but frankly, I don't care.
Oladipo's consolation prize was being named the Big Ten Defensive Player of the Year, and although he was very good, I have to agree with Jeff Boals: 
Perhaps Jim Jackson put it best when he said last night on BTN that Craft might have lost out because he was the reigning champ and sort of an "old-hat" choice while Oladipo surprised people more1.
Speaking of people who earned an Exceeds Expectations grade, Bo Ryan was the Big Ten Coach of the Year and despite it not being a totally egregious pick, Wisconsin hasn't been playing all that well lately. They finished the regular season by losing to Purdue and Michigan State before needing a last-second 3 to beat Penn State. Then again, that all happened this month and Bo Ryan teams aren't exactly known for their March prowess.
On the other hand, this has been one of Thad Matta's best coaching jobs as his team ended the conference season on a five-game winning streak, including victories over Big Ten champs Indiana and fellow second-placers Michigan State.
Oh well, at least the award didn't go to Tom Crean, though that wasn't going to happen even with the Hoosiers taking the regular season crown. Sure, he apologized to Wreck-It Jeff, but I'm guessing the only coach who can put up with him is Tom Izzo. And Crean certainly hasn't endeared himself to the media by making them feel like they're acting out Waiting for Godot every time Indiana loses.
THE BALLAD OF LOVE AND HATE. We've been over the topic of Aaron Craft's likability recently, thanks mostly to a hacky columnist from Lansing who can't even spell rosy correctly. I'm not going to bother linking to him again, but now, Grantland has included Craft in their tournament to finally resolve who is the most hated college hoops player of the past 30 years.
The four brackets are represented by the '80s, '90s, '00s, and of course, Duke2. The good news for Craft supporters is that he's facing off against No. 2 seed Joakim Noah, so he'll easily get trounced, but I also wonder if Craft was included more because he's a current player and less because other teams' fans will look back 20 years from now and remember how much they wanted to punch him in the face, a la No. 1 seed Christian Laettner.
Though I will freely admit to being biased, it's hard for me to think that anyone could view Craft in the same way as a J.J. Redick or Jalen Rose (No. 1 seed in the '90s bracket). Yes, he would be very frustrating for your team to play against and announcers do tend to fawn over him, but it's not without merit. He's an ace defender, hard worker, Academic All-American, and a nice guy extraordinaire, all without being an attention whore or crybaby.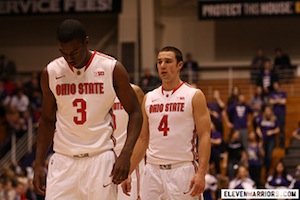 Love him if he's yours and hate him if he's not, I suppose. Still, this is a player other fans should at least respect.
AND WE'D STEAL AWAY EVERY CHANCE WE COULD. Craft and Thomas weren't the only Buckeyes to receive All-Big Ten honors. Shannon Scott, along with Craft, was named to the All-Defensive team. 
Although Scott is averaging 1.8 steals per game, good for third in the B1G behind Oladipo and Craft, he's been particularly a menace during Ohio State's recent winning streak. Over those five games, Scott is averaging 3.0 steals per game and has also made his presence known in other ways, such as pulling down a game-high nine rebounds against Illinois on Sunday. 
With that kind of momentum going into the B1G tourney, BTN's Brent Yarina listed Scott as one of his under-the-radar players. He also gives Ohio State fans reason to be optimistic in both tournaments: 
They say tournament time is all about guard play, and when it comes to floor leaders who make an impact on both ends of the floor, there aren't many better than Ohio State's duo.
The two have played well together lately, and so has the smaller lineup as a whole. Matchups are key in March, but especially if Amir Williams isn't completely healthy, we should be seeing quite a bit of the pesky twosome on the floor at the same time.
SOMETHING IN THE BEAR. Right now, the football team is in the midst of their spring break and probably not thinking about Week 3 opponent Cal. On Sept. 14, the Buckeyes visit Berkeley and new coach Sonny Dykes. SI's Stewart Mandel wrote a feature about Dykes installing the Air Bear Raid and what it means for the Cal offense.
The basic, Malcolm Gladwellian idea is for the offense to use fewer plays but to excel at them:
"It's not really a scheme-based offense as much as teaching fundamentals and techniques," Dykes said. "They [the defense] know we're going to throw slants. The idea is to be good enough throwing slants where they know it's coming and still can't stop it. Sometimes it works, sometimes it doesn't. The better players you have, the better it works."
Last season it worked for Texas A&M, who had Heisman winner Johnny Manziel running the offense. It didn't work for Washington State, whose roster included... um, that one guy who quit.
According to offensive coordinator Tony Franklin, it's not a true Air Raid offense in the sense that Cal won't rely solely on throwing the ball, which is probably a good plan since they don't know who their starting QB will be yet and the receiving corps is pretty young. It all depends on who can handle the plays and the tempo the best:
"What we do is so simple, you have to offset it by doing something different," Dykes said. "You can shift and motion people before the play, like Stanford does, to disguise different formations. Our way of doing it, I prefer, is to go fast."
At least that's a speed Ohio State should know well from practice. 
I NEED A PHOTO OPPORTUNITY. During an Ohio State-Michigan game back in the unforgiving '90s, eventual Heisman winner Desmond Howard struck a Heisman-esque pose after scoring a touchdown on a punt return. Even if we weren't all well-aware of that bit of The Game history, we're also haunted by it in a Big Ten commercial that airs about as frequently as that Chase Freedom commercial sung to the tune of Footloose. 
Well now, the photographer who took the picture that wound up in SI is suing Howard and others for copyright infringement. In 1991, Brian Masck got $500 from SI for use of the photo, and since then, the photo has been nauseatingly everywhere, including Howard's own website, and Masck wants the money and credit he feels that he's due. 
Not only is this a question of copyright infringement, but according to Desmond, it's also a matter of other people profiting off the likeness of college athletes. Personally, I'm choosing to believe that he's getting sued for being a jackass and for not even posing correctly in the first place. 
CLICK AND ROLL. Deshaun was named a second-team All-American by the Sporting News... Matta wins the 2013 Coaches' Charity Challenge... What former linebacker James Cotton is up to these days... Drake Harris decommits from Michigan State to the shock of no one... Saint Mary's is anti-dentite... Looks like Nebraska Chancellor Harvey Perlman, the new chairman of the BCS presidential oversight committee, is totally up on things... Iowa wrestlers follow the Ricky Bobby rule when it comes to second place... Movies that Zack Morris and Frank Underwood would approve of...  A new Mad Men poster for us to overanalyze.
1 He made the All-Defensive team last year in the Big Ten, so it's not like Oladipo came completely out of nowhere, but coming into the season, he wasn't really famous for his defense like Craft was and is. ↑
2 The Duke bracket is sort of like the Hamsterdam Region in their The Wire bracketology from last year: too many hard decisions. ↑